PGA Dew Sweeper – Valspar>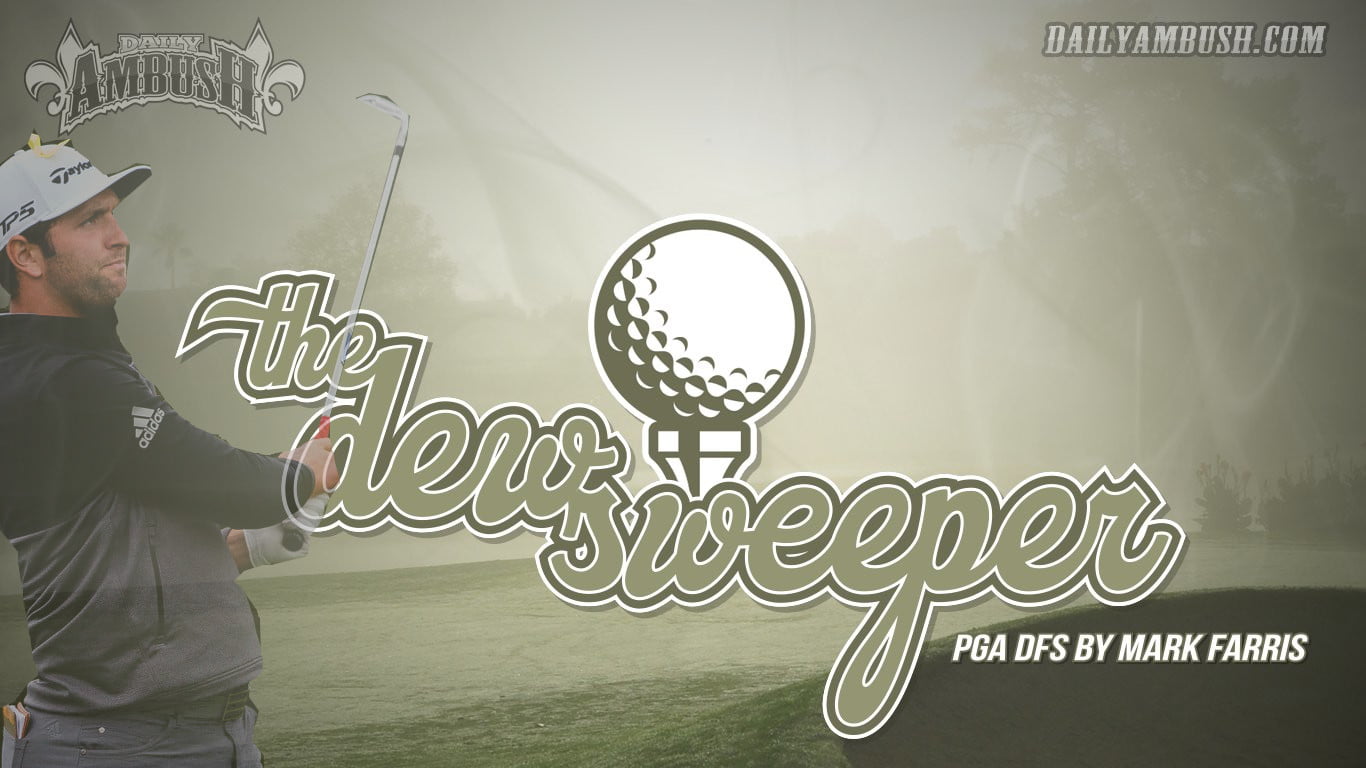 Valspar Championship
I appreciate everyone understanding the delay last week and I hope that some of you did well.  I cashed in two $100 entries but didn't quite break even. Keegan Bradley missing the cut and Adam Scott and Sahith Theegala playing like amateurs on Saturday really hurt my chances.  Knocked me down from winning $6,400 to $600.  Oh well, that's DFS golf in a nutshell.
We've been spoiled the last few weeks with quality fields.  Well, that ends now!  There are a few quality players, but the lower tiers aren't as forgiving – especially when we are looking at one of the lowest scoring events on Tour and a difficult course.
Highlights:  Innisbrook Resort – Copperhead Course
Four Par 5s and Five Par 3s
Greens are small (Bermuda over seeded with POA)
This is a difficult scoring track.  This week won't depend so much on a high number of birdies and eagles as it will the ability to avoid bogeys.  To differentiate the top tier, I think we need to look at the following:
Shots Gained – Approach  (SG: APP)
NOTE:  All pricing is based on DraftKings
** are my favorites in each category – could be pricing or the fact I think they play best.
$9,000 and Above
This is by no means a guarantee that the statistics will continue, but, I've learned that gut feelings need to be balanced with statistics sometimes.
SG: APP (with overall rank against the field – last 16 rounds):
Justin Thomas ($10,900) 22nd
Jordan Spieth ($10,600) 2nd
Sam Burns ($10,200) 123rd (Yikes!)
Matthew Fitzpatrick ($10,000) 119th (Yikes again!)
Tommy Fleetwood ($9,800) 7th
Justin Rose ($9,600) 19th
Keegan Bradley ($9,400) 13th
Denny McCarthy ($9,300) 50th
Adam Hadwin ($9,200) 57th
Brian Harman ($9,100) 132nd (Yikes for strike 3!)
Davis Riley 37th
BOB% (weighted score):
Tied:  Justin Rose & Sam Burns (99)
Tied:  Matthew Fitzpatrick & Keegan Bradley (91)
Tied:  Tommy Fleetwood  & Davis Riley (86)
Blended:  SG: APP &  BOB% – Regardless of Salary
I thought showing the two together (without considering salary) may be a good thing since it does give you some guys in the lower levels.  I did a 50-50 split in weighting the two.
My favorites are:
Course History: Sam Burns ($10,200); Justin Thomas ($10,900)
Gut/My Favorites: Tommy Fleetwood ($9,800); Adam Hadwin ($9,200); Justin Rose ($9,600)
$7,500 to $8,900
Justin Suh ($8,900)** – Right now, he's probably the hottest guy in the tournament.  In his last three events, he's been Top 25 in each of them including a T6 and a T5.
Brandon Wu ($8,500)** – Never played this event but is coming off two Top 20s.
Ludvig Aberg ($7,700)
Byeong Hun An ($7,900) – Making a lot of cuts.
$7,000 to $7,400
David Lingmerth ($7,300)** – Two Top 10s in last 3 events.
Ryan Gerard ($7,300) – this is a pure gut call, but he's played two events since coming from the Korn Ferry Tour and was T11 in Puerto Rico and 4th at Honda.
Seonghyeon Kim ($7,100) – he missed the cut at The Players, but had made 5 straight prior to that.
Kevin Kisner ($7,000) – not playing great but gives you experience and the fact that long-iron play will be a key, he may be a good fill-in.
Under $7,000
"Scrub Zone" – Oh boy!
Zach Johnson ($6,800) – he's not the Major Champion he once was but he does have three Top 30s in his last four events here.  He's not long but this course requires accuracy and good approaches.  Both of which he historically excels at.
LONGSHOT
Victor Perez ($7,800) is my longshot.
Don't know a lot about this guy since he typically only plays on the DP World Tour, but he's played in three events there in 2023 and finished T13-T28-Win.
Ask questions on Discord if you have them.  Make sure to tag me so I don't miss it!
GOOD LUCK!!