Welcome to Father's Day Weekend Baseball, we kick it off with 16 games on a Friday which by now includes the Phillies, Nationals, Cubs and Braves giving us some afternoon entertainment on this warm Friday in June.
The Phillies and Nationals are so excited they're gonna play two today and will be on the DraftKings main slate tonight making it a 12 gamer there while FanDuel is an 11 gamer.  Neither site includes Senior Citizen games in Cincinnati and ……. Baltimore?  What the hell Orioles?
Today is National Mascot Day, which is a great time to remind you of the Greatest Mascot of All Time, that would be of course, The Famous San Diego Chicken
Other now retired Mascots who are in the Mascot Hall of Fame Include
The Gorilla – Phoenix Suns
Super Hugo – Charlotte Hornets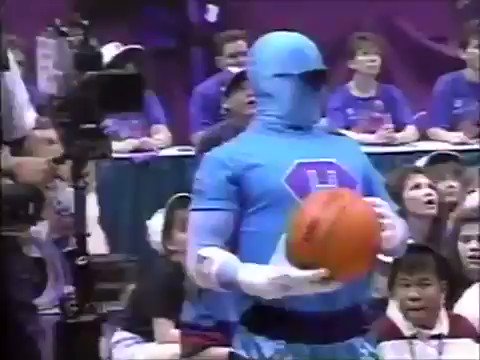 Hoops – Washington Bullets
Among Football Mascots, they don't get much better than Ragnar for the Vikings.  He appreciated greatness when he saw it.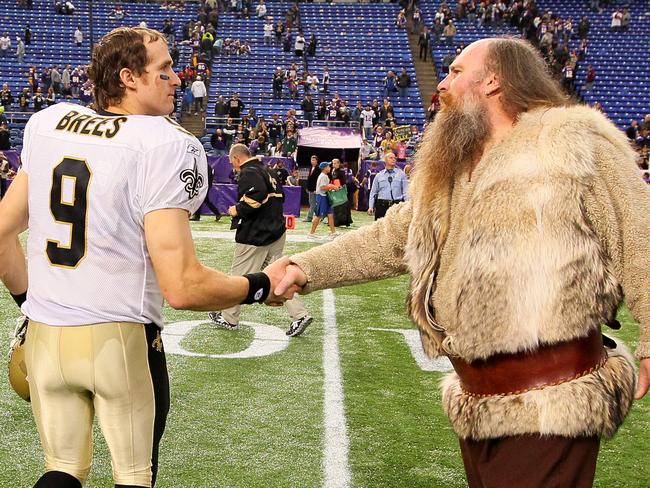 If you see Demon Deacon you are either about to watch a high scoring ACC game or die.
And while everyone wants Horns Down, you don't want to fuck with Bevo
However, specific to Active Baseball Mascots, there is of course one who stands above the rest.
On the second tier, we have the up and coming Blooper.  His social media game is A+.
Astro – Houston Astros – who gets props for using an ATV, running without his shirt off and of course pyro-technics…
In the underrated department there is Bernie the Brewer, he has a Giant slide which is kind of cheating, but he uses it properly and the stache is A+.
In the 'Could be Better' department there is Billy the Marlin.  Who should really start to use his head more to his advantage to entertain the women of South Beach.
The Veteran that everyone forgets about — The Oriole
They would be cooler if they got a Divorce – Mr and Mrs. Met
Creepy but Harmless, there is Wally The Green Monster
Everyone's favorite Dad Mascots, Mr. Red
And of course Friar, who got Katie Nolan to Kiss him once….  Which does not suck.
We have Sluggerrr for the Royals, who most definitely doubles as a porn star on the side
And then we have the what the hell is that department, featuring Screech – Nationals
Baxter – the Arizona Diamondbacks Mascot
… and this … thing
But on National Mascot Day, we should remember the forgotten mascot.
Someone who is often sad and lonely and in need of attention.
Someone who really should be better and more deserving of Mt. Rushmore status….
I am of course speaking of,
Parrot, the Pirates Mascot
WEATHER
Did I mention that it is hot?
There are no PPD risks tonight.  At least not due to weather.
FRANKIE MONTAS
So the saying is that the Royals don't strike out a ton but vs Montas they should.  Four of the Royals top 5 hitters have a DCPA rating below 40 and the one who I think could run into one is Bobby Witt but out in Oakland that means at best a double with no men on base and then he is left standing there after Salvy strikes out and Hunter Dozier is caught staring at someone he thinks is a chick in the stands but it's actually a dude who is working on a nude painting of Jed Lowrie.
CARLOS CARRASCO
Friday home game for the Mets who will be in their Black Uniforms and I am a believer they will not lose with them on and Carrasco on the hill.  Miami offers up plenty of strike-out upside for Carrasco who some might be chasing after his big K performance last Sunday in Anaheim, so yes I expect him to be popular but I also expect him to go longer with less damage tonight.
DANIEL LYNCH
I was really hoping Lynch would get the start tonight and he is.  This is a terrific SP Game stack on DK and I do not mind Lynch as an SP1 even on FanDuel.  The lefty is coming off a string 7K performance vs the Orioles and has been good when he doesn't walk batters.  In Oakland I expect him to get plenty of foul ball outs as well which is going to help him get through 6 innings tonight.
CARLOS RODON
Rodon is not giving up any line drives and is looking to post another shutout today although he only went 6 IP in his last start vs the Dodgers – he is pitching very well.  This Pirates lineup is ideal in that it gives him plenty of exit spots if he gets into any trouble to avoid long or innings.  He should be a solid pick today.
DEVIN SMELTZER
From a value perspective, Smeltzer has as good of a spot as he can get.  He doesn't give up any hard contact to lefties and that's the whole Diamondbacks lineup.  At his $6,500 price tag on DraftKings a 5 to 6 inning win is going to look very good on a night where offense is going to be everywhere it seems.
Others who probably pitch okay but I don't see any point using in DFS
Clayton Kershaw, MacKenzie Gore (Really need these two to face off when the Pads/Dodgers meet up soon), Lucas Giolito, Paolo Espino
CARDINALS/RED SOX

Goldy, Arenado, Gorman – STL
Xander, Martinez, Verdugo – BOS
I'm in love with this game and honestly this series.  A white hot Goldy, Nolan in a park where he can just pepper the wall with line drives and on the other side the Red Sox facing Waino without his Molina behind the dish.  Load up on Fenway which will be warm with the wind blowing out tonight.
I don't look at BvP before deciding on things and I did not look at BvP before deciding that Arenado was a CORE play tonight.  But yes, he is 6-13 with 3 HR off Wacha, because that's the exact perfect match-up for him.
PADRES

Machado, Voit, Nola, Kim, Profar
We shall not overlook the Coors Field aspect today with a Dewpoint over 70 and warm temps overall.  Machado is a more logical play on FanDuel where you can use 2 third basemen and also where he isn't $6,100 like he is on DK.  But Luke Voit for $3800, Austin Nola for $3400 and Ha-Dong Kim for $3,300 are great plays on DK.
TWINS

Buxton, Correa, Sanchez, Urshela
Minnesota has been ELITE all season against any LHP, let alone ones that have mediocre velocity and give up lots of line drive home runs, so Madison Bumgarner should be a spot where Correa, Buxton, Sanchez and Urshela.
RANGERS/TIGERS
Semien, Garcia, Heim (TEX)
Reyes, H.Castro, Meadows (DET)
This game will do what I thought last nights would do and is going over.  Make this your secondary lineup stack of the night….  So it's right back to the well on a game which was an absolute snooze fest last night.  Hopefully we see Skubal as chalk because I think he gets roughed up tonight.
The Detroit side definitely has some value in it today.
Other good hitting spots:  Giants, Dodgers, Mariners
Today's BOOST+ Players
Use the Boost+ tab on the Dashboard to see the full real time breakdown as lineups are confirmed…
Aaron Judge, Yordan Alvarez, Paul Goldschmidt (Which is hilarious given how hot he has been), Starling Marte, Francisco Lindor, Luis Gonzalez, Jonah Heim, Jose Miranda, Tucupita Marcano, Ha-Seong Kim, Gio Urshela, Matt Chapman
CATCHER
Jonah Heim
Gary Sanchez (or Ryan Jeffers)
Christian Vazquez
FIRST BASE
Yeah, you are paying here tonight.
Paul Goldschmidt
Vladimir Guerrero Jr
Jose Abreu
Brandon Belt
SECOND BASE
Kind of a blah position today
Max Muncy – 2600 on FD – Steal
Nolan Gorman
Abraham,

the Legend of

Toro
THIRD BASE
For someone who drives the ball as well as Arenado does and crushes mid range RHP he should have a solid day today and a great weekend in Fenway Park.
Nolan Arenado
Manny Machado
Gio Urshela
Alex Bregman
SHORTSTOP
Deeper than first base tonight, and finally for the first time this season it feels like.  Welcome to the heaters club at Shortstop.  I don't often go this deep (hey now) in my position rankings but you should have 2 here on a main FanDuel lineup.
Ha-Seong Kim
X is gonna give it to ya Bogaerts
Carlos Correa
Brandon Crawford – Loves him some PNC Park
Trea Turner (FD)
OUTFIELD – MT RUSHMORE
On larger slates I often find it best to not have too many pay up guys in the Outfield, because there's often enough spots you can shop around for mid range or value guys that will produce.
Jurickson Profar – His stupid price in Coors makes him a Mt. Rushmore guy as I honestly would like to plug him and Kim in from the Padres and then move on.
Byron Buxton
JD Martinez
Tyler Oneill
OUTFIELD – Tier 2
Shohei Ohtani … Mr. Road Friday night – 1% HR if you have extra $ with cheap SP.
Adolis Garcia
Teoscar Hernandez
OUTFIELD – Value
A little thin here, so we'll see if anything changes with lineups announced later.
Brendan Donovan
Alex Verdugo – Quiet heater
Chris Taylor
The Dongers Club
Nolan Arenado – 3B – Cardinals – Chairman of The Dongers Club
Adolis Garcia – OF – Rangers
Tyler ONeill – OF – Cardinals
Gary Sanchez – C – Twins
Byron Buxton – OF – Twins
Max Muncy – 2B – Dodgers
Paul Goldschmidt – 1B – Cardinals
Xander Bogaerts – SS – Red Sox
BONUS ……………………… Alex Bregman – 3B – Astros
I really hate the pricing on DraftKings.  Coors Field is your value spot on DraftKings tonight, which is just utterly ridiculous as they continue to force you into using mid range pitching, chalk hitting and 5 man stacks where the 2300 5th hitter lucks into some bullshit homer.
So when you are building on DraftKings, your first team (lets assume you go 3+ from it) has to have a cheap punt play from that lineup because you're assuming they're going to score a good amount of runs and the bottom of the lineup will contribute to that.
CORE Hitters:  Arenado, Profar, Kim, Meadows
BETTING PLAYS
I did not write up the Dodgers because at those prices in a home game it's just not a spot I see going off enough, but I would hammer Dodgers -1.5 tonight because they should win this one 8-2.
SF Giants ML
Yankees/Jays UNDER 9.5
Rangers/Tigers OVER 8
Mets ML
Twins ML
Dodgers -1.5