TNF SD: Saints vs Cardinals>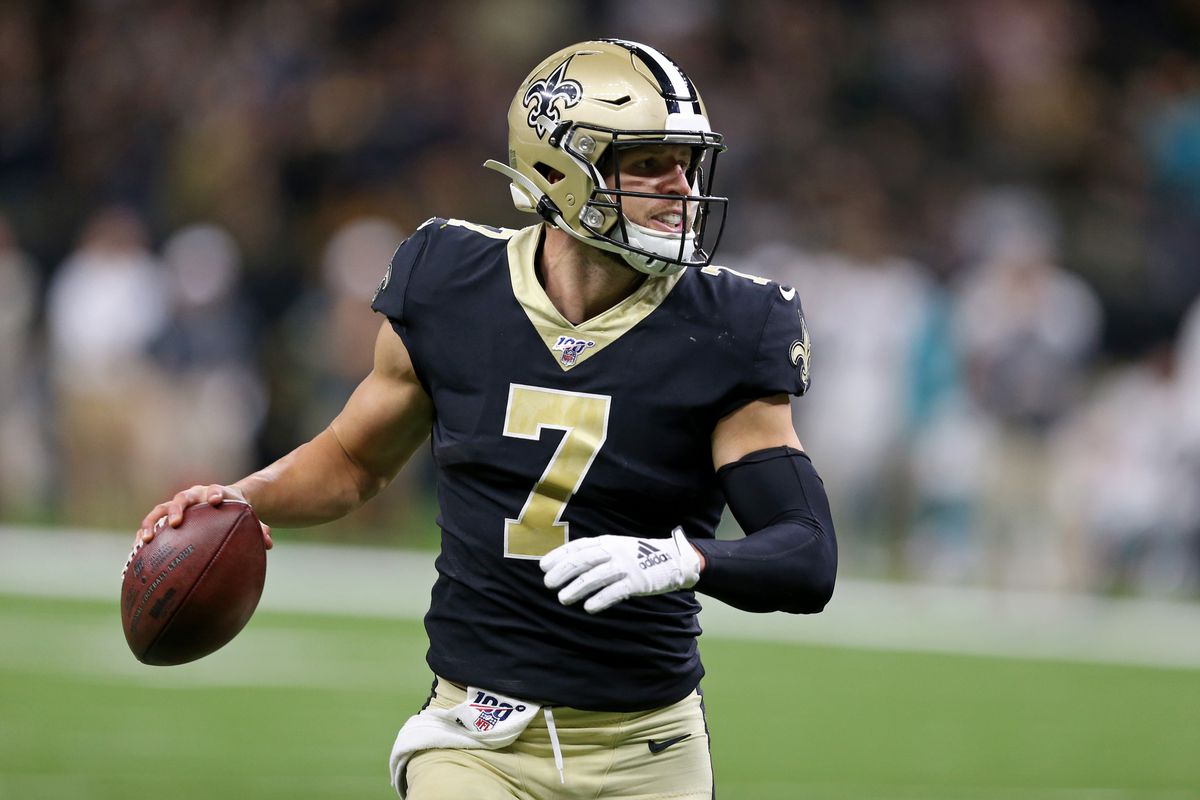 New Orleans Saints at Arizona Cardinals
SPREAD:  Cradinals -1.5,  TOTAL:   44.5
On paper I love this game for New Orleans, but unfortunately for them it is a Thursday Night Amazon Prime road game and that means crazy shit will happen.
New Orleans is also without CB Marshon Lattimore once again but I don't see it being too big of a deal because Kyler Murray sucks right now and DeAndre Hopkins and him cannot be 100% out of the gates as much as they want to pepper him with targets.
Notable Injuries
QB – Andy Dalton & Jameis Winston – Questionable
RB – James Connor – Questionable
WR – Michael Thomas & Jarvis Landry – OUT
WR – Chris Olave – IN
K – Matt Prater – Questionable
Captain Picks
TAYSOM HILL – New Orleans
Look, you opened the article, so you knew what was coming.
With Winston out and Taysom back healthy he has been averaging 11+ touches per game and quite honestly that is probably a low floor number tonight.  When the majority of your touches are coming inside the red zone and when your team has a significant blocking advantage one can only assume the production remains high.
There's also a ton of signs that Taysom Hill is going to throw a good amount tonight.  He did such in the last game as the Saints assumed teams would start to load up assuming he would run, and the various looks that they can do with Hill at QB are going to offer him chances to throw it and he can do that just fine.
There is one and only one captain that I would look at tonight and anything beyond that is just random guessing for me.
2 Touchdowns, 60 yards rushing, 75 yards passing and throw in a catch for 13 yards and we have ourselves Taysom getting enough to be used in the Captain Spot.  Oh, and don't be shocked if/when he just takes over the reigns at QB for two injured guys tonight.
Key Flex Players
New Orleans
A correlation nobody will point out is that when the Saints get in the red zone right now it's either Taysom scoring or a Wil Lutz FG.  The lack of Michael Thomas or Jarvis Landry is hurting them in that regard and so you should have one of if not both Taysom and/or Lutz in a lineup today.
Alvin Kamara should once again be in a good spot but on a short week is not someone I am rushing to use.  For under the radar Saints plays we have three guys.  Juwan Johnson, Rashid Saheed and Dwayne Washington.
Juwan Johnson makes a lot of sense as Arizona hasn't been dominant vs TE and he is the biggest body for the Saints to use down in the red zone.  Saheed burst onto the scene and was my sleeper last week with his big run and his elite level speed should find a way into the Saints game plan once again this week.  He corelates with the Saints D/ST in case he returns one to the house.
Washington is that 0.01% owned play here.  No, he isn't a primary RB but with a short week and Ingram  banged up we're going to see a scenario where Washington is on the field in a read option formation with Hill and teams are ignoring Washington 100%, as they should.  Don't be shocked if New Orleans has a play where they give it to Washington with lots of other decoys and he picks up a key first down or even a touchdown from the 7 yard line.
K – Wil Lutz
New Orleans main struggles of late on offense have been failing to finish drives.  Lutz could have another 3+ FG game and is kicking at an elite level of late hitting multiple 50+ yarders.
WR – Chris Olave
Needs no explanation.  He is back and ready to go.
TE – Juwan Johnson
Johnson has been a HUGE bright spot.  With the Saints missing Thomas once again they need a big body in the red zone on passing situations and Johnson is that guy.
WR – Rashiid Saheed
Last weeks gem is back for me this week.  He's gonna have to get more touches and remains a dirt cheap punt who can take it to the house on any touch (like he did last week)
RB – Alvin Kamara
I am a little off Kamara tonight.  He has a bad history on Thursday Night games and probably is not overworked.  Go ahead and prepare your sorry bitching tweets on twitter when he isn't getting touches inside the 10 yardline so I can RT them and make fun of your stupid ass because that's Ttaysom Time mother fucker. 
DST – Saints Defense
Alonte Taylor pick six.  Rashiid Saheed PR/KR touchdowns.  They're all in play tonight.
Arizona
I don't see why Hopkins would not get 3+ catches in this game.  Should he get 7+?  Probably not, the Saints do still have a viable CB in Paulsen Adebo who has had second year struggles at times but is physical and can work with Hopkins.  Rondale Moore is the most likely guy to get a bunch of catches and YAC as the Saints secondary sucks with tackling right now.
QB – Kyler Murray
So much of the Arizona offense has to go through Kyler.  Expect New Orleans to shadow him with one of their 2 top level LB a good amount so he has to find a way to connect with a WR for a touchdown or two.  He's not a captain pick at all because I don't believe he will run it enough even though historically a rushing QB can do well vs the Saints defensive scheme.
RB – James Conner / Eno Benjamin
Benjamin is a must if Conner is out.
WR – DeAndre Hopkins
Hopkins also wont smash tonight, but he also won't give you a goose egg.
WR – Rondale Moore
Most likely to break a few tackles and take one to the house.
DST – Cardinals D/ST
Bets
Keith Kirkwood Anytime Touchdown
SGP

Andy Dalton UNDER 249.5 passing yards
Taysom Hill OVER 39.5 rushing yards
Nuk Hopkins 4+ Receptions