The Ambush – Week 15 DFS>

THE AMBUSH, WEEK 15
I will gladly put my articles up to the test every single week against anyone else who is doing an article giving DFS advice on plays and speaking the truth.  This past week I saw a thread on twitter that just made my eyes roll back in my head.  It was basically your typical person with a _DFS handle in their twitter name who is out there trying to speak as if they are the only voice you should be listening too and if you play DFS a different way you are an idiot and here's the math on why they believe they are smarter than you.  The tweet was in regards to last weeks Milli-Maker winning lineup on DraftKings.  And it claimed that it was the most button mashing lineup ever built as if "thats a stupid lineup, that will never win, ha ha ha, look at this random lucky fool!".  Seriously?  The guy won a Million Dollars with it, what the fuck did you do last week with your game stacks and correlations and ownership percentages and all this other nonsense that really just confuses the average player?

Let's first address that breaking down a milli-maker lineup is not smart, because, well, it's a huge tournament and obviously there's going to be someone who just happens to have the perfect build that wins it for that week — although in this case the person could have DEFINITELY done much better with their lineup.  I mean, they didn't even have Drew Brees — and if you say Drew Brees was a random luck draw then you should just stop reading this article right now because I cannot win that argument anymore that you are dead wrong but hey, keep dealing with air yards and other shit that has no impact on breaking down weekly match-ups.  I had plenty of misses in my article last week and over the course of the season, but as I started off I will put myself up against anyone else.  Tevin Coleman, Aaron Jones, Drew Brees.  These have been GPP winning plays that you have been given and I hope you have had some success with them along the ways.  But sure, if you wanna stick with what the rest of the industry tells you to do because thats what they have reversed engineered then by all means, go there.
So with that said, here's what you should know about the week 15 games….
I really have little interest in going to deep into teams that aren't good and are clearly winding down their seasons right now.  To be specific, here is a list of teams that I have none or very little interest in this week with the players I consider viable options — and more detail below on why…
Cincinnati Bengals

Tampa Bay Bucs (Ronald Jones)

Detroit Lions

Denver Broncos

Miami Dolphins

NY Giants (Saquon Barkley)

Washington

Carolina Panthers
You want a fade list?  It's pretty much that with the exceptions being Ronald Jones (tampa ground game) and Saquon Barkley.   There are definitely some other bad teams this weekend like Cleveland, Arizona, Atlanta, Jacksonville, Oakland who I am not heavy on as well but overall their games are more appealing to me than the teams listed above. 
So why?  Well, for one this is the time of year where motivation most certainly factors into how the teams play each week and the teams who are in need of a win (or risk going home) are going to most likely ride or die with what they do best where as the teams who are out of it can be very unpredictable and also as is the case all season long, they're bad FOR A REASON.   So why try to solve the puzzle for every horrible team on a big slate when we have some confidence in the expected path for the good teams?  I just don't need to be figuring out who the 8th deep GPP Wide Receiver is because — well, that's for your Sal cousin at the bar to tout.  We don't do that here.  We just focus on picking the top winners.
Sunday Morning Update
I forgot to list below someone in my notes who I think is a fantastic play this week (more on DK though) and that is Dion Lewis.  Not only is Henry obviously a little banged up but it's better to use pass catching RB versus the Texans and with this game being popular nobody is using Lewis who can easily get you 70-80 all purpose yards, 5 receptions and a score.  Add him.
LOOK AT ME … I'M THE CAPTAIN NOW

This weekends MAIN slate will not have the best WR in all of football, Michael Thomas on it and so we don't have that automatic WR to deliver a sure thing 20+ fantasy points into your lineup despite being the highest priced WR on the board.  No worries, we have four stud WR1's who are all going to step up and compete for his void that is created by virtue of the schedule.  The four guys that you will need to break down, decide between, and ultimately look to roster all of them are – DeAndre Hopkins, Amari Cooper, Devante Adams and Julio Jones. Let's break them down in reverse order first.

Julio Jones has the benefit of Calvin Ridley being lost for the season going his favor, but also gets to face a secondary which was exposed by Drew Brees last weekend, and while that isn't going to sustain for 60 minutes on Sunday, there is enough here to like Julio Jones in an island spot to do something he almost never does — score a touchdown.  The 49ers defense has played similar to recent Eagles teams of the past with relying upon pressure up front to mask a secondary which is just okay at best.  I have zero faith the Falcons offensive line will keep Matt Ryan upright for the entire game, but if there was ever a spot we can see 2% Julio Jones go off to me this is it.  The San Francisco 49ers will come out flat on defense early and Matt Ryan and the Falcons facing their former O.C. will get into the box early (just not sustained for late massive upside) with Julio Jones getting in the box.  But he's #4 on this list….
The third best option for a huge game of the big four this week is Devante Adams.  The negatives on Adams are not the opponent, but his teammates pulling away some opportunities compared to my top two WR plays this week among the WR1's.  But Adams is like Michael Thomas in the sense that he always gets his.  His history against Chicago is also fantastic and the Packers must win this game to sustain their hold on a first round BYE — something I don't feel confident they can do, but they gotta have it.  Adams is getting his 8 catches, 90 yards and a touchdown and depending what side of the bed Rodgers wakes up on, he could get that 2nd or even 3rd score in a A-A-Ron look at me game.
Number two on our list might be one of the more controversial plays of the week.  Amari Cooper will have the perceived battle against Jalen Ramsey and the Cowboys are a hot mess.  Dallas wins.  In order for Dallas to win they're either gonna need a STOUT defensive performance (which at $3400 is something we'll address later) or it's gonna be Amari and Zeek shining off and my faith is a lot higher in Amari going off than Zeke.
But Number One, on the top of the list.  It's Nuk Season.
AMBUSH PLAY #1:  DeAndre Hopkins leads a WR1 dominance week…

A THREE TD MEAL – COOKING WITH DALVIN …

The Minnesota Vikings will be without Alexander Mattison this week and while they do have a third back in Mike Boone I don't think he's gonna get the 50% share that Mattison would have gotten this week and this is a ground and pound get the game over spot for the Vikings against an improving Chargers secondary.  Yeah, Theilen is back this week but there's ZERO reason for me to consider Kirk Cousins doing anything in SoCal, and in a must win game the Vikings have to lean on their ground game to have any luck this week.   
AMBUSH PLAY #2:   Dalvin Cook gets a big 50+ yard TD to finish over 100 yards and not 1, not 2 but 3 TD's…

THE END OF AN ERA …

It is the end of an era this weekend as the Oakland Raiders will seemingly play their final game ever at Oakland Coliseum.  Well, they DEFINITIVELY are playing their final game in that stadium and one has to imagine their move to Las Vegas will pan out given how much $ has been invested in that stadium and the infrastructure there.  The Raiders will be closing things out this weekend against the Jacksonville Jaguars, who pretty much closed out their season back in Week Two and without DJ Chark and Leonard Fournette quickly approaching that "gimme a new contract before I take another hit" phase, this game smells like a blowout for the Silver & Black.  Jon Gruden knows what this game will mean to the home town fans and just like they went out and won their final game last year in prime time (before announcing a come back for one more year), I expect them to be amped up for this game and to take things down easily.

Logically, Josh Jacobs and the ground game is the play against a Jaguars defense that hasn't stopped any running backs lately — but the play for me is to go full Raiders stack and include Derek Carr, Josh Jacobs, Darren Waller (or pick your own pass catching option) and yes — the RAIIIDAHHHS Defense.
AMBUSH PLAY #3:  The Autumn Wind is a Pirate, blustering in from sea…..  Stack the Raiders, not the stupid Jags.

BEST GAME OF THE DAY IS …

No chance I give this game any shot at being close to the 'Game of the Year' label that the 49ers and Saints game got last week, but the Chicago Bears vs Green Bay Packers is going to be the must watch game of the day which you will be glued too.  While I do like the Texans-Titans game to be competitive and a pretty good DFS game, there's no reason we shouldn't be looking at Aaron Rodgers and the Packers offense against a revitalized Bears team who is still a bunch of frauds.  Heck, I think the Packers defense are frauds as well.  Hmm.  Fraud + Fraud … Yep. We got ourselves a 30-24 OT thriller incoming this week with one of the Quarterbacks leading his team on an OT drive late to win the game and avoid a TIE and my money has to be on Rodgers doing that for the Packers.  The earlier meeting in week one was  snooze-fest but in prior years Rodgers has owned the Chicago Bears and Davante Adams always gets his 100 yards + fits that mold of a #1 WR who will get the ball in a close game.  Logically both teams ground games will make sense but the game flow I project in this game is gonna lead to both Quarterbacks having good days.  You want a 2% owned game to get exposure from?  This is that secret sauce people.
AMBUSH PLAY #4:  Game of the week is Packers vs Bears, OT thriller with Rodgers, Trubisky, Adams, Robinson and Tarik Cohen having good games.

AMBUSH RECAP
1. Nuk Hopkins sets the tone as stud WR's win the slate
2. Dalvin Cook is the RB you will need to have as he gets in the box multiple times and leads the Vikings to a must win road game.
3. Don't be stupid.  Raiders win in a blowout.  Dont play a single Jaguar
4. Packers v Bears is better than anyone expects.
QUARTERBACKS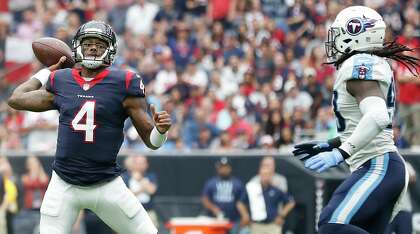 Sorry but there's not gonna be any 'sound sneaky' and go with a cheap Quarterback talk from me this week.   Riding the good guys here at the top

DeShaun Watson – Gotta be one of my favorite games this weekend and I don't mind Tannehill as well but prefer Watson's passing threats overall.  Titans will still lean on Henry.
A-A-Ron Rodgers – 300 yards and 3 TD later you're gonna be like shit, Brees then Rodgers, what was I thinking????
Derek Carr – Love the Raiders this week
Kyler Murray – Can't trust the kid but if any game is gonna F me it's this one.

RUNNING BACKS
Dalvin Cook … Reeeaaaaally hard to not like Dalvin without Mattison.
Chris Carson … While it's a great spot vs Carolina and with no Penny as well, there's still a little hesitation for me to feel Carson by himself is a must play this week.  I have him number one because he's the best play but not necessarily the one with the highest upside.  He just doesn't do that for them unless he gets all the TD variance and we know Wilson will somehow steal a couple here or there.  None the less Carson getting 18 fantasy points this week on FD (similar on DK depending on that 100 yard bonus) is a pretty safe bet and thus he's not really someone to say anything bad about.
Ronald Jones … The game plan for Tampa is simple.  They have seen enough of Winston and with Evans done for the year as well this filters everything back to the ground game to see what RoJo can do going forward for them.  Trust him, he is going to win someone a ton of money this week.

Saquon Barkley … This should be a Barkley game if the Giants play it right.  He looked to run well vs the Eagles and going form Eagles rush D to Dolphins rush D is a HUGE boost.  Barkley's huge game this year has been a myth, but this week is the one he should be on our radar.
TIER TWO

Derrick Henry … In a game i do believe is high scoring as it is projected, this is a spot where Henry may not come off as being a fantastic play vs a good rush defense but eventually he will wear them down and get into the endzone like he has been doing of late.  He's pretty much your lock TD of the week every week right now.
Josh Jacobs … Looks like he will give it a go.

Tarik Cohen … DK Play

WIDE RECEIVERS
Easily my favorite WR slate of the season this weekend.
DeAndre Hopkins … Documented him above.  Favorite play on the board.

Davante Adams … Adams always gets his 100 yards and hasn't had issues being targeted by Rodgers against the Bears.   Two touchdown game coming if the Bears do keep it close like I think they will.

Julio Jones … No Ridley, I love Julio this week compared to the guys in his same price range on FD, which includes Kupp, Woods, Landry specifically.
SECONDARY OPTIONS

AJ Brown … Too much volume to not like against a bad secondary

Amari Cooper … Fits with the theme of the week of stud #1 WR carrying their teams.
HARD TO TRUST BUT WORTHY OF LONG SHOTS
Tyler Lockett … Good spot for Seattle to get Lockett back in the offense but probably not at a HUGE volume because I don't see the need for that and Metcalf is doing too well also.

Golden Tate … QB sucks, buyer beware.
Brandin Cooks … Cooks on Turf now that everyone thinks he is dead.  Thanks….
Greg Ward Jr … For $3,000 on DraftKings if he isnt 40% owned in a season when Brian Hill and Patrick Laird have been chalky DFS plays then just throw every tout in jail for fraud.
SLEEPERS
Randall Cobb … Prefer Cobb over Gallup chalk.

Kenny Stills … If Fuller sits
TIGHT ENDS
Not the best week in the world for Tight Ends so this is my main list of guys to look at.  I know Kelce and Ertz are likely chalky plays but I'll take these guys in better games IMO.
Darren Waller .. Sure, they used him a lot in blocking last week vs the Titans.  No need this week.  Unleash Waller!
David NJoku
Jonnu Smith
Tyler Higbee
DEFENSES
KANSAS CITY … Here's a little random sauce for you.  The Heiress to the Chiefs is Drew Locks ex-girlfriend and he supposedly dumped her for some hot Instagram Model.  I tell you what man…  Kids these days just don't know what they are doing.  Back in my day, we had to …………….. oh, nevermind, probably shouldn't go down that path.  Uh yeah.   So.  That has nothing to do with this game.  But the Chiefs Defense should smother Drew Lock.

DALLAS … Wow.  They're fallen quite a bit in price and nobody will want to tell you the obvious in this game which is.  JARED GOFF SUCKS.
NEW ENGLAND

OAKLAND
A new section that I am bringing to my article each week.  This is my sneaky way of providing thoughts on lots of the games without actually "touting" or recommending specific plays each week.  It's for those of you who love to ask questions on Twitter, Slack or whatever other method you prefer.
Okay, what's the game you aren't heavy on that scares you?
Cleveland vs Arizona … Good stadium, two QB who obviously have a little narrative against each other and plenty of passing targets on both sides to like (Landry vs Fitz should be a nice PPR battle).  I cannot trust the RB situation on the Browns and if anything I like Kenyan Drake the most out of every player in this game but didn't put him into my main plays.  I'll likely end up tilting onto him in the 4PM slate tomorrow. 
Pick three upsets, three locks and three WTF
Three Upsets:
Raiders win by 30 … Can I count that as an upset?

Falcons cover

Cowboys hold Rams under 10 points.
Three Locks:
DeAndre Hopkins 8 catches and 100 yards receiving

Dalvin Cook Touchdown from left to right across your radio dial in the first half.

Oakland Raiders Win and Cover
Three WTF:
WE HAVE A STREAKER.  I REPEAT.  WE HAVE A STREAKER IN THE EAGLES AND REDSKINS GAME

KYLE ALLEN … Dont Ask.  Just throw in a Kyle Allen milli maker lineup.  That's all.

I'm gonna fade Taysom Hill on the MNF showdown slate.
CONTEST SELECTION REMINDERS
Reminder on a couple things you should be looking for each week are as follows
Tournaments with less than 1k users in them

Tournaments with less than 300 users in them

Tournaments that pay 10x to first not 50x to first

Higher paylines (% of people who get paid)

How much does 10th place get?  20th place?
Focus on not first place but below that.  Make sure you are playing a tournament that is one you can win in and will not have a ton of tilt by entering a lineup and having to worry about every single person who scores on the slate.  You'll find that in the long run any tournament that only pays 10x to first is one you will profit in.