PGA Dew Sweeper: Scottish Open>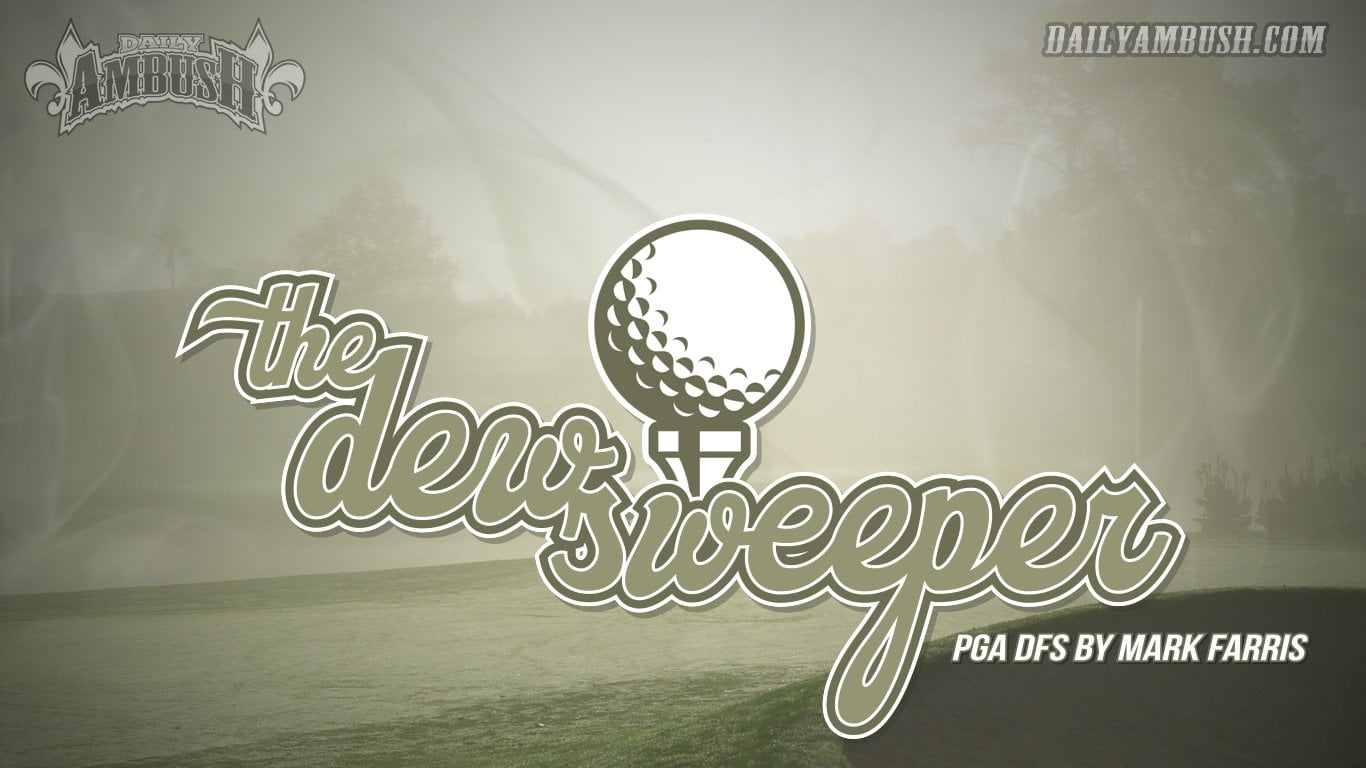 GENESIS SCOTTISH OPEN
I actually had a pretty good week last week.  I was leading the $44 entry Club Twirl going into Sunday and had four or five guys in the Top 10 to begin the day.  But, it's golf, and Matthias Schwab decided to leave his game in his hotel room and I slid to third place.  Still, a 10x return is something I'd take every time.
This week, we head to the Scottish Open because the DP World Tour and PGA decided to co-sanction this event this year.  Smart in my mind since the tournament played in the U.S. opposite the event usually had a very week field.  With The Open (British Open for you old school people like me) being the following week, most guys headed to England/Scotland the week before to prepare.
The Barbasol Championship is this week as well.  If I can, I'll try to post some picks for that tournament on Discord if you want to dabble.  That assumes DK prices it.
General Description:  The Renaissance Club is the same as last week at Deere Run – Par 71 at 7,250 yards.  However, the similarities end there.  This is a links style course right on the coast so wind and weather will play a roll.  The greens are fescue grass and it is not something we see here.  It is most similar to bentgrass.  We will have mounds, deep bunkers and tall fescue which is worse than thick rough in my opinion.
With that said, key factors this week (in no particular order):
Shots Gained Approach
Shots Gained Around-the-Green
Shots Gained Putting
The field is pretty loaded so you will be able to get some decent plays in the $7K – and even high $6K – ranges so you can probably get 2 or 3 of the top guys in a lineup.
Remember, PGA isn't a "positional" form of DFS and everyone qualifies for every position.  It's all about price and current form in my opinion.  The format will be:
Each price range, I will give you my Top 2
"Dew Sweepers" – two or three (or four in the Top Tier) contrarian picks that I think will be low owned…or I just have a gut feeling on.
At least one "longshot" in the final price range – no Dew Sweepers.
Two (or Three) "Cores"
Top 20 in my statistical model for those of you wanting stats
NOTE:  All pricing is based on DraftKings
Tiers (the ranges will fluctuate weekly based on pricing):
$9,000 and Above
$7,500 to $8,900
$7,000 to $7,400
Under $7,000
$9,000 and Above
As always, when I can't decide on certain players I like to look at two things as my "tiebreaker" even when the field isn't loaded:
Current Form (CF) – if a guy is playing well, it's reasonable to assume he will continue playing well.  Golf is streaky and if a guy struggled on Saturday and Sunday the week before, I'm going to move him down.
Course History (CH) – as I said, it's streaky.  If you're playing bad, the thing that turns you around is usually a good lesson, time off, or a course that fits your eye.
This is a more reasonable pricing week and resembles pricing similar to what we will probably see next week at The Open.  There are going to be a lot of guys that many of you will have never heard of, but that's why I'm here I suppose.
In reality, you don't need me to tell you who to play and not play in the higher range.  These guys are priced this way because they are playing well and Vegas thinks they will win.  Now, of course, you can't get them all and they all can't win.  So, I do my best to give you the guys I will use the most – just don't think I'm excluding the rest of them.
Scottie Scheffler ($11,200) – I know!  I hardly ever recommend the highest price guy on the board.  If I do, it's usually because pricing is like it is this week or because the guy is CLEARLY the best player in the field (on paper).  That was Webb last week, but I was also right in my hesitation due to anticipated ownership.  BONUS – he missed the cut!
Matthew Fitzpatrick ($10,100) – I'm going with guys that play links golf more often.  Fitz has three Top 15s in his last four appearances here and is playing very, very well right now.
Dew Sweepers:
Sam Burns ($9,200) – think he may fly under the radar here since he missed the cut at Travelers.  He finished T18 here last year and, to me, is playing better this year than he was last.
Xander Schauffele ($9,900) – T10 last year here.  Top 20 in his last 6 events including two wins.  I'm going to play him for sure, but I'm also using this week to judge how high I'll be on him at The Open.
$7,500 to $8,900
Jordan Spieth ($8,900) – Like Burns, he missed the cut at Travelers.  However, prior to that, it was Jordan of old.  And, if you want to play guys that thrive at links golf and don't consider Spieth, you haven't watched The Open in the last decade.
Ryan Fox ($8,500) – He burns me more often than not!  But, for some reason, my gut always tells me to play him.  Two great finishes in his last two events and good history here. In the last two weeks, he's finished 3rd at the BMW and 2nd at the Irish Open – both World Tour events.  There are a lot of familiar names around him too so I think he may be lower owned.
Dew Sweepers:
Tommy Fleetwood ($8,400) – Really hasn't lived up to the expectations for his career since emerging on the world forum.  However, links golf and Tommy Fleetwood go together like Ireland and warm beer.  I plan on him making the cut!
Max Homa ($8,000) – "West Coast" Homa has transferred his game throughout the U. S.  Now, I think he transfers it worldwide.
There are plenty of other guys in this range that are absolutely playable.  Remember, it's Golf DFS and I can't write-up all 65 guys that I think make the cut.  In this range, you can also consider:
Viktor Hovland ($8,800) – not the best short game so I'm not as high on him
Keegan Bradley ($7,900) – if you're looking for a guy that is most likely to stay out of the hazards
Adrian Meronk ($7,700) – he won last week so he's in good form and with Mitchell, Hatton, Pereira and Rose around the same price, he should be lower owned.
$7,000 to $7,400
Still risky, but this course favors even the guys in this range.
Aaron Rai ($7,400) – Has won here before and he's only missed one cut in the last three months.
Thomas Detry ($7,100)
Dew Sweepers:
Matt Kuchar ($7,400) – Good links history and tends to stay out of trouble.  That's a big deal with gorse rough and deep bunkers.
Jordan L. Smith ($7,300) – Yes, DK uses his middle initial.  I'm hoping it means "low".  Low as in score and ownership.  He's made 12 of 13 cuts on the World Tour.  I'll taking a good showing with many others not even knowing he exists.
Under $7,000
Don't want to go here just to go here, but, this week you can!
Victor Perez ($6,900)
Fabrizio Zanotti ($6,800) – 11 of 12 cuts made and last for are T4-T32-T32-T8!
Jorge Campillo ($6,500) – I've always liked to lean towards guys that play on links style and European courses in events like this.  Familiarity is a good thing in golf and, at these prices, a Top 30 will give you an advantage on the field.  One, because few have them and two, because you can get the bigger five-figure names because you just spent under $14K for two quality golfers.
LONGSHOT:
Padraig Harrington ($6,700) – He's playing mainly on the Champions Tour right now, but finished T30 at the Irish Open last week after winning the U. S. Senior Open.  How many times have we seen the older players hold their own on links style courses?  What they give up in distance they make up in staying out of trouble!
No more fades!  I'm going with the positive.  Here are some potential "Cores" to build with:
CORE #1 (top heavy):
Scottie Scheffler
Jordan Spieth
Ryan Fox
(Leaves you $7,133 per golfer)
CORE #2 (balanced):
Jordan Spieth
Max Homa
Tommy Fleetwood
(Leaves you $8,233 per golfer)
FOR THE STATS NERDS AMONG US:
TOP 20 using the model I utilize with 50% Current Form/ 30% Key Stats/20% Course History:
(V) = Value at $8,000 or less
Matthew Fitzpatrick
Xander Schauffele
Justin Thomas
Scottie Scheffler
Jon Rahm
Will Zalatoris
Patrick Cantlay
Sam Burns
Keegan Bradley (V)
Max Homa (V)
Cameron Smith
Sungjae Im
Billy Horschel
Keith Mitchell (V)
Matt Kucahr (V)
Justin Rose (V)
Adrian Meronk (V)
Tommy Fleetwood
Sebastian Munoz (V)
Cameron Young
Viktor Hovland
Statistically, there is a lot of value.
Ask questions on Discord if you have them.  Make sure to tag me so I don't miss it!
GOOD LUCK!!