PGA Dew Sweeper – Pebble Beach Pro-Am>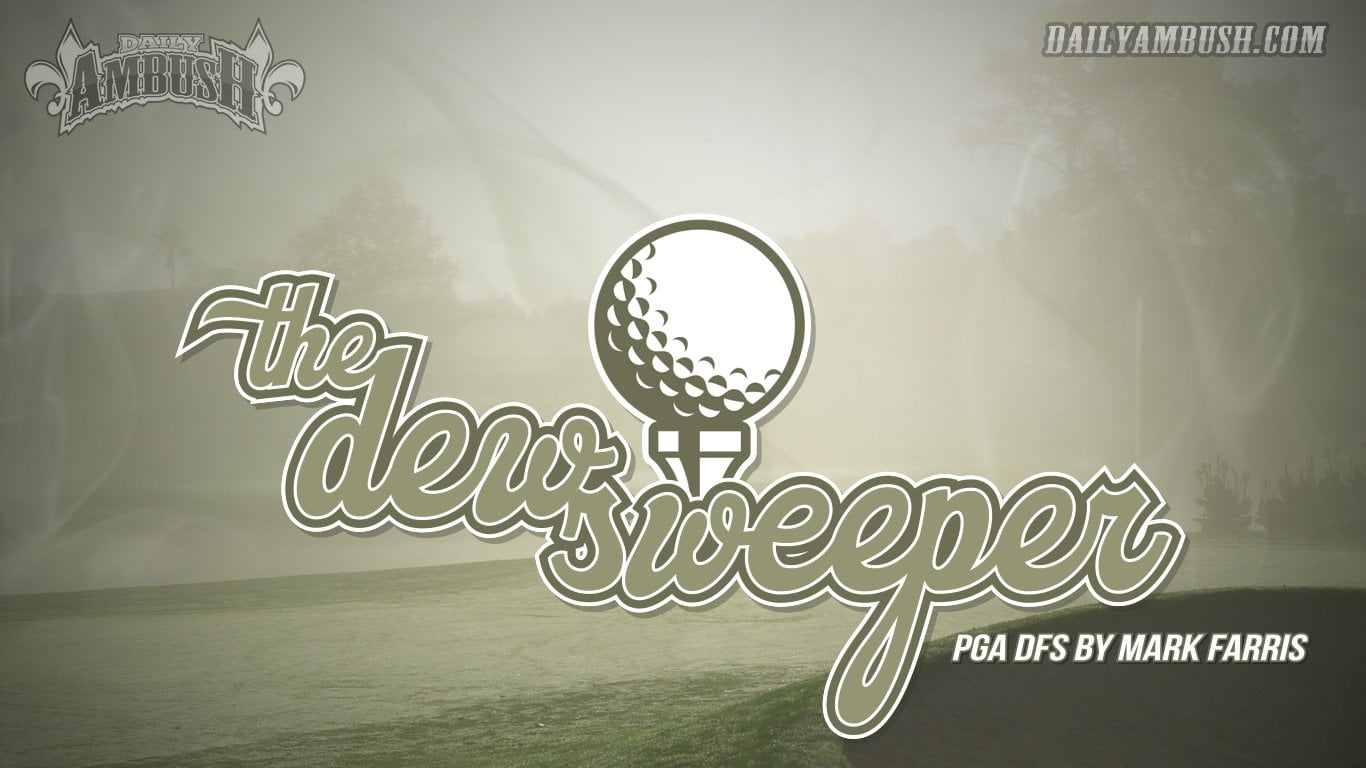 Pebble Beach Pro-Am
Did Jon Rahm disappoint last week?  No.  Are some people pissed because his Sunday round wasn't spectacular? Of course.  This guy is still on fire…but not playing this week so why am I talking about it?  To emphasize how difficult it is in PGA DFS to:
Get 5/6 or 6/6 through on cut events
Have guys play 4 (or even 3 solid rounds)
The field is a little lighter this week but we do have the same format that we did for the American Express a couple of weeks ago.  We have three courses and a Saturday/54-hole cut.
Monterey Peninsula is the easiest of the three courses if the wind doesn't blow.  Spyglass Hill is the most protected from the wind since it's more inland.  For Showdowns, it may be a good idea to get at least 4 or 5 players in your lineup on Monterey unless the weather report shows high winds. Even then, I wouldn't stack Spyglass since it is still the most difficult.
Highlights:
Pebble Beach – Par 72 @ 6,800 yards  (It's a short course and will be played twice by those making the cut, but wind can make it tough.)
Spyglass Hill – Par 72 @ 7,041 (the most difficult of the three courses unless the wind blows – then you can get some help from being inland.  Still, it is historically the most difficult so)
Monterey Peninsula – Par 71 @ 6,950 yards
I'm not real excited about the pricing or the field this week.  I think tournament history is something we need to look at this week since Pro-Ams can be an acquired taste and this is probably the most iconic Pro-Am on Tour.  There are a lot of distractions because of the number of celebrities that play in it.
Again, remember, you're guaranteed 3 rounds unless someone withdraws so, unlike most weeks, you can take some risk with lower-priced guys – although I don't see a lot of opportunity at first glance.
NOTE:  All pricing is based on DraftKings
** are my favorites in each category – could be pricing or the fact I think they play best.
$9,000 and Above
Tom Hoge ($10,000)** – won here last year and has really been playing excellent golf lately.  He ranks 6th in Shots Gained – Total over his last 16 rounds.  His short game doesn't rank great (141st SG-Around-the-Green), but the Total shows how good everything else has been. He's first in SG Approach and 2nd in Ball Striking.
Matthew Fitzpatrick ($10,100)** – My problem this week is that so many guys that I like are priced at $9K or above.  That's the problem with weak to semi-weak fields.  Even the guys that I've recently looked at as bargains (McNealy, Rose, & Kuchar) are over $9,000.
Joel Dahmen ($9,000) – Went with my gut on Homa last week!  Going with it this week with Dahmen!  He withdrew from the American Express because his wife gave birth to their first child.  That's why I hate when they say "withdrew for undisclosed reasons". We all think injury!  Hasn't played since November, but his last five tournaments before that were T5-T9-T3-T16-T37.  Rust?  Maybe, but I'm playing the "New Dad" narrative and the fact that he has had two Top 15s here in the last 3 years.
Maverick McNealy ($9,600) – This is another gut call – at least a little bit.  A lot of people will go with Spieth ($10,600), Hovland ($10,300) and Fitzpatrick ($10,100) in this tier simply because the "know the name".  Even though I like Fitz, the names like Hoge, Power, Putnam and McNealy will likely show lower ownership.  With pricing the way it is this week, even saving $500 – $1,000 on your first pick can help.
$7,500 to $8,900
Thomas Detry ($8,800)** – $1,200 more than last week which says a lot about the field.  He has been playing decent golf, but not so good that he deserves a price increase like this.  However, he is one of the better options in this price range.
Lanto Griffin ($7,600)** – This may be the best bargain in the field.  Now, he returned to competition last week from a lengthy layoff due to back surgery last June.  He played on the Korn Ferry Tour the week before so he now has two 4-round weeks under his belt.  In his last two trips here, he has two Top 20s.
Russell Knox ($7,500) – This is a course history and price play!  Oh, and you get a pretty experienced golfer at the minimum price for this Tier.
Ben Griffin ($8,600) – A Tour newcomer that has been playing pretty solidly on this stage.  Plus, how often can you get a Griffin-Griffin combination in your lineup?
$7,000 to $7,400
Justin Suh ($7,300)** – Who? Suh?  No experience here, but good form coming in.  I'm telling you, there isn't much to pick from down here.
Greyson Sigg ($7,200)** – He missed the cut at the AmEx but made seven straight cuts prior to that.  He also ranks 8th in SG-Total and is no worse than 56th in any other category.  While that's not anything to write home about, he is only $7,200!
Garrick Higgo ($7,400) – Last week wasn't what I expected even though I liked him as my "Longshot".  Still, I'll play him again this week.  He finished T11 at the AmEx so I'm hoping he likes the three-course format.
Callum Tarren ($7,200) – I really like the fact that he had a Top 25 last week and is ranked 3rd in SG-Total over his last 16 rounds.
Under $7,000
"Scrub Zone" is an understatement this week.  I really don't want to make any picks this week, but, if you have to, I will reluctantly give you the following name:
Wesley Bryan ($6,100) – he can play well, he just hasn't.
J. B. Holmes ($6,400) – Last week was his first time back on Tour in a while.  Hopefully, that knocked off the competition rust.  He has been Top 25 four times here.
Matthias Schwab ($6,900)
LONGSHOT
Kevin Streelman ($7,100) is my longshot.  He's struggled some lately but I don't think he deserves a price tag that's this low.  Tournament history:  Cut-13th-2nd-T7-6th-T14-T17-Cut.  That's not a bad risk-reward at this price.  Remember:  "Comfortable courses can make a golfer right!"
Ask questions on Discord if you have them.  Make sure to tag me so I don't miss it!
GOOD LUCK!!