PGA Dew Sweeper – Arnold Palmer>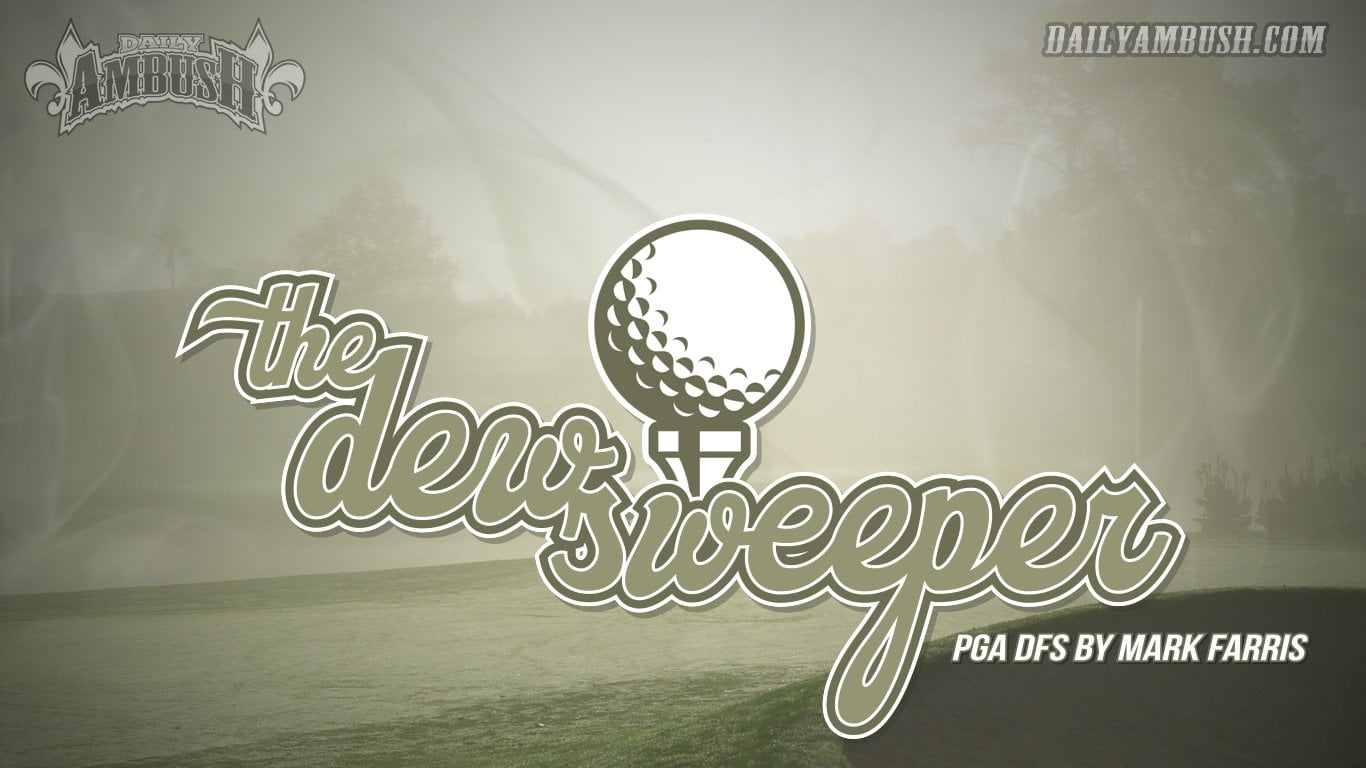 Arnold Palmer Invitational
Most of you probably saw how last week turned out for me.  I'm learning a couple of things with a bigger bankroll now:
Playing higher-entry fee contests are better for those of us that do the research and, if it's single-entry, that's even better.  Since I hit on CBB a few weeks ago, I've been playing some $100 and $200 SE GPPs.  I cashed pretty well at Genesis and won a GPP last week at PGA National.  "High-dollar entry fee" depends on your comfort level and bankroll. For some, that's $20 to $50.  I've moved on to $100 and up but still haven't had the nerve to play anything over $500.
Like I said on Discord about this week's lineup, it doesn't have to have any clean-up hitters in it (to use and MLB term) to be a great lineup.  I had 4 guys at $8,500 and below and my top guy (Chris Kirk) was $9,900.  Admittedly, I used Eric Cole at $6,900 because I had heard some chatter about him and, well to be honest, fit what amount I had left.  Sometimes, you just get lucky.
Welcome back to the world of the "Elevated Event"!  This is awesome from a viewer's perspective, but a pain in the ass for DFS.  It was so much easier to skip guys over $10K when the field isn't as high-quality.  I'm still sticking with my mantra above of not worrying too much about "getting those guys", but pricing in weeks like this usually allow you to get 1 or 2 quite easily and the lower-end prices are still some quality players.
So, with that said, on to the King's Tournament – and, hell no, I'm not talking about LeBron James.  In fact, I don't even like to hear LeBron talk at all – talk about an ego!
Highlights:  Bay Hill Club & Lodge
Fairways are slightly wider than average in spots
Wind is supposed to pick up (dramatically) from Friday afternoon into Saturday. It may be wise to stack guys with Thursday afternoon – Friday morning Tee Times.  Weather could change so check it!
This is a long course, so driving distance will help.  Par 4s are long and difficult so long iron play and Par 4 scoring will be an advantage.  Players MUST take advantage of the Par 5s or there may be a struggle with the cut line.  Greens are fast and have run-off areas around the edges.  Based on all that, I will use Key Statistics for the $9K and up guys as follows:
Shots Gained:  Tee-to-Green  (SG: T2G)
Blended:  Driving Distance (20%); SG: Around-the-Green (20%); Par 5 Scoring (20%); Birdie-or-Better% (20%); and Scrambling (20%)
NOTE:  All pricing is based on DraftKings
** are my favorites in each category – could be pricing or the fact I think they play best.
$9,000 and Above
This is by no means a guarantee that the statistics will continue, but, I've learned that gut feelings need to be balanced with statistics sometimes.
SG: T2G (with overall rank against the field – last 16 rounds):
Scottie Scheffler ($10,900) 2nd
Rory McIlroy ($10,600) 4th
Justin Thomas ($9,600) 17th
Collin Morikawa ($9,500) 3rd
Will Zalatoris ($9,400) 6th
Xander Schauffele ($9,200) 10th
Patrick Cantlay ($9,100) 18th
Viktor Hovland ($9,000) 27th
Blended (based on weighted score):
Xander Schauffele (89.53)
Again, I'm not a big statistics guy.  However, there are only three ways to separate these guys at the top in my opinion:
Statistics (current that is)
Course History (always in play since some guys just "fit")
Gut Feeling
I gave you #1 so you can weight that anyway you like.  My favorites on the others are:
Course History:           Rory McIlroy ($10,600); Scottie Scheffler ($10,900); Max Homa ($9,700)
Gut:                             Will Zalatoris ($9,400); Justin Thomas ($9,600); Rory McIlroy ($10,600)
For my "you don't need the highest priced guy" approach, I like Patrick Cantlay ($9,100) and Viktor Hovland ($9,000).  The guys in the remaining groups leave some great options for balanced lineups and stars-and-scrubs.  That's the advantage (or disadvantage depending on how you look at it) of these events that attract the top players in the world.
$7,500 to $8,900
Sungjae Im ($8,900)** – I'm all over this one.  He hasn't had the greatest finishes in the last two weeks (T42 & T56), but he seems to love this tournament/course.  T20-T21-3rd-T3.  He's usually a reliable cut maker too.
Cameron Young ($8,700)** – He hasn't been standing out lately even though he's playing well.  I mean FOUR Top 20s in SIX events isn't a bad thing.  He's usually not priced this low which may drive some ownership, but take advantage of it when you can.
Tyrrell Hatton ($8,300) – He loves Bay Hill.  T2-T21-Win-T29-T69-T4 is pretty much a "course horse" by definition – especially since 2019.
Tom Kim ($8,400) – no history at Bay Hill but he's a gut call in this tier.
Hideki Matsuyama ($8,200) – He's NEVER missed a cut at Bay Hill.  Now, he missed the cut in his last appearance this year, but I'll take course history over that.
Below $8K?  Rickie Fowler ($7,700); Adam Scott ($7,700); Keegan Bradley ($7,600 – another Course Horse); and Chris Kirk ($7,700 – a $2,200 drop from last week)
NOTE:         Matthew Fitzpatrick ($8,800) has four Top 10s in a row at Bay Hill.  I like him, but I'm not sure I trust him and his sore neck yet.
$7,000 to $7,400
Min Woo Lee ($7,300)** – You remember the "Australian-not-Asian" guy?  Again, if the wind blows this week, I like Aussie's (Adam Scott above).
Seamus Power ($7,400) – Played here last year and missed the cut.  However, in the current PGA season, he is T14-T20-T15-T20-T25!  With that current form $7,400 is a risk-reward scenario that I like.
Thomas Detry ($7,200) – I liked him last week and he withdrew.  Fortunately, it wasn't an injury, it was an illness.  That doesn't bother me as much.  He's a solid player and this may be a low-cost way to differentiate since I think he probably pissed off enough people last week that they won't go back.
Christiaan Bezuidenhout ($7,100)** – I freaking love this play this week!!!  So much, he could be in just about every lineup I have.  In his short time on the PGA Tour, it's apparent he loves Florida and has 3 Top 20s in 3 attempts at Bay Hill (including a 7th in 2021).
Adrian Meronk ($7,200) – Just a bonus pick for you.  Not many are even on this name as a player yet, let alone DFS.  I'm sure, like Bezuidenhout, he will make one or more of my lineups.  In fact, I may start a lineup with Bezuidenhout, Meronk & Power and see what I can get at the top.
Under $7,000
"Scrub Zone" – it's not risky or horrible.  Hell, you have the guy that finished 2nd last week in this tier:
Eric Cole ($6,900) – Hello Mr. Cole!  Nice to meet you!  Oh, and thank you for solidifying that GPP hit for me last week.  Would you like to play for me again? Oooh, here's an idea!  Add him to the guys in the previous category and I can get Scheffler & Homa and still have money left!
Garrick Higgo ($6,600) – His T29 bounce back from a missed cut against the Bear Trap last week makes me feel good about this price tag even though he missed the cut in his only attempt here last year.
Seongheyon Kim ($6,600) – At this price, make the cut and you get the payoff!  He makes cuts.
LONGSHOT
Tommy Fleetwood ($7,500) is my longshot.
Too low of a price for a guy that is clawing his way back to the level of play we are used to seeing (Rickie Fowler situation).  He's missed one cut at Bay Hill, has 3 Top 10s in 6 attempts and, outside of the cut, has never finished lower than T26.
Ask questions on Discord if you have them.  Make sure to tag me so I don't miss it!
GOOD LUCK!!