Welcome to the 2019 version of The Ambush, as I will walk you through a weekly article covering the NFL DFS Landscape for the Main slate each week.  This article is not only intended to help YOU the reader out with your NFL DFS enjoyment for the week, but it's also my Bible that I will rely upon each week to do my lineups, contest selection, bets, GIFs, angry twitter rants or whatever else I need for that given weekend of NFL action.  You can expect this article to come out on Saturday's as Friday nights are my grind time (… no, not that kind of grinding, cmon people …) to get this article done and ready for the weekend.  I'm a big CFB player so Saturday's are reserved for watching college football (or doing actual life stuff), but I will then come back to my article on Saturday night and make sure all my lineups and entries are set before eventually going to bed for the evening.  You can expect me to not want to change a single thing on Sunday's and I'll likely not even want to answer any questions you have on Sunday's.  If you want the best time to get your lineups done, it should be Saturday night's when you are reading this article.
Here's a recap of what this article will cover.
This article will cover plays that I am using on my MAIN lineup & what that is being entered into.

This article will cover plays that I am using on my SECOND tier lineups & what contests those are being entered into.

This article will cover plays that I am using on my THIRD tier lineups & what contests those are being entered into.

This article will cover my favorite weekly BETS for the weekend games.

This article will cover who I feel is chalk and how it should be addressed.

This article will cover all my NFL thoughts in one spot.
What are The Ambush plays?  These are my plays that I feel warrant the most attention for a given week.  It's a mix of three types of players/teams each week.  We'll cover the stud you gotta have no matter what.  We'll cover the contrarian pivots.  We'll cover my favorite games/stacks of the week.
The first thing we must do each Week is understand the landscape of the slate and any injury or weather or miscellaneous information that we need to monitor from the time this article comes out (Saturday's) until lock on Sunday at 1PM EST.
Stuff To Monitor
Injuries and Playing Time Concerns
Going into the first week of the season we naturally see most players are going to be a full go.  Smart teams in the NFL have a rule that if you don't practice on Friday you aren't playing and when deciding on a player in DFS I follow the same rule 90% of the time.  
But that's far from the case this week as it appears we have some things to further cloud concerns this week.  I personally do not like any CB or WR who comes into the week with any leg type injury but all in all I think most guys will suit it up this week.  Here's the guys to monitor
Stefon Diggs – Hammy

Odell Beckham Jr – Hip

Mike Evans / Chris Godwin – Flu

Julio Jones – Realizing he is a Falcon and is miserable.
In terms of playing time, this is where the noise comes in and screws everyone else up.  We should know ahead of Sunday what the likely playing time is going to be, but everyone gets flipped by some late breaking news around Noon on Sunday mornings when maybe a RB is said to be starting ahead of another or will get "x-y" touches.  This is honestly a measure of your discipline each week.  I rarely pivot with such news and I feel you shouldn't either.
Weather Status
All games this weekend appear to be good without any major issues.  You do always have the heat and potential pop-up storms in Florida with the 49ers/Bucs and Ravens/Dolphins being the two I would worry about the most and not so much with Chiefs/Jaguars.  But all indications are that the weather should be fine.  Just hot.
---
OWNERSHIP REPORT
---
| | | | | | | |
| --- | --- | --- | --- | --- | --- | --- |
| | QB | RB | WR | TE | DEF | STACK |
| HIGHEST OWNED | Winston, Jackson | Cook, Carson | Thielen, Godwin, Lockett | Engram | Ravens, Eagles, Seahawks | Bucs |
| SECOND TIER OWNERSHIP | Wentz, Murray | Fournette, McCaffrey | Beckham, Golladay, Westbrook | Kelce, Ertz | Jets, Browns | Vikings |
Adam Thielen – If Diggs is out…
There honestly isn't that much heavy bad chalk this week to be bold in fading but there are plenty of good options to consider jumping off chalk if you are desiring to do that.  But as you'll see below I don't think that's really the way to go 100% here this week.
---
THEME OF THE WEEK
---
Welcome to the week.  This is the week last year that the username 'chalk' won the milli-maker on DraftKings.  Week one has turned into the largest hype show in all of DFS.  Literally this is the Super Bowl for the DFS world as an entire summer of endless takes and people projecting week one plays for over a month with the pricing being released has generated so much attention and so much buzz that I honestly feel most people are exhausted by the time the games start on Sunday.  There's absolutely zero "sneaky" edge in NFL DFS when it comes to week one and anyone who says there is simply is playing multiple lineups and just covering their ass.  Play the chalk without being too cute this weekend.
---
CONTEST SELECTION
---
Theres a ton of contests out there for you to be focusing on rather than just playing what the sites are forcing you to play.  A couple things you should be looking for each week are as follows
Tournaments with less than 1k users in them
Tournaments with less than 300 users in them
Tournaments that pay 10x to first not 50x to first
Higher paylines (% of people who get paid)
How much does 10th place get?  20th place?
Focus on not first place but below that.  Make sure you are playing a tournament that is one you can win in and will not have a ton of tilt by entering a lineup and having to worry about every single person who scores on the slate.  You'll find that in the long run any tournament that only pays 10x to first is one you will profit in.
I will update this late Saturday night with the type of contests I put the ambush plays into…
YAHOO!
I have multiple lineups on Yahoo in what I feel is the best multi-entry / big field tournament where the max is 10 entries and even 50th place gets 1k which is really good (this is the $25 entry – Million Dollar Tournament).    So over there I have various QB-WR-WR stacks mixed in with my favorite RB combinations and ALL Seahawks.  If you love Yahoo! as your main site then obviously roll other tournaments there as well.   This is my 5-10 lineup site.
DRAFTKINGS
Ive said before I don't love DK's scoring a ton with the bonuses and the way they price guys a lot of times.  Plus the full PPR is a big difference there as well, but I have one main lineup on DK this week and that means I will definitely have one of the top two AMBUSH plays below in it, if not the top 3.
FANDUEL
This is the site where I'll be getting a little weird with 3 lineups.

Main lineup that is in CASH & Single Entry spots, based off the AMBUSH plays

Secondary gamestack lineups as noted below also in good tournaments w/ less than 1k users.

Donkey lineups in the $9 because … well….  Because.
---
THE AMBUSH PLAYS
---
The 2017 Rookie RB Class … All 3 of the studs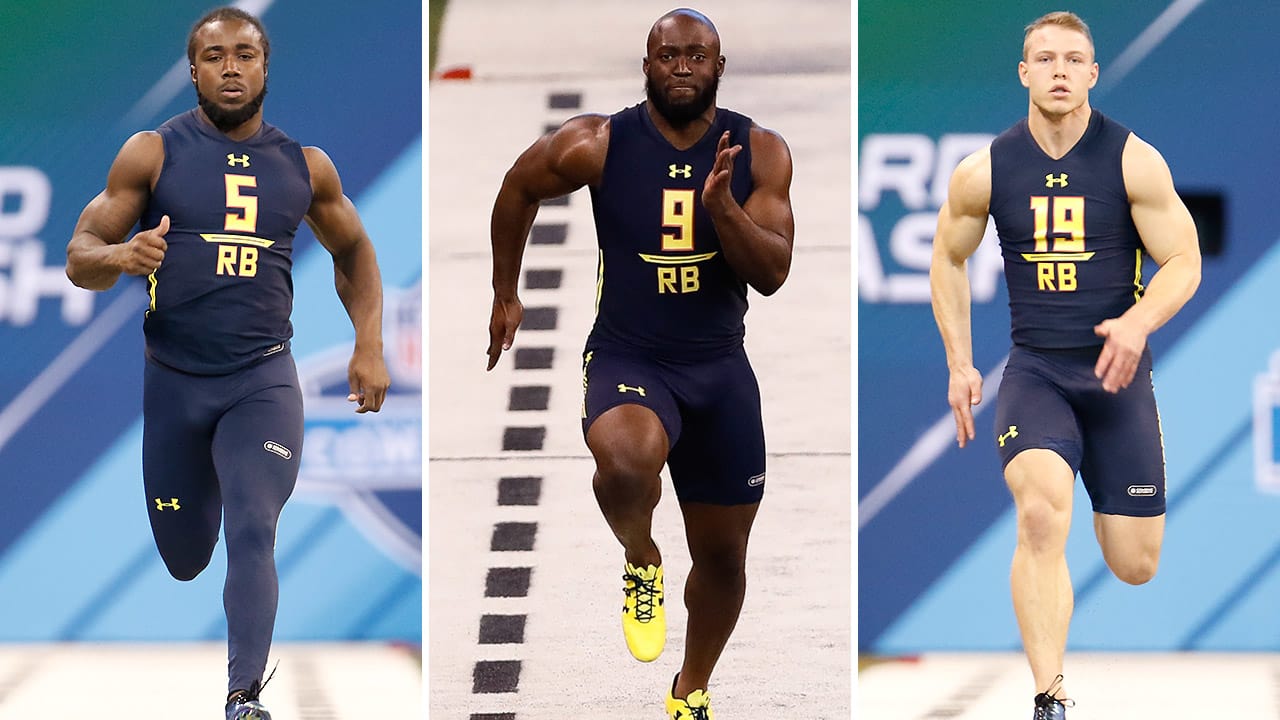 Two years ago these three stud Running Backs were all the rage as they came into the season with high expectations only to be outdone by Kareem Hunt and Alvin Kamara.  But now in year three we have a healthy Dalvin Cook, a proven Christian McCaffrey and a hungry Leonard Fournette and I am extremely bullish on all three of these backs this season and especially in the spots they are in this week.
Dalvin Cook (Chalk Monster) is going to be your heavy chalk player of the week and stands out as the obvious must play from this group.  He faces an Atlanta defense, that although healthy this year, is still undersized and should be worn down as the game moves on for the Vikings to impose their desire to be run first and rely on Cook who looked simply amazing in the pre-season (yea yea, stupid pre-season hype) and is priced in a spot on both sites where he is automatically everyone's default top play.
But from there is where I see the rest of the field shifting.  With Zeke back in the mix he will pick up some ownership and there will also be folks who are looking to get cute with Barkely in a tough spot or tempted by all the other RB options on the field.  That's where my favorite two of these three come into the mix.
Christian McCaffrey in my mind has the best match-up on the board for a full PPR site like DraftKings.  The best comp to CMC is Alvin Kamara, another half RB half WR who is very electric in the open field and Kamara has shredded this Rams defense the past two seasons with 21 receptions over the 3 games and a total 415 yards from scrimmage.  CMC gets used more than AK41 does and Carolina ran the ball 70 more times at home last year than on the road despite only running 17 more plays.  They are run heavy at home and likely will want to get CMC involved in the underneath game this week as well to attack the Rams linebackers.  Expecting McCaffery to come away from this game with 10+ targets (and he usually catches most of them) is not out of the possibility this week and we know he's good for a touchdown in what should be a shootout game because the Panthers D is in a rough spot.
Leonard Fournette will be even more contrarian than guys like CMC, Zeke, Ekeler, Carson to name a few.  The reason for this is everyone pointing to the blind mans donkey thought that oh hey, the Chiefs will just roll in and score all over the Jaguars because thats what the Chiefs do and the Jaguars aren't good and blah, blah, blah, zombie, zombie, zombieeeeeeeeeeee.  Don't be a zombie!  The Chiefs ranked 27th in rushing defense last season and to think they are going to just waltz into Jacksonville and dominate offensively forcing the Jags to have Foles air it out 50 times is ludicrous.  The Jaguars are built to run the ball still and Fournette has shown all the signs of finally being the RB that he was back in LSU.  Long labeled as someone not durable if we are going to get a big surge from Leonard Fournette it's going to come early in the season and against a poor defense like the Chiefs.  This game will be closer than folks think and that's because the Jags offense is dictating the game and not the Chiefs dynamic attack.
AMBUSH PLAY #1:   Start a lineup with Dalvin Cook – Christian McCaffery – Leonard Fournette and take the three big games.
Home Field Advantage – The 12's
The Seattle Seahawks were a team I pegged to take a step back this season but the pre-week 1 trade for Jadaveon Clowney is definitely going to give them an extra boost to an already good defense and in the month of September over the last 10 years they are 15-0.  This week they welcome in the Cincinnati Bengals who's offense is basically Andy Dalton, Tyler Boyd and Joe Mixon behind a terrible offensive line.  This is a new coaching staff as well for the Bengals going on the road in a non conference game.  Nothing here indicates the Bengals getting more than 3 points on the board while giving a TD or two to the Seahawks. 
With a few "oh thats obvious" defenses going early in the slate in Philly, Baltimore, Cleveland and the NY Jets, I will be waiting and taking the Seattle Defense at home against a bottom 5 team thank you very much.
AMBUSH PLAY #2:   Lock the Seahawks D on your main lineup.
THREE G WIDE-OUTS
With the way the slate is breaking down I am clearly in the mid range on the Wide Receiver options this week and there are three guys above all others in that space who have my attention to get into the end zone with really good match-ups this weekend.  The Three G's….
Chris Godwin … I have him leading the league in receptions this year for those of you who want really bold takes.  The way for Arians to get Winston to tap into his potential that he has shown at times without also blowing up and turning the ball over too much is to get the ball out of his hands as quick as possible and that's going to be a ton of passes at the line of scrimmage to offset Winston's INT problems as well as the lack of a running game.  Which WR does that focus on?  Godwin.
Marquise Goodwin … Staying in Tampa in the same game and working on the game-script/game-flow/game-stack whatever you wanna call it, just call it something that begins with a G okay because that's the damn theme here.  The whole reason the Bucs offense is going to be so amazing in fantasy this year is because their defense remains a HUGE liability and although Jimmy G is not one of the G's I like this week or this season in general, he should have time to throw against Tampa's front 4 and Goodwin is the most reliable receiver as of right now with Pettis being slightly banged up through the pre-season.
Kenny Golladay .. The third and final G might end up being the highest owned of the bunch but with Patrick Petersson out for the Cardinals this is an obvious go to spot to target for good production in a miss-match.  I don't love the volume that the Lions might give Kenny G but he will find a way to get 5 catches and a TD and that's a good baseline this week as our third G.
AMBUSH PLAY #3:   All the G's in one lineup together to balance off with the higher end and chalky RB's.
SLEEPER OF THE WEEK
Austin Hooper … Nobody is talking about Hooper in this potential shootout and Julio Jones less than enthusiastic start to the season only opens up more options for Austin Hooper in the passing game, not to mention the Vikings defense being a spot to pick on with opposing Tight Ends and we got our sleeper of the week.  Hooper has seen his targets increase from 27 to 65 to 88 last season and should be in line for even more red zone work this season as the Falcons overall will be a more efficient offense once their O-Line additions settle in.  In week one I love the game here to be high scoring and Hooper to be the under the radar TE that saves $ and gives you a double digit score in the process.
AMBUSH PLAY #4:   Austin Hooper is your tournament TE pivot off Evan Engram chalk
STACKS
I will almost always (i.e. 99.9% of the time) do a stack that features a player on the other side who is a WR/TE or sometimes a good pass catching RB.  I want that game flow to work in the favor of back and forth shootouts and while that might end up being the dagger some weeks, more often then not it's critical when your stack is going off in the shootout games.  So for people to simply give you a list of a team to stack they are doing you wrong.  This isn't Baseball folks.  Correlation Matters!
The first thing we identify with the STACKS are the games that have the best shootout potential and that is driven heavily by two teams that play at a good pace or might be enticed to playing at a good pace.  The other spot to target in STACKS which I hear nobody ever mentioning is the 2-minute drill offense and defense.  There's nothing better than a team who scores in the final 2 minutes of a half and then gets the ball to start the 2nd half and marches down the field to score again.  If we have an offense who has a known success rate in the 2-minute offense or a defense who has a known liability slowing down teams in the 2-minute drill then that's a good extra reason to like the game as a stack option.
When considering where to put each game into a tournament we should factor in the volume of chalk associated with the game and the chances that the public perception on how to play it is wrong.
1) RAMS at PANTHERS
I expect this game to be one of the highest scoring on the slate as it should live up to the Vegas projection of a good back and forth game.  All signs point to the Rams passing game giving the Panthers a ton of fits here with all their weapons Cooks, Woods, Kupp, Reynolds, Everett coming into play as well as that muddied backfield situation.  Goff should have time to throw and he should excel in the short stuff here but you beat the Rams (under Rivera) historically by taking the top off the defense and nobody can do that better here than Brandin Cooks.  To me the Cooks and McCaffrey plays are the CORE of this gamestack as they have the best match-ups for both sides.
Chalk Thinking:   Rams are better and should win heavily
Ownership Range:   Medium
Rams Heavy Stack:   Goff, Cooks, Kupp, CMC
Panthers Heavy Stack:   Cam, CMC, Samuel, Cooks
2) FALCONS at VIKINGS
Every season since I have been playing NFL DFS (which is longer than most honestly) I have circled a Week 1 game back in the Summer that I feel is my favorite game of the opening weekend and this was the game that gave me some heavy excitement for the fantasy prospects that it brings.  Atlanta is trying to rely upon just getting their defensive stars back healthy and improving a defense that was downright atrocious for most of last season and while I do think they will be improved defensively they still have some major flaws that should just be too much to overcome at times this year.  First off, their cornerbacks are no longer a strength as only Trufant (who has dropped off) remains and they are destroyed by the lack of a pass rush from a fairly weak front 7.  Getting Deon Jones and Keanu Neal back healthy is obviously a good boost for Atlanta but if the Vikings can get the better O-Line play and run game they anticipate then this could turn into a pummeling by the Vikings ground game.
On the other side, Atlanta has zero shot in my mind running the football.  Their offensive line has new rookie faces on it and they'll likely give up a few sacks here this week but I love the idea of Matt Ryan getting into a no huddle situation to hurry things up and simply trusting Julio, Ridley and the #1 play for Atlanta Austin Hooper to do damage through the air.  The game overall to me is going to finish around 28-23 type score, but there's goodies here specifically in Dalvin Cook and Austin Hooper and when we have two guys I am very bullish on opposite sites and plenty of other weapons around them then we have a good recipe for a high ceiling game.
Chalk Thinking:   Most will roster Vikings or only Dalvin Cook.
Ownership Range:   Low outside of Cook.
Falcons Stack:   Ryan, Ridley, Hooper, Cook
Vikings Stack:  Cousins, Cook, Thielen, Hooper
GAME STACK FADES
Chiefs at Jaguars … I am hearing lots of momentum on this being a nice little game stack with the Jaguars being the trendy side.  I'm staying away.
49ers at Bucs …. I have all the exposure I want here with Goodwin, Godwin and Winston.  That alone is enough for me.
Lions at Cardinals … Kyler Murray sucks.
THE FULL AMBUSH RANKINGS
QUARTERBACKS
Very flat week on Quarterbacks, the difference between #1 and #6 is not that big.  And as you can see, I don't list 6 Quarterbacks.
Jared Goff
Jameis Winston
Josh Allen
Baker Mayfield
FADE:  Lamar Jackson.  He has to rush for 180 or 2 TD to break your back.  He will do neither and you are better off playing Josh Allen based on ownership if you want that.
RUNNING BACKS
Christian McCaffrey … Easily #1 play on DK
Dalvin Cook
Leonard Fournette
Chris Carson
Kerryon Johnson
VALUE RB:
Justin Jackson
Dare Ogunbowale
Tony Pollard
WIDE RECEIVERS
Chris Godwin
Brandin Cooks
Adam Thielen
Kenny Golladay
Odell Beckham Jr
Robert Woods
VALUE WR
Marquise Goodwin
Zay Jones
Jakeem Grant
TIGHT ENDS
Evan Engram
Austin Hooper
Travis Kelce
Dallas Goeddert
DEFENSES
Seattle
Philadelphia
UPSET PICK:   Colts
Survivor Pick:   Seahawks