Week 4 NFL Primetime – SNF/MNF>

Welcome to the Week 4 NFL DFS Prime-time breakdown of the Sunday and Monday night games.  This week we have two games that are VERY good for 2-game slate DFS and Showdown perspectives as the Cowboys/Saints face off in the Superdome on Sunday Night and the Bengals/Steelers face off on Monday night in Pittsburgh.
Dallas Cowboys vs New Orleans Saints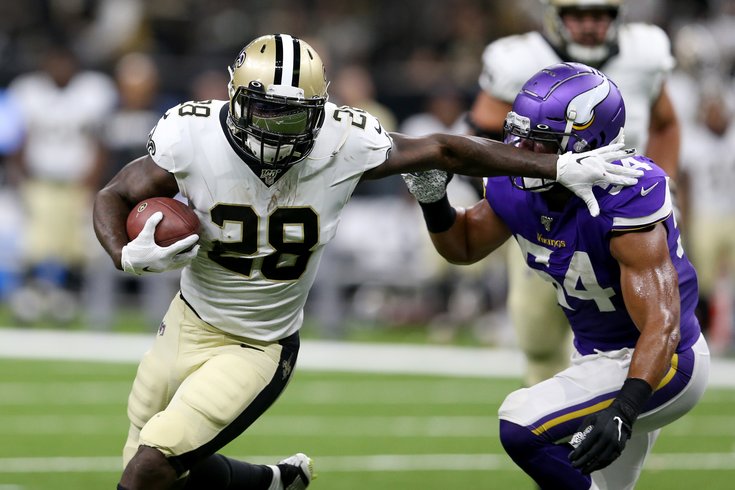 These teams played a physical and close game last year on Thursday Night in Dallas with the Cowboys pulling out the narrow victory after getting a Drew Brees interception late.  They pressured Drew all night and were very physical all around with Michael Thomas, Alvin Kamara and the Saints skill players.  What got overlooked in this game was how good the Saints were defensively at slowing down a then red hot Amari Cooper and the Cowboys offense as he had just come over in a trade and started to tear up the NFC.
This game has the two better defenses in it on the 2 game slate but I expect it to have plenty of big plays and offensive production in it.  The Saints shut down Chris Carson and the Seahawks rushing attack and are back to their elite rush defensive trends from the past two years but likely will give up fantasy points in the passing game again assuming Amari Cooper is a go, which gives the Cowboys enough depth in the passing game to be able to have some success through the air.
For New Orleans they usually get better protection in the passing game when at home and Teddy Bridgewater will now be making his second start off a full week of practice.  Expect him to take more shots down field but ultimately he will pepper Mike Thomas a TON in this game in my mind.  The Showdown magic play?  You know who it is.  Taysom Hill.  If you do not think Sean Payton is showcasing Hill on SNF in front of the world against his former team and buddy Jerry Jones then you are a DFS noob.
Captain Choices:  Of course Taysom Hill is the Captain.  What kind of question is this?
SNEAKY PLAY:   Latavius Murray – The forgotten off-season acquisition is someone that I was not high on for the Saints this season but circled this game as a spot where Sean Payton would ride him.  For some reason New Orleans tried to setup the run with the pass against Dallas last year and it failed miserably.  They will not make that same mistake this year and while Kamara gets all the warranted love, it is actually Murray who I think comes in and gets the big plays to shock the Cowboys in spots where New Orleans gives them looks they have never seen before on tape.  Murray scores 2 TD, one of which is receiving.
Cincinnati Bengals vs Pittsburgh Steelers
James Conner has not had a great season so far this year but he cannot ask for a better get right spot against the Bengals poor rush defense at home on Monday Night.  Pittsburgh would be wise to lean on him in this game and they should be pressured as I like Andy Dalton (see below) to move the ball and have a decent game here for Cincinnati.  Ultimately this game should have a ton of offense in it if the teams can avoid stupid turnovers and like Bridgewater, I expect Rudolph to play well and take more shots down field this week.  He hardly threw the ball past the line of scrimmage out in San Francisco, but connecting more with JuJu has to be a must for him this week.
For the Bengals though, Dalton is the sneaky play and I wouldn't be shocked if they upset the Steelers on MNF, who are clearly having a disaster 3-13 season on their hands.  Give me more Boyd and more Boyd here paired with Dalton on the two game slate and on the Showdown for MNF.
Captain Choices:  Tyler Boyd, Ju-Ju Smith Schuster, James Conner
SNEAKY PLAY:   Auden Tate – Tate saw 10 targets last week against Buffalo and hauled in 6 for 88 yards.  One of the main reasons I am high on Dalton this week is because of the offense having a spot where they will have to throw a ton and I really believe a ton in their system to get the ball to all three receivers and after a breakout week last week, Tate's price remains low and he should be in a great spot for another good volume game.
Primetime Rankings
QB:
Andy Dalton
Dak Prescott
Taysom!!!!!!!!!!!!!
RB:  
James Conner
Alvin Kamara
Latavius Murray – GIANT SLEEPER that
Ezekiel Elliott
Joe Mixon
WR:
JuJu Smith-Schuster
Michael Thomas
Tyler Boyd
Randall Cobb
Auden Tate
Ted Ginn Jr
John Ross
TE:
Jared Cook
Tyler Eifert
DEF:
Saints
Bengals