CBB DFS: The ONIONS – March 9th (Afternoon)>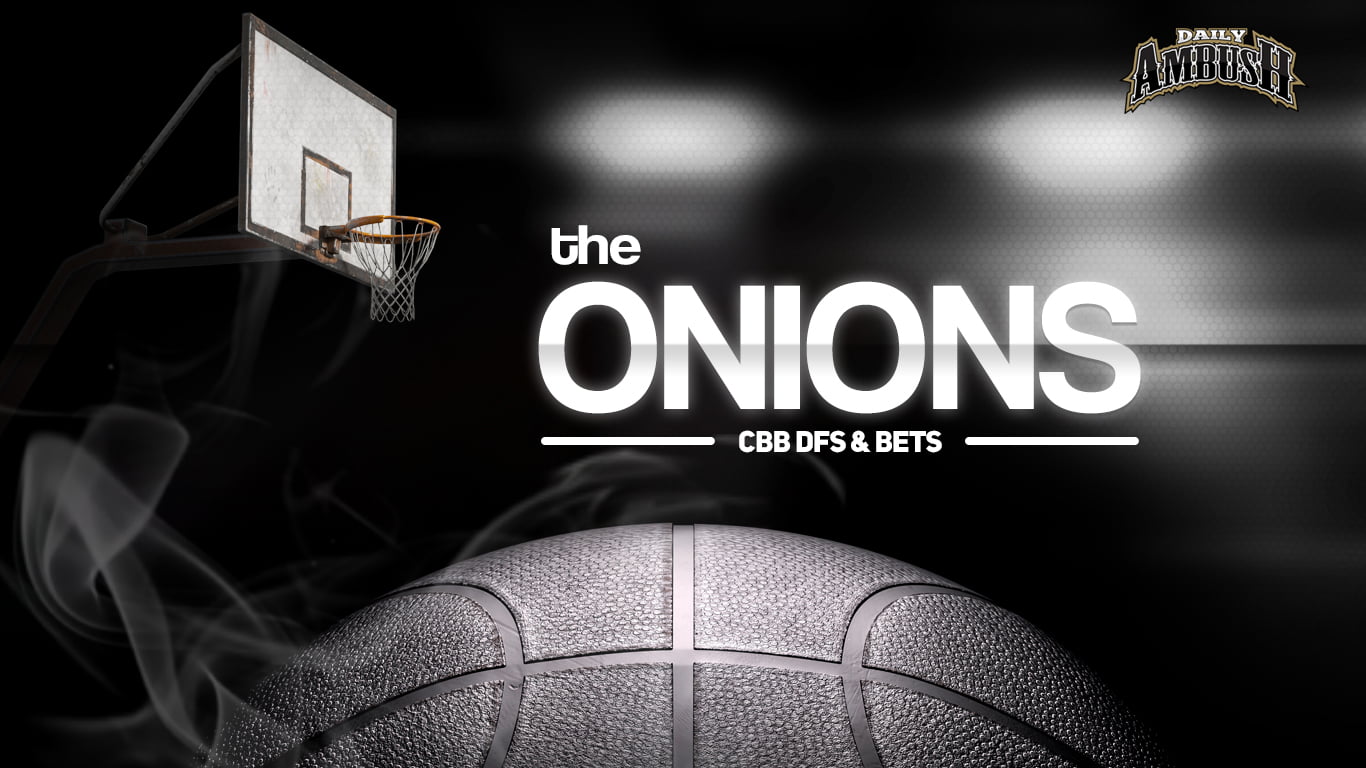 Big slate of College Hoops today with a massive 12 game Noon slate and then another one this evening.
Once again this slate features all the big conferences, ACC, Big East, Big Ten, SEC, Big 12 and Pac 12 and yesterday I found it easier to navigate through the betting and DFS options by looking at each tournament individually and while 12 games is quite a lot to go through, I'll try to do this again.
ACC Tournament
Anyone who's read my CBB stuff the past two years knows that this is a date circled for me as we have both Jeremy Roach and Jordan Miller together on the same slate and possibly for the last time because we could see Duke lose here.  Pittsburgh didn't show me enough kill yesterday to think that they can be a sleeper here to steal the ACC tournament, but they can most definitely cover that +6.
Wake Forest vs Miami (-6.5)
Miami remains tough to stack at their prices, you'll need Poplar at 5k to have a big game, but I doubt he pushes past 4x and for the gamelog chasers this is the spot where Nijel Pack went nuts with a 45 point performance back in late February.  Wake is a one man show with Appleby, he's gonna be the focus of Miami and I think we see things open up for Andrew Carr.
Also side note:  Appleby going off against the guy who won the ACC player of the year in Isaiah Wong is definitely something to monitor.
Wake:  Andrew Carr, Tyree Appleby
Miami:   Nijel Pack, Jordan Miller, Wooga Poplar
Pittsburgh vs Duke (-6)
Roach should do well, doubt he pushes 30 fpts though.  I don't want a ton here.
Pitt:  Cummings
Duke:  Roach
BIG 12 Tournament
West Virginia vs Kansas (-4.5)
Love me some Dajuan Harris, how could we not like guards vs the Mountaineers on a B2B?  Kansas -4.5 and move on.
Iowa State vs Baylor (-3.5)
This is one of those spots where they met in their final regular season games and now meet in the tournament.  Do we go opposite here?  I believe so, Iowa State had no right suddenly turning it on down in Waco and I trust Baylor to win the game today, but it'll be ugly and close.  Zero DFS presence here outside of chasing Tre King (3500) value after he just had 27 vs Baylor.
SEC Tournament
I am an SEC mark in football and I have enjoyed their recent college hoops run the past few years as well.
The SEC fucking sucks this year guys.
Holy bad basketball
Mississippi State (-4) vs Florida
I'm not touching this game with a 10 foot pole.  Not even betting it…  Okay, I'll include it in the massive 12 game parlay at the end of the article, but that's it…
Ole Miss vs Tennessee (-11.5)
This is like the Saints and Derek Carr winning the NFC South next year, congrats Tennessee….
Big East Tournament
St. John's vs Marquette (-7.5)
Highest total on the slate and a team in St. John's who has nothing to lose against the fraud known as Shaka Smart.   Last meeting over the weekend was a 96-94 thriller for the Golden Eagles and I suspect we get a closer to the vest game by Marquette, the lean is on the u161.5
STJN:  Posh Alexander, OMar Stanley
MARQ:   David Joplin
Providence vs UCONN (-7)
How many UCONN guys will finish between 19 and 24 fantasy points today?  I am guessing it's around 5.  Newton, Karaban, Sonogo, Jackson, Hawkins….  They're all gonna spread it around and be frustrating to use in DFS unless you get some Big East 2OT magic game here.  So you're all in or all out and it's fine as a 2nd lineup all in gamestack, but not a main lineup build.
PROV:  Bynum, Carter
UCONN:   Newton, Karaban, Jackson
Big Ten Tournament
Ohio State vs Iowa (-3.5)
Dare I say Ohio State is showing signs of life?  Neither team can defend and with this being the second game of the day in this spot I can see it being one that sneaks up and finishes as the highest game on the slate.  Two bad teams who will just run and gun today.
OSU:  Sensabaugh, Sean McNeil
IOWA:  Connor McCaffery, Filip Rebraca
Rutgers vs Michigan (-2.5)
No.  Just no.
PAC 12 Tournament
Washington State vs Oregon (-2.5)
This is your classic end of the slate, I am drunk and I gotta decide between the Ugly Duck and that worn out Cougar who I wanna finish things off with tonight.  Do the smart thing, just go home before you talk yourself into this mess…
Colorado vs UCLA (-9)
Colorado keeps it close early, UCLA finishes them off.  Campbell and Jaquez are too seasoned to not do well and Campbell is in the mix for DFS.
Guards
Tyree Appleby can win the the slate, he should not be played without someone from Miami though because he only goes off if the game is shooting the moon.
Tyger Campbell – UCLA
DaJuan Harris – Kansas
Jordan Miller – Miami
Posh Alexander – St. John's
Jeremy Roach – Duke
Forwards
I would rather take my chances with Rebraca than Murray for Iowa exposure and in the same game I trust Sensabaugh over Sueing because in clutch transition spots he will take the shots.
Overall forward is pretty weak on this early slate.
David Joplin – Marquette … Strong value option.
Brice Sensabaugh – Ohio State
Filip Rebraca – Iowa
Andrew Carr – Wake
Tre Mitchell – WVU
David Jones – St. John's
Alex Karaban – UCONN
VALUE OPTIONS
David Joplin – Marquette
Sean McNeil – Ohio State
Tre King – Iowa State

CORE
Tyger Campbell – UCLA – 7100
Dajuan Harris – Kansas – 7100
Value – David Joplin – Maruqette – 5100
Value – Tre King – Iowa State – 3500
STACKS
Best Chalk Games:   Wake/Miami, Ohio State/Iowa
Chalk game to avoid stacking:   St. John's/Marquette
Best Sneaky Gamestack:   Providence/UCONN
TOP BETS
Right now you want to focus on winners or taking points in these conference tournament games unless you clearly identify a scenario (ahem, Kansas, ahem) where a team is going to smoke the other.
ML Parlay — Baylor/Miami/Marquette
St Johns/Marquette u161.5
Providence/UCONN o143.5
Kansas -4.5
YOLO Winners PARLAY … all 12 DFS slate games together (+18131) … 0.1units
Michigan ML
Miami ML
Marquette ML
Mississippi State ML
Duke ML … This one worries me the most
Ohio State ML
UConn ML
UCLA ML
Kansas -4.5
Tennessee 1st Half
Washington State ML