Our CFB DFS Product>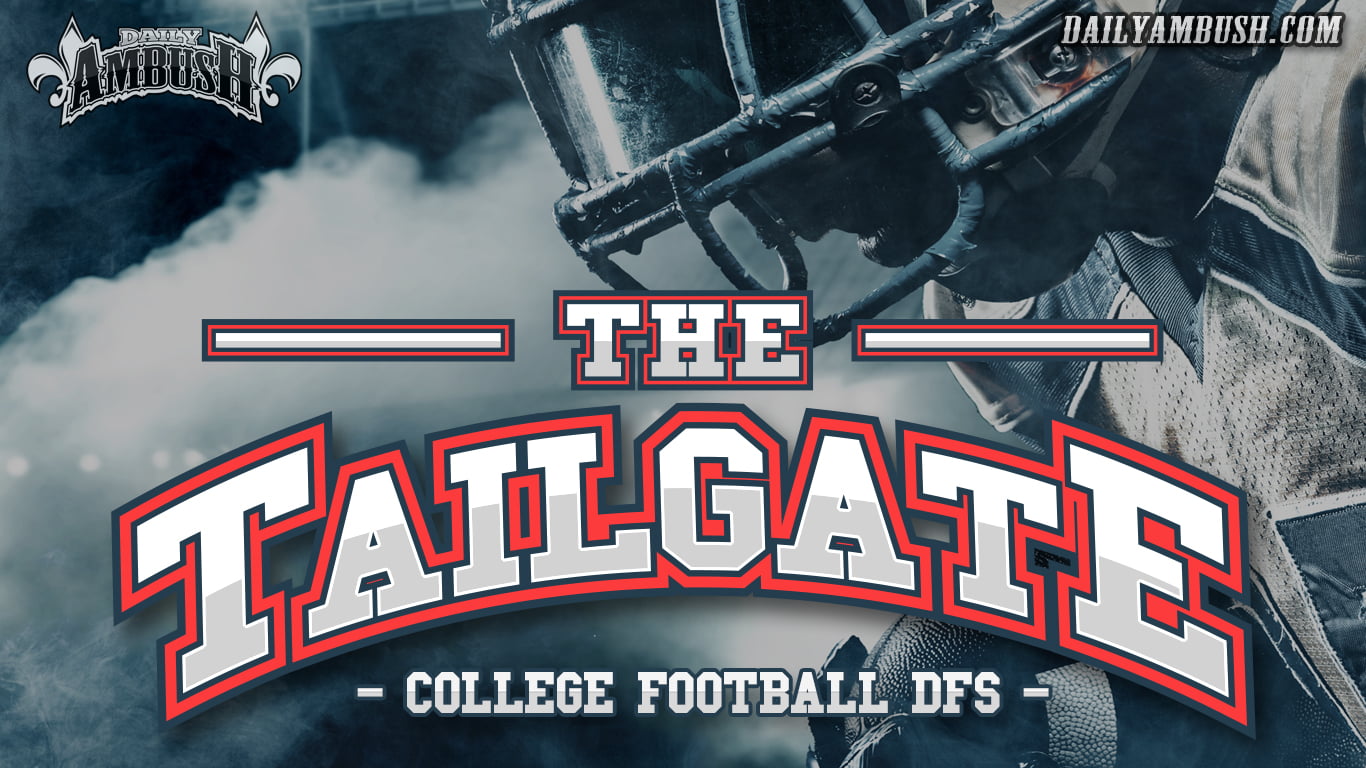 Another College Football season is about to kick off and I felt it was appropriate to put some information out there regarding what I will continue to offer with 'The Tailgate' offering this upcoming season, as well as the Tools, Ratings and Projections we offer here at DailyAmbush.
So much attention is given to NFL and it will forever remain the beast that everyone plays, but College Football DFS is something you SHOULD be participating in if you enjoy NFL.  This of course assumes you do not live in some horrible driven state which does not allow you to play college DFS — MOVE!  It's funny to see NFL Fantasy people going crazy over rookies during the summer and pre-season when we watched them shine in college and know their true skills and so following along through college only helps you if you are big into Dynasty leagues for NFL as well.
Let's cover what we offer from a Content perspective.  There are some loyal CFB DFS writers out there, but honestly it's the weakest of all the sports when it comes to content across the industry.  Even College Basketball has a stronger base than CFB does and I blend some of the same process I use for MLB/NHL/NFL into my college articles as well.
Each week starting next Saturday, with Week 0, I will be covering the MAIN Saturday CFB DFS slate.  Most weeks this will be the Noon EST kick off spot and I will run through my analysis on the slate.
The bonus slates for articles will be driven by the # of games, quality of games and contests on given nights.  You can expect most Saturday's that there will be a NIGHT slate article for the ~7pm window of games on DraftKings, and you can expect a good amount of Thu/Fri slate articles as well during the season.  By November, we'll be into the MACtion time of year and start covering those Tue/Wed night slates when applicable.
If there is some Friday slate with just two games and one of them is a 40 point spread, I may advise to take the night off and in these scenarios you should always 'trust the model' — which I will get too in a second.
My article has a four core components to it.
Slate Summary:  This is when I go over the basics, such as, we have 12 games, no weather issues, high stack spots or no stack spots, lots of upset potential, etc.  It's an intro, the appetizer, the cliff notes, whatever you wanna call it, but it's the Tailgate for the Tailgate…
Games to Target: Self explanatory, but I cover ideally 3 key games that will draw the most attention for 'Game Stacks' or simply getting DFS exposure from.  We'll go over the strengths/weaknesses, the hidden notes/game theory ideas and of course the core plays from each game.
Positional Breakdown:   QB, RB, WR.  I highlight my top play at each position, consider this the 'CORE' plays if you will and then I go into players I would look at for exposure if doing up to 5 lineups each week, which is a good build strategy for CFB DFS while still attaining sanity without forcing in 150 lineups like a donkey
Tailgate Plays:  The summary.  I'll cover the CORE Plays, favorite contrarian spots, good chalk and some bets for each weeks action.
The article will be out no later than 2 hours pre-lock each slate.  Often times for the Saturday article I will be trying to get it out Friday night if we feel comfortable with injury news.
THE TOOLS
We have four tools which I would promote you to use and may be adding on more as the season progresses.
The Dashboard:  This is the best source to go over the top plays each week, whether it is FD or DK.  Yes, it is mobile friendly.  Yes, it updates automatically on its own.  Yes, I use it all the time.
The Matchups Page:  Often referred to as a Lineups page or Game Previews.  You'll use this to quickly go through each game, see the pricing, see trends and identify top DFS plays by team.
The optimizer:  It's an optimizer.  What else do you want to know?  Below is a DRAFT screenshot, I am making some cosmetic changes to it, but it's a great source for finding a starting point on lineups each week.
Stacks:  A new page this year, well, a new and improved one?  It will cover team by team stack rankings in terms of their projected PT/$ as well as potential upside.
One of the harder things to project in CFB DFS is true ownership information.  There are limited reliable projection sources out there, of which our Ratings source is one of the most consistent you will find.  But with this comes varying degrees of ownership consistency.  If I can feel confident in providing ownership projections again this season then I will do such — and for now that is in the plans.
HOW I PLAY
Most of my action is on DK because I prefer their slate configurations and their prize pools are way better.  I will dabble in FanDuel as well too, but most of the content will always highlight DK pricing.
Most weeks I like to roll with a single lineup that I play in the $333/$444/$555 type contest, $150, $100, cash games, head to heads, qualifiers, etc.
If I love some game stacks or have a confidence in lots of 3rd/4th options (i.e. it's a deep slate) then Ill do multiple lineups in the higher $ tournaments.
I can get into strategy articles and I touch on this each week as best possible in terms of how your lineup construction should be.  One of the most overrated aspects of CFB DFS is that you have to have 2 Quarterbacks each week with the Super-Flex.  That's just not true.  So we cover if you wanna be going 3+ RB, 5+WR, etc…
If you enjoy football and you enjoy scoring and you enjoy a 5 hour sweat where you think you are winning 50k, then drawing $0 then winning $20k then drawing min cash and then suddenly back to a $5k win, then come on and try CFB DFS.
And if you love finding out at 12:05pm EST that your QB1 has gotten injured and benched, then you are going to be in heaven.
Oh wait, did I just say that out loud?
Nevermind the warning signs.  Jump in, the water is warm!