The Home Run Derby is a fun event to bet now that they have turned it into a true three round H2H tournament.  And while it is very much a random event it is also a false assumption to just blindly assume that it's entirely random.  The players included this year are a nice diverse mix of player from various positions and teams which is good to see, although a couple guys while fun to watch are not necessarily the right type of players for this event.
Here are the odds as of this morning
| | |
| --- | --- |
| Player | Odds to Win |
| Shohei Ohtani | +250 |
| Joey Gallo | +450 |
| Pete Alonso | +500 |
| Juan Soto | +500 |
| Matt Olson | +750 |
| Trevor Story | +850 |
| Trey Mancini | +1000 |
| Salvador Perez | +1000 |
The Bracket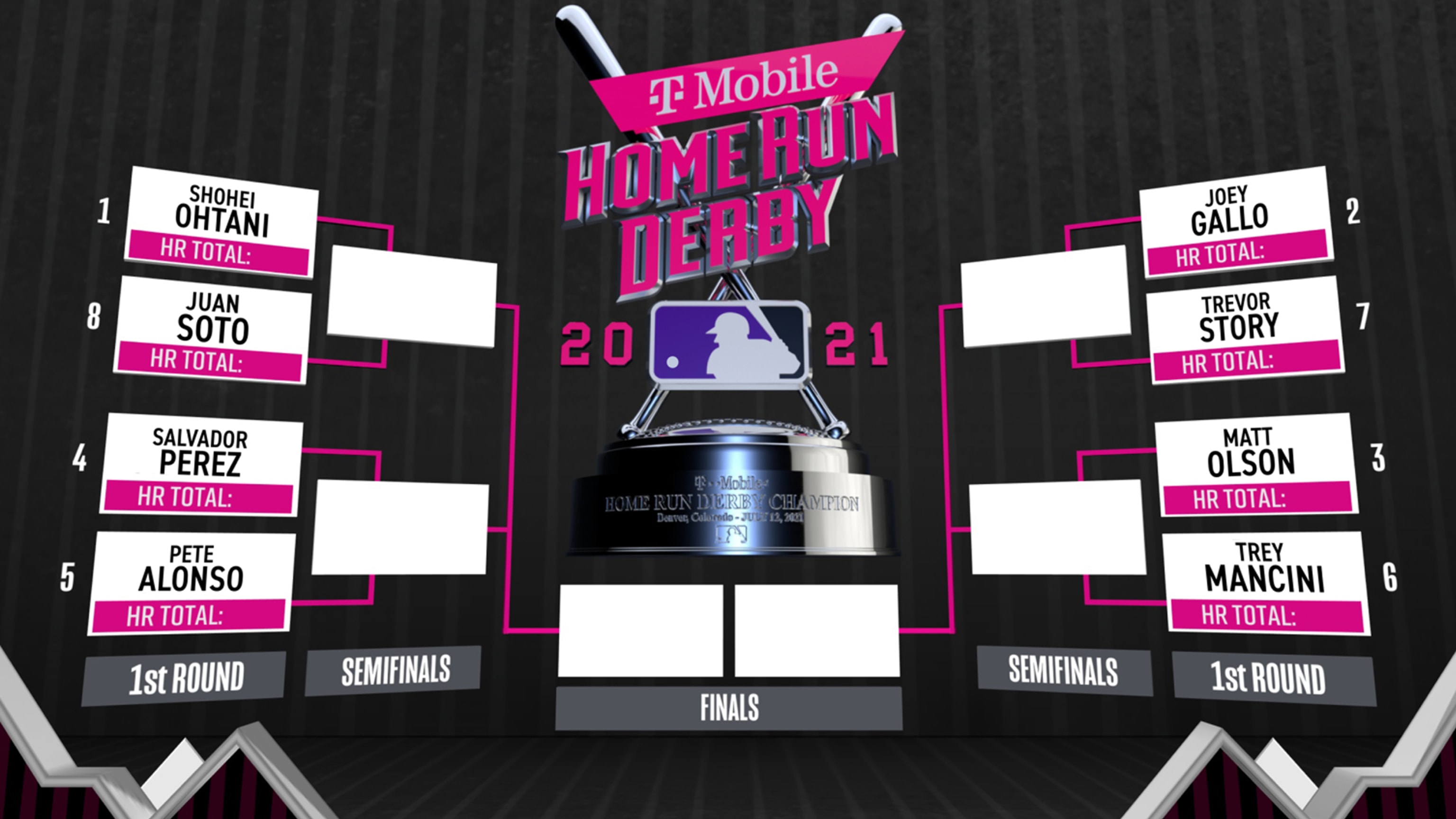 Round One Picks
Ohtani vs Soto
There's some talk that Coors is a field that will benefit the left handed hitters.  But they are going to be playing with baseballs outside of the humidor and I honestly don't think where the guys hit the ball matters as much as what their stamina and ability to hit line drive home runs is going to be.  That said, Soto is a known opposite field guy and Ohtani is a dead pull hitter.  Ohtani comes in as the heavy favorite in the whole show as he is likely the star of the entire All-Star week and I just don't see him losing to Soto here.
Pick:  Shohei Ohtani
Perez vs Alonso
Defending Champion from two seasons ago Pete Alonso is back in the HR Derby and he has been really good away from Citi Field this season.  Salvador Perez really needs some time off and I am shocked he is participating in this event as someone who has played every game for the Royals this season.  He also comes in with a slightly banged up back and Alonso has been really good of late.  This should be the easiest bet in the first round and as much as it pains me to go against my boy Salvy, he'll be glad to bow out early.
Pick:  Pete Alonso
Gallo vs Story
Yes, Trevor Story is the home town guy and if you think that the home town guy is going to bail out of the HR derby in the first round then stop reading because not only do I have him winning over Joey Gallo, I have him winning the whole damn thing a la Bryce Harper in his final season as a National a few years ago.  Trevor Story is going to be traded away in all likelihood in the next few weeks and so this is his send off from Coors Field.  If anyone knows how to handle the atmosphere it should be him and while I love Gallo, lets realize that he has to wait for the homers to land in between pitches and so that 600 foot homer he hits over and over may not be so great.  Story is going to hit line drive after line drive out of this park.
Pick:  Trevor Story
Olson vs Mancini
This is the best first round match-up in my mind.  Trey Mancini is a great story here as well but it's Matt Olson who could steal the show in the first round only to slow down in the later rounds.  Mancini has the perfect swing to go do the distance so if he can steal this round then he is a big threat to my Story pick in the second round.  Olson has that long swing which to me gets harder and harder to repeat as the competition moves along, but he should have enough to get by Trey.
Pick:  Matt Olson
Second Round Picks
Alonso over Ohtani
Story over Olson
Championship Round Pick
Trevor Story
You will find some other prop bets out there, one of which is the distance on the longest home run which I found at 511.5 feet.  Take the over
Official Bets
First round winners

Ohtani
Alonso
Story
Olson

To win the Derby
Distance of Longest HR