PGA: Dew Sweeper (Honda Classic)>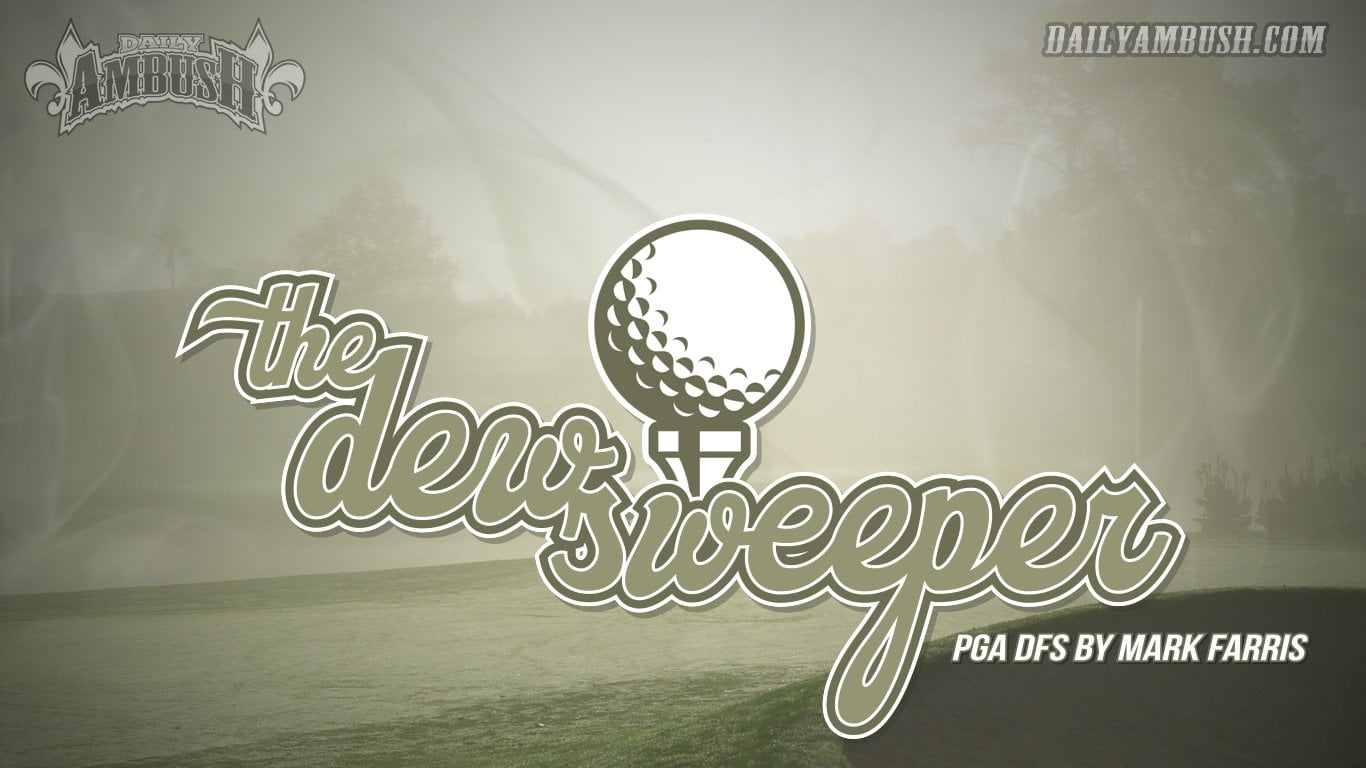 Get ready for those 7:00 a.m. (East Coast time folks) lineup locks!  The Florida swing begins!
I really wasn't anticipating the scoring bonanza we had last weekend, but hey, these guys know what they are doing.  Despite that, I'm not anticipating it this week.  In the last half decade or so, the winning scores at PGA National have ranged from -12 to -6.  More often, it's in the single digits under par.
PGA National is a little over 7,100 yards and a par 70.  Much like the iconic look of the 18th last week at Riviera, PGA National is famous for the three-hole stretch from Hole 15 – 17.  The Bear Trap!  Jack Nicklaus (The Golden Bear) reworked the Fazio design twice. Accuracy will be important this week since there is trouble all over.  The Par 5s are the best scoring opportunities so taking advantage of those will be important. Add the potential for the Florida winds and we are talking more variance than normal in a PGA event.
The other thing you will notice this week is that the quality of the field isn't nearly as impressive.  Don't get me wrong, it's not like this is a JV game.  We just don't have most or all of the Top 15 players in the world here this week.
Remember, PGA isn't a "positional" form of DFS and everyone qualifies for every position.  It's all about price and current form in my opinion.  Like last week, the format will be:
Each Thousand Dollar price range, I will give you my Top 2
"Dew Sweepers"

– two contrarian picks that I think will be low owned…or I just have a gut feeling on.

At least one "longshot" in the final price range – no Dew Sweepers.

Two "Cores"

Top 10 in my statistical model for those of you wanting stats
$9,000 and Above
As always, when I can't decide on certain players I like to look at two things as my "tiebreaker" even when the field isn't loaded:
Current Form (CF)

– if a guy is playing well, it's reasonable to assume he will continue playing well.  Golf is streaky and if a guy struggled on Saturday and Sunday the week before, I'm going to move him down.

Course History (CH)

– as I said, it's streaky.  If you're playing bad, the thing that turns you around is usually a good lesson, time off, or a course that fits your eye.  
Let's go!
Sungjae Im ($11,000) is the top-priced player in the pool this week.  While I like Sungjae as a player and his CH here is very good (T8 in 2021 and Win in 2020), I think I'm probably going to start my lineups with slightly lower priced guy to try to give me an extra few hundred dollars of the back end.
Tommy Fleetwood ($9,000)

– This guy is a fun player to watch.  He's got major game and hair for days!  Guess when you get older and your own hair starts to thin, this impresses you more.  I joke, but Fleetwood's talent is not a joke. He's only played here in 2018 and 2020, but has finished 3

rd

and 4

th

respectively in those years.  I think we'll have a lot of volatility in guys in the Top Tier making the cut this week and his all-around game gives me more confidence.

Billy Horschel ($9,600)

– Not many on Tour are playing better that Billy Ho right now.  He has three Top 25s in his last four events and ranks 8

th

in Total Shots Gained in his last 16 rounds.  Given the unpredictability of PGA National, I put more weight on guys playing well than I do Course History.

Dew Sweepers

:

Keith Mitchell ($9,100)

– He has some of the best stats in his last 16 rounds.  He's 2

nd

Total Shots Gained (Sungjae is 1

st

), but he's doing very well in tee-to-green, off-the-tee and ball striking.  Given a course with lots of trouble, I like that. 

Shane Lowry ($9,400)

– I like European Tour players when there is a chance for unpredictable winds.  That's another reason why I liked Tommy Fleetwood.  In this category, this pick came down to Lowry and

Louis Oosthuizen ($10,800)

,

but I went with Lowry because he's never missed a cut here and is $1,400 cheaper.
NOTE:  Remember the rule, if I'm not playing Oosthuizen, he's safe for you to put in a lineup if you feel strongly about it.
$8,000 to $8,900
These are the weeks when the lower tiers get difficult.  Yes, there are plenty of good players, but consistency may be the issue.  And it gets worse the further down you go.  When you have the Top 20 in the world playing, someone will be priced below $9K typically.  Actually, there are only 10 players in this tier this week so, if you don't feel good about one of the guys below, feel free to drop down a tier and maybe pick up another $9K+ guy with the money you save.
Christian Bezuidenhout ($8,000)

– For some reason, I always want to say "Bless You" after I say his name!  He has no CH here, but prior to last week he was playing extremely well.  All of these guys have "blips" and his game should fit this course.  

Brian Harman ($8,700)

– Talk about an "under the radar" guy.  He's made his last 6 cuts and has two Top 15s in his last three events.  His finishes aren't spectacular here, but he has made the cut three of the last four times he played this event.

Dew Sweepers:
Jhonattan Vegas ($8,500)

– He hasn't played much this year

. 

Still, if you look at his course history here, the price may not be so bad. He's been Top 30 in four of the last five years.

Cameron Young ($8,600)

– To be honest, I hadn't noticed him much until he showed well last week.  He has no course history here, but is playing well.  
I'm not loading up on Vegas, Young, or any other guys in this range this week. I'm looking at these guys as "fillers" for what may just be stars-and-scrubs lineups.
$7,000 to $7,900
This is the price range, to me, where GPPs are won and lost.  It's also the most nerve-racking range.  These guys are all good, but someone has to miss the cut…and it's usually a lot of these guys.  But, you need them so:
Taylor Moore ($7,900)

– he's a rookie on the Tour.  He has Top 25s in his last two events at Pebble and last week on a tough course.

K. H. Lee ($7,700)

– He missed the cut here last year, but has made every cut in every event he's entered this year.  He also had a Top 10 here in 2019.

Dew Sweepers:
Lucas Glover ($7,400)

– Another course history play.  In his last five years at PGA National he has finished T19-MC-T4-T17-T21.  A Top 20 at this price is more than acceptable.

Sepp Straka ($7,400)

– Made every cut this season and has two Top 20s in his last three events.  
$7,000 and Under
This is a cesspool!  The only thing I know to use looking at these guys is course history – and a prayer!
Charl Schwartzel ($6,900)

–

T53-T17-T16

Harry Higgs ($6,700)

– T19-T58 and he's made 3 of 5 cuts this season.   
LONGSHOT:
Sung Kang ($6,600)

– He has made 8 of his last 13 cuts so he's playing a lot.  He was T26 and T42 in his last two events.  He's been hit or miss at PGA National, but could do something worthwhile at this price.
No more fades!  I'm going with the positive.  Here are two potential "Cores" to build with:
We're back to what I call "normal" pricing.  Once you get below $8K, it's not easy.
CORE #1 (top heavy):
Tommy Fleetwood
Billy Horschel
Christian Bezuidenhout
(Leaves you $7,500 per golfer)
CORE #2 (balanced):
Keith Mitchell
Brian Harman
H. Lee
(Leaves you $8,166 per golfer)
FOR THE STATS NERDS AMONG US:
TOP 15 using the model I utilize with 50% Current Form/ 25% Key Stats / 25% Course History:
Sungjae Im
Daniel Berger
Billy Horschel
Joaquin Niemann
Shane Lowry
Aaron Wise
Matt Jones
Tommy Fleetwood
Mackenzie Hughes
Mito Pereira
Jhonattan Vegas
Ryan Palmer
K. H. Lee
Lucas Glover
Cameron Young
Suggestion made this week on Discord:  Load the names in this article (not the Top 15) into the optimizer and see what you get.  Or, in the alternative, lock in 3 or 4 and the let the optimizer fill out your lineup.  Renner has worked hard on the Opto so, let's put it to the test.
Questions will be addressed in Discord if you have them.  Make sure to tag me so I don't miss it!
GOOD LUCK!!