NFL DFS: The Dawg House Week 8 Breakdown>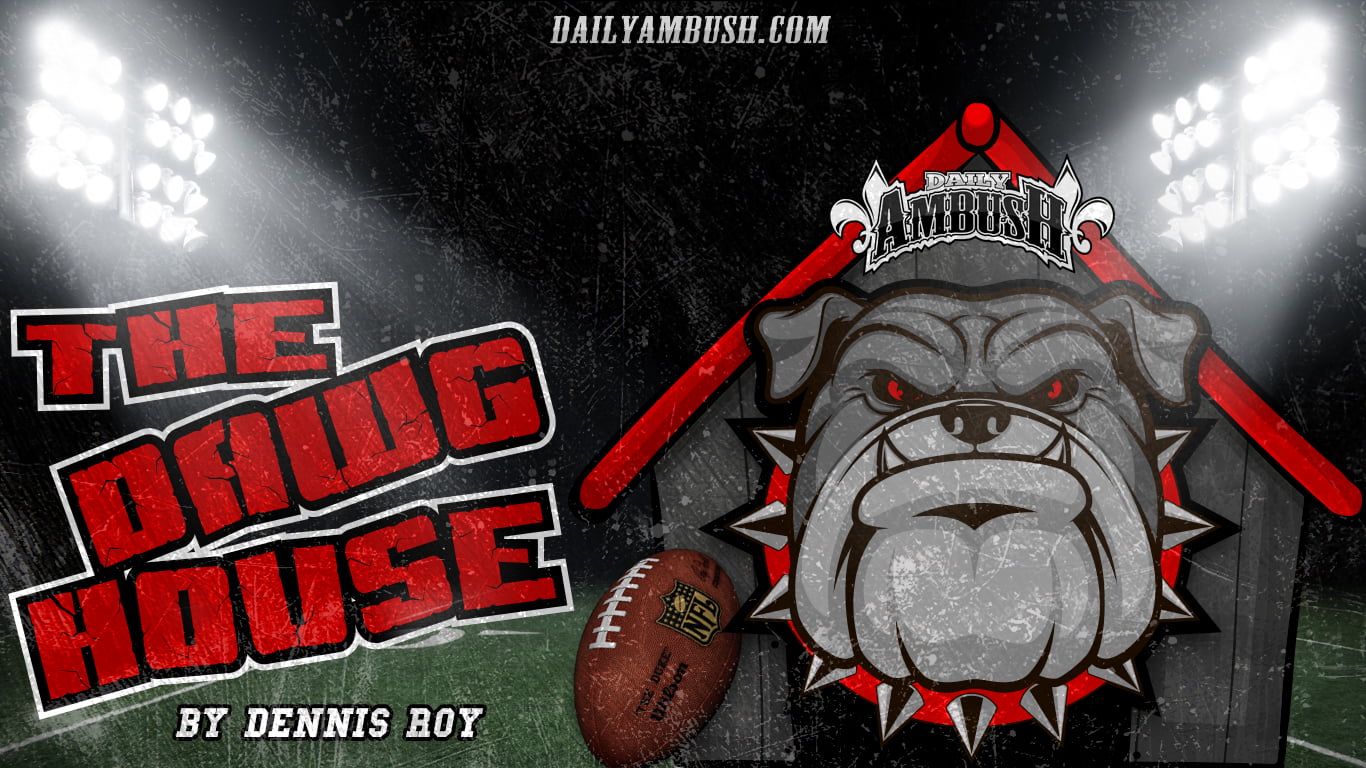 The Dawghouse 2022 Week 7 DFS Breakdown
What's up everybody?
I really hate to say it as a Packers fan but………How bout them Cowboys?!?!?!?!  Dallas has elevated RB Malik Davis from their practice squad which signals that RB Ezekiel Elliott isn't going to suit for Week 8 against the Chicago Bears.  This means that we are going to grab all the cheap Tony Pollard shares we can get our hands on in CASH this week and move on from there.  I want to get RB Derrick Henry into my lineups as well if I can so it may make it difficult to get my top two WRs into our CASH game lineups.  Those two WRs are Tyreek Hill and Davante Adams although we are getting a small discount on Adams this week in a great matchup against the New Orleans Saints.  That means we are going to have to pay down at TE and at DEF/ST which we aren't opposed to week in and week out.  I will say that it is probably the best route to pay down for QB Derek Carr this week to gain as much salary as possible.  Plug in WR Wan'Dale Robinson for the Giants right after Pollard so you have a solid value piece at WR at well.  Don't overthink either piece……Just do it and as always……Go claim your winnings!!!!!!!
The weekly reminder of how pricing is presented:
Each player will have either a "CASH" or "GPP" designation.  Cash players can be used in GPPs but remember that you need to be different somewhere in your lineup if you want to win a GPP.  Players are listed in descending order according to their FanDuel positional price rank.
Also, you will notice that my write up is only for the Sunday Main Slate which covers every Sunday game except for the SNF game on their main slates.  Future weeks will include special BONUS articles for certain slates that would include the ever-popular Thanksgiving Day slate.  This season the pricing is exclusive to the Sunday Only MAIN Slate.  TNF, SNF and MNF contests will have their own exclusive Showdown Slate only pricing when available.
Quarterback:
CASH:
JALEN HURTS
It's hard not to like this spot for Hurts as the Steelers have been generous to QBs for the most part the last few weeks.  Some folks are going to look at this selection and go, "Yeah, but Brady…" and I get that.  Also remember how QB Josh Allen went off in this spot and the key is that both Allen and Hurts have the ability to not only throw for TDs but also run in a TD or two and it makes for a high ceiling play which is why he is the top priced QB for Week 8.
KYLER MURRAY
A play with some risk because it is the Arizona signal caller but with WR DeAndre Hopkins back from suspension Murray looked way more comfortable in the pocket.  Minnesota can be exploited in their secondary and if you look at who they have played so far in 2022 they have had issues with offenses that have high end players at their skill positions and are at near full strength at those positions.  This is a risk/reward play and is probably more suited for GPP, but I do like his salary as he can run with the ball and gives you some nice savings from QB Jalen Hurts.
TUA TAGOVAILOA
In CASH I am probably more on RB Raheem Mostert this week because of his salary and the matchup.  That does not mean I do like Tua in this spot and it doesn't mean you can't consider him for your CASH game lineups as the Dolphins passing offense is in just as good of a spot and I can see Tua having another blow-up game against the Detroit Lions.
DEREK CARR
New Orleans secondary has been dreadful the past four weeks and QB Derek Carr should have a really nice game this week as a budget CASH option.  Add in the fact that Carr has been looking good this season but has yet to pay off in the TD department and you have a QB that will be overlooked a bit in this spot against a defense that is bleeding passing TDs to the position.
GPP:
DANIEL JONES
I'm not as high on Jones over on FanDuel, but on Yahoo and DraftKings he is a pretty interesting choice at QB.  Now Seattle hasn't been exactly giving up a ton of points to the QB position, but Jones isn't just a passer he is a QB that can use his legs and I can see him snagging a couple of rushing TDs against the Seahawks.  A true boom or bust play this week who will have the opportunity to pay off this week if the Seahawks are able to play along and run all over the Giants defense in Week 8.
JARED GOFF
This is a wounded animal backed into a corner style play against the Miami Dolphins who haven't had great secondary play this season and it's possible that it continues this weekend in Detroit.  Every game at home in Detroit has resulted in a shoot out and with what the Lions have at their skill positions including the return of RB DeAndre Swift they will have their full compliment of weapons to take on the Dolphins this week.  Consider Goff in multi entry contests as his salary on FanDuel and Yahoo is rather high for the player as a pivot option but is a nice value option over on DraftKings.
Running Back:
CASH:
DERRICK HENRY
Hard to pass up King Henry in a spot against the Houston Texans this week.  I'm not thrilled with his salary on FanDuel as it has hit the $10k mark which usually gives us a fade possibility, but Henry can certainly go off for 30 points this week.  $8.4k on DraftKings seems more of a value as he only needs 24 points to truly pay off.  Backup QB Malik Willis is expected to make his first start for the Titans on Sunday so that will mean a ton of carries for Henry as the team attempts to not put their rookie QB in a situation for turnovers.  NOTE:  I do kind of like Willis as a potential GPP option as the kid has wheels and the Texans will have issues with him on short notice.  Willis is more of a mega multi entry play so don't go heavy with it.  If you are playing Willis you are fading Henry as it means the rookie QB is stealing TDs from the RB.
KENNETH WALKER III
The only thing that the Giants can not seem to stop is high end RBs with some juice and that is certainly true with Walker.  The Seahawks will look to continue their winning ways behind an offensive line that has played rather well in 2022.  A nice volume play that should reap a lot of reward and his salary is much more doable over on Yahoo and DraftKings where we have some nice savings.
JONATHAN TAYLOR
This is a CASH game pivot play off of QB Sam Ehlinger who is at minimum cost.  A lot of talk about using Ehlinger this week to allow the ability to pay up at other positions.  Unfortunately, the correct play is not to use the young signal caller at all and instead use the Colts stud running back Taylor instead as Indianapolis will look to dominate the Commanders on the ground and try to grind out a win.
RAHEEM MOSTERT
A hell of a savings across the board this week as Mostert has full control of this backfield as he has an over 70% snap share.  The Lions bleed points to the RB position and at his salary he really doesn't need to explode to pay off at the end of the day but has the opportunity to go out and go over 100 yards and secure a couple of TDs.  I honestly don't mind using Mostert even if you are looking for a Tua/Tyreek pairing as his salary is that good even though it is not the correct way to play 50/50s.  
MICHAEL CARTER
I have some love for Carter in this spot as long as newly acquired RB James Robinson doesn't play this week against the Patriots.  The way I see it is that the Patriots will come out on Sunday and try and stop the Jets passing game.  New England will try and procure some turnovers from QB Zach Wilson which doesn't kill Carter in the long run since he will also be the Jets main passing down back.  So, he should be in a win win situation no matter how the game script goes.  Consider it, but I understand why someone would pass on this play and it won't kill you in the long run if you do fade it.
TONY POLLARD
Just plug him in against the Chicago Bears.  Don't fade Pollard in CASH as RB Ezekiel Elliott will be OUT this week and Pollard will control almost 90% of the backfield touches.
GPP:
SAQUON BARKLEY
This man is the number one reason that I can't even consider QB Daniel Jones in CASH and QB Daniel Jones is the number one reason I can't even consider RB Saquon Barkley in CASH.  This is a conundrum against the Seattle Seahawks as both players can go off but I don't see both getting the job done in terms of TDs.  Pick your poison here but like I just said I wouldn't consider a Jones/Barkley pairing.
JOSH JACOBS
Jacobs has been on an absolute tear this season and while I like him a bit against the Saints I am more on the Raiders passing game this week as the matchups are phenomenal.
ALVIN KAMARA
RBs have been good but not great against the Raiders.  Kamara is definitely due to get a TD but we also have to consider that Taysom Hill is going to see some touches near the goal line.  With the Saints missing two of their top options again at WR and the possibility of them also missing a TE or two this week that will allow Kamara to see some more targets as QB Andy Dalton gets another start.
D'ANDRE SWIFT
He is officially back this week against the Miami Dolphins and the Detroit Lions need to get him involved in the offense if they want to have a shot at taking them down.  He will either score a TD or end up in the blue tent yet again so he's as dangerous as ever.
Wide Receiver:
CASH:
COOPER KUPP
It's Cooper Kupp folks.  In this matchup against the Niners I don't see him as being a "must have" at his salary but we need to consider him as he continues to get the job done and had the bye week to heal up.
TYREEK HILL
If you go through the matchup grades on Pro Football Focus you will see that Tyreek Hill has the biggest matchup advantage of the week and it's not even close against CB Amani Oruwariye.  Hill is the main reason I have had issues with whether to go Tua at QB or Mostert at RB for CASH.  I have the vibe that Hill might be the "must have" player to roster this week so take that for what you will and also why I am considering going heavy Dolphins in 50/50s.
DAVANTE ADAMS
Soooooooooo……..The WR1 in this matchup against the Saints has been going off ever since CB Marshon Lattimore has been out due to injury.  Jefferson, Metcalf, Chase and Hopkins have all taken advantage in consecutive weeks so it's hard to overlook Adams as the next WR to go off.
DeANDRE HOPKINS
If you are looking at the Arizona Cardinals for an offensive skill piece it starts at Hopkins in an under the radar matchup against the Minnesota Vikings.  In fact, he is the safest option for this offense in Week 8.
AMON-RA ST. BROWN
Bounce back spot here for the Sun God and he will come in heavily underutilized after being kept out with a "concussion like state" last week against Dallas where he was a popular player option.  His best salary is on FanDuel and DraftKings.
MICHAEL PITTMAN JR.
I still see Pittman getting his with QB Sam Ehlinger under center.  The matchup against Washington CB Kendall Fuller has been one we have attacked with consistency this season and with success.  His best salary is on FanDuel and DraftKings.
DEVONTA SMITH
The best spot to look for Eagles pass catchers is at the WR2 spot where Smith can take advantage of CB Cameron Sutton for the Steelers.  His best salary is on FanDuel and DraftKings.
CHRIS OLAVE
No matter who is under center for the Saints the first option in this passing offense is WR Chris Olave who is taking the targets and running away with the opportunities that he has been given.  I'm overlooking the DVOA numbers against the WR1 and looking at the matchup with CB Rock Ya-Sin for the Raiders and licking my chops.  Best salary is over on DraftKings.
JAKOBI MEYERS
Meyers is always overlooked for the Patriots and in a matchup against the Jets we have an opportunity to attack slot CB Michael Carter II.  If you want point per dollar value look no further than the New England slot WR.
DJ MOORE
If WR DJ Moore and QB PJ Walker can't get the job done against a decimated Atlanta secondary they are both dead to me for the rest of the season.  Moore's salary continues to be depressed due to the Panthers offense and it is one we can take advantage of.  If not considering in CASH definitely consider him in GPPs.
WAN'DALE ROBINSON
With TE Daniel Bellinger OUT due to one of the most ridiculous eye injuries I've ever had the not so privilege of seeing that means more targets for Robinson across the middle.  That is where we want to attack the Seattle Seahawks the most in the passing game.  He is still dirt cheap across the board with Yahoo and DraftKings being the best sites to roster him on.  I'm going ahead and just locking him in across the board and dealing with the consequences of my actions.
KJ OSBORN
The way I see it here is that the Vikings can take advantage of the middle of the field with either their TE in Irv Smith Jr. or their slot WR in KJ Osborn.  This is a sneaky as hell play as we will get lower ownership on Osborn as not only TE Smith will be heavily rostered this week but also Jefferson and Thielen at WR.  Wavers on the CASH/GPP line a bit but can get us a really nice return on our investment.  FanDuel and DraftKings have the best salaries this week.
CHRIS MOORE
WR Nico Collins is already OUT for the Texans and WR Brandin Cooks is QUESTIONABLE.  Collins being OUT means more target opportunities for Moore in this matchup against the Tennessee Titans.  We don't want to go heavy exposure with this offense so I will say I like Moore over TE Jordan Akins who is also written up this week.
GPP:
AJ BROWN
I like WR Devonta Smith more in this matchup, but I am considering Brown in a stack or as a pivot option against Steelers CB James Pierre.  Philadelphia has the chance to have both WRs go off in this matchup against Pittsburgh.
JAYLEN WADDLE
I like Waddle against Detroit CB Jeff Okudah, but when WR Tyreek Hill's matchup is so much better it's hard for me to not want to pay up this week in CASH.  I do like the full Miami stack this week in GPPs but I have concerns that the second option may be TE Mike Gesicki.
CEEDEE LAMB
Everyone seems to hate WR CeeDee Lamb this week against the Bears.  In a matchup against CB Kyler Gordon though he has an opportunity to go off as Gordon has one of the highest catch rate % in the league.  It could be an under the radar blow up week for Lamb.
TERRY McLAURIN
If there is one WR for the Commanders who can go off against the Indianapolis Colts it is WR Terry McLaurin.  QB Taylor Heinicke has a fever for the Commanders WR1 and he will get plenty of targets as Washington plays from behind this week in Indianapolis.
DARIUS SLAYTON
I like the matchup for WR Darius Slayton against Seattle CB Michael Jackson, but in terms of safe point per dollar return it is WR Wan'Dale Robinson who gets the nod in CASH.  I am considering Slayton though in GPPs in a full Giants stack for Week 8 but it is a dangerous one to say the least.
RASHID SHAHEED
He is going to only get one or two opportunities again for the Saints which is a damn shame.  Shaheed has shown he has full explosion capabilities to get the long TDs on any touch he can get so hopefully New Orleans can get him the ball more.  A boom or bust GPP option we must consider as I see the Saints playing from behind in this game against the Raiders.
Tight End:
CASH:
TJ HOCKENSON
With both TE Travis Kelce and TE Mark Andrews off the Main Slate this week it is basically a pay down at the position week.  That doesn't always mean all the way to the bottom though as we get a hell of a value on TE TJ Hockenson against the Miami Dolphins this week in a game that has a high potential for a shootout.  Hockenson is in a really good spot this week and even with WR Amon-Ra St. Brown back on the field he has the potential to blow up again points wise as one of QB Jared Goff's top targets.
PAT FRIERMUTH
Everyone is looking at WR George Pickens as the best option to use against the Philadelphia Eagles, but in reality it is TE Pat Freiermuth who has the best matchup for the Steelers against the Eagles linebacking corps.  As long as QB Kenny Pickett doesn't leave due to injury we can see Freiermuth pay off in targets and receptions with a potential TD.
IRV SMITH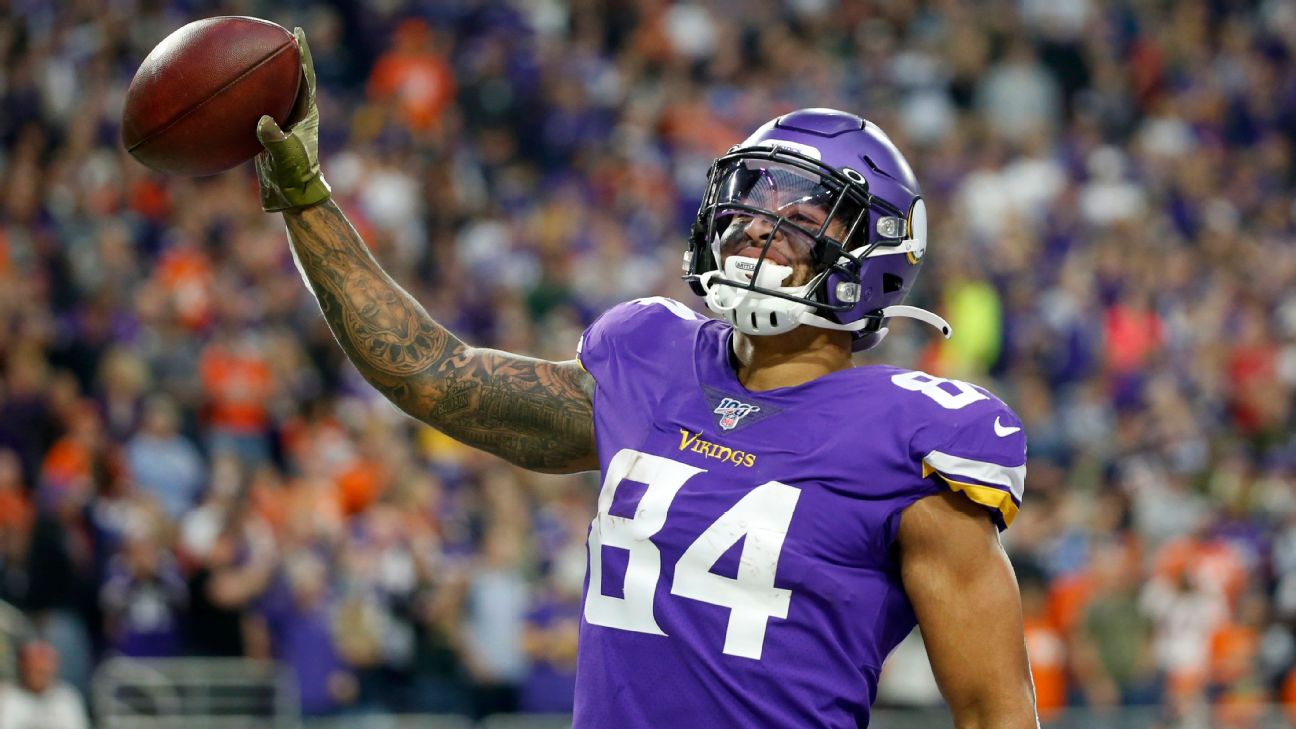 Big Irv is going to be popular this week in a matchup against the Arizona Cardinals without a doubt as he is cheap and has the matchup on paper.  If saving the most salary as possible in CASH Smith isn't going to kill you if he doesn't get the job done since he will be so highly utilized this week.
JORDAN AKINS
Akins is the real pass catching TE for the Texans and should see even more opportunities vs the Titans on Sunday with WR Nico Collins already OUT for Houston.  It's a semi-dangerous play, but with how affordable he is you should be more stable at the other positions to pay off in CASH this week.
GPP:
TAYSOM HILL
It's like that this week……..I'm not really looking at the positional charts when it comes to the Saints "tight end".  I'm just thinking about his possible utilization in the Saints offense.  It's dangerous to consider him for sure and remember he is a QB on DraftKings.  I wouldn't use him as a QB just to be clear.
ZACH ERTZ
Used to be a CASH option for us but with the return of WR DeAndre Hopkins it moves Ertz to GPP as a potential second option.  His targets will continue to be depressed as long as DeAndre will be around so you really need to get a TD from him.
MIKE GESICKI
He is honestly my second favorite option in the Dolphins passing offense.  I would play him over Waddle and you know we all hate the up and down nature of Gesicki so it will keep his ownership low in comparison to Waddle at WR.
Defense/Special Teams:
CASH:
You can honestly make a case for any number of defenses this week so focus more on your skill position players first and then just insert a defense as need be like we usually do.  You don't have to pay up this week, but what I have written down are my favorites this week.
DALLAS COWBOYS
Safest defense on the board against the Chicago Bears but you will have to pay for their upside.
PHILADELPHIA EAGLES
Pickett has been good at serving up some turnovers and we know the offensive line hasn't been terrific so sacks and fumbles are on the table.
INDIANAPOLIS COLTS
QB Taylor Heinicke serves up some ducks at times and his accuracy is questionable at times so there are turnover opportunities her.
GPP:  (Also known as the pay down defenses for CASH)
NEW ENGLAND PATRIOTS
Divisional game where the Patriots are coming off an embarrassing loss to the Chicago Bears and the NY Jets have been living a semi-charmed life with how shitty their QB play has been this season.  Bounce back possibilities aplenty.
SAN FRANCISCO 49ERS
Has Stafford fixed his issues during the bye week?  He better have because the 49ers are getting healthier week by week now.
NEW YORK JETS
The Jets have been winning not because of their offense but because of their defense which has been solid in 2022.  If they can stop the run against the Patriots they will force the Pats to throw more which is bad news for New England.
NEW GPP:  (Also known as the fuck it and play it minimum price for CASH)
TENNESSEE TITANS
I mean the play is solid just because it's the Houston Texans, but now Houston is losing WRs?  Sign me up, especially on Yahoo where they are only $1 above minimum price.
LOS ANGELES RAMS
No one is talking about the Rams and how they are getting secondary pieces back from injury.  They are cheap on FanDuel and DraftKings this week and they should be rather low owned across the board.
Any questions or comments?  Hit me up in the DailyAmbush.com Discord or on Twitter and Instagram @roydawg_13 and you can even hit me up on Facebook Messenger Dennis M. Roy.