PGA Dew Sweeper – Waste Management Open>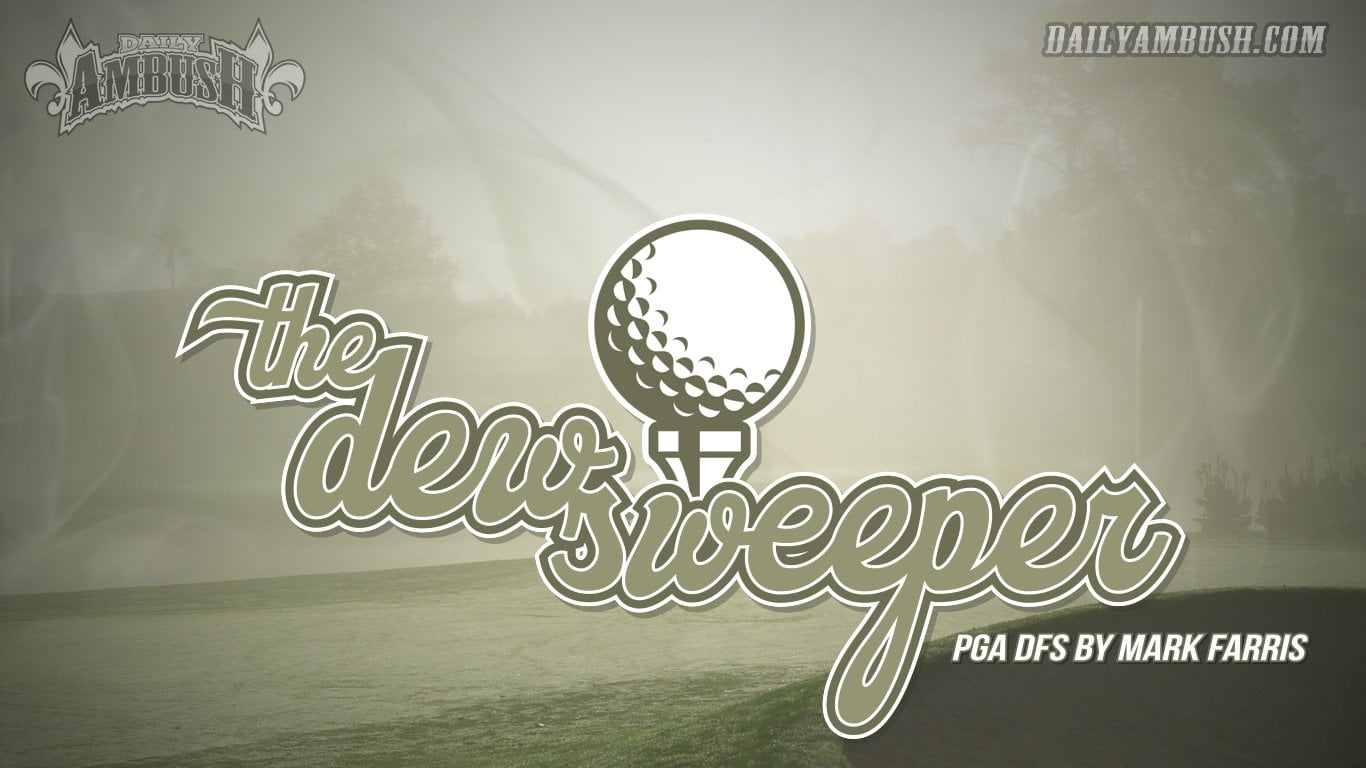 This is one of the most entertaining PGA tournaments to watch from multiple reasons. (1) It gives you something else to watch besides the NFL-heads repeating themselves ten times to fill the 12 hours of Super Bowl pre-game hype, (2) HOLE #16 – watch and you know what I mean and (3) the field this year is outstanding!
I hope some of you are cashing from the picks I've put out.  I'm getting good picks, but personally, I've been playing the wrong guys.  We'll never get them all right, but I've been playing the guy that withdraws even when the event is no-cut or a 54-hole cut.  It has to break sometime, right?  This past weekend was a cluster!  With the weather, the guys that knew they weren't going to make it to Round 4 withdrew and left for Phoenix – at least the ones that didn't give a shit about their amateur partners.
Highlights:  TPC Scottsdale – Par 71 @ 7,261 yards 
Ball strikers' course with narrow fairways but little penalty for being less than accurate off the tee.  The desert area can cause some issues if players are extremely wild.  A few water hazards, but the one to left of Hole 17 seems to be the one that gobbles up the most due to players driving the Par 4.
Bombers will be able to take advantage of the course somewhat due to the lack of a penalty for being wild.  Example:  Hole 17!  Drive it in the water and it's still not too difficult of an up-and-down for these guys.
The field is loaded this week!  While this makes for very entertaining golf for the viewer, those of us that play DFS have a conundrum! Of the 14 guys priced at $9K and above, who DO we play and HOW MANY can we play and still have a reasonable lineup?  I'm not going to lie to you, you can get three.  I did a lineup with McIlroy ($10,800), Finau ($10,100) and Schauffele ($10,000) and I'm not upset with the other three golfers.  Two are coming off good weeks at Pebble Beach and the other has been consistently making cuts.  That, to me, is the definition of a stars-and-scrubs lineup.
I am going to give you some names in the $9,000 and above group that I will play.  However, there really isn't a player that I'm leery about other than Matthew Fitzpatrick ($9,000).  That's because of the neck issue last week and the fact that he did miss the cut.  That could have been the weather because cold winds and a sore neck usually aren't an optimal combination.
NOTE:  All pricing is based on DraftKings
** are my favorites in each category – could be pricing or the fact I think they play best.
$9,000 and Above
Let's make this simple this week for the guys above $9K.  I'm not going to pick them for you but I will give you where they rank in the two categories I said were important above:  Ball Striking and Driving Distance.
Ball Striking (with overall rank – last 16 rounds):
Jon Rahm ($11,000)** – 19th
Rory McIlroy ($10,800)** – 5th
Scottie Scheffler ($10,300) – 16th
Tony Finau ($10,100) – 1st
Xander Schauffele ($10,000) – 14th
Justin Thomas ($9,800) -54th
Collin Morikawa ($9,700) – 2nd
Patrick Cantlay ($9,500)** – 15th
Hideki Matsuyama ($9,400) – 71st
Viktor Hovland ($9,300) – 42nd
Sungjae Im ($9,200) – 27th
Matthew Fitzpatrick ($9,000) – 95th
Driving Distance (with overall rank – last 16 rounds):
Jon Rahm ($11,000)** – 10th
Rory McIlroy ($10,800)** – 1st
Scottie Scheffler ($10,300) – 14th
Tony Finau ($10,100) – 28th
Xander Schauffele ($10,000) – 20th
Justin Thomas ($9,800) -18th
Collin Morikawa ($9,700) – 88th
Patrick Cantlay ($9,500)** – 8th
Hideki Matsuyama ($9,400) – 66th
Viktor Hovland ($9,300) – 29th
Sungjae Im ($9,200) – 55th
Tom Kim ($9,100)** – 54th
Matthew Fitzpatrick ($9,000) – 24th
So, I'm not telling you who to play here, but I am going to lay off Fitzpatrick for a few events until I see he can swing 100%.  With respect, he gutted it out last week for his pro-am partner but he definitely wasn't 100%.  With fields like this, I find that I really can't tell you to play one guy over another, but If I were to pick MY Top 5, I'd go:  McIlroy ($10,800), Homa ($9,900), Rahm ($11,000), Tom Kim ($9,100), and Cantlay ($9,500).
$7,500 to $8,900
Cameron Young ($8,900)** – Just to reflect how pricing changes, Thomas Detry was a pick here last week at $8,800.  Now, at that price level, would you play Detry or Young? If you say Detry, stop reading now and go play NASCAR DFS (no disrespect to Rob Geriak's advice intended – it's excellent).  Detry could outperform just like a guy coming from out of nowhere because of wrecks, but PGA players can't hit each other with clubs to take an opponent out of contention – at least not yet.  That may change in fields where LIV Golfers and PGA Tour players are paired together.  I'm kidding of course, but back on point, this is a good price for a guy that makes cuts.  It's an excellent price for a high-quality player and that's Cameron Young.
Seamus Power ($7,600)** – This may be the best bargain in the field.  He's never made a cut at the WMPO, but he's really never come into it playing this well either.
Rickie Fowler ($8,000) – I'm really liking how Rickie is playing with the reconstructed swing.  He's missed the last two cuts here, but prior to that, he owned this course for several years.  New swing that's working and a course he likes should be a good combination. He's 17th in SG-Ball Striking too.
Corey Conners ($7,700) – Another guy that's playing well, has made the cut every year he's entered this event and ranks 10th in SG-Ball Striking.
$7,000 to $7,400
Garrick Higgo ($7,200)** – I'm liking this lefty on the PGA Tour.  Two Top 20s in the last three events.  Make the cut and this price pays off.
Brian Harman ($7,400)** – sticking with the lefty theme.  He's made 8 out of 9 cuts at this event.  His only missed cut this year was at the AmEx and he still shot 8 under par for the week.
Denny McCarthy ($7,200) – He already has two Top 10s in the new season and played extremely well at Pebble Beach.  A Top 10 for $7,200 is worth the risk.  Hell, you'll take a Top 25 at this price.
J. T. Poston ($7,300) – Made the cut every year he's played the WMPO.  He's entered four events this season and has gone T6-T21-T21-T21!
Under $7,000
"Scrub Zone" – It's limited, but as I said above, it can get you 3 guys in the Top Tier in your lineup and still not make you lose your lunch when Friday gets here.
Brandon Wu ($6,400) – Solid week last week. Hopefully, the momentum keeps him going.
Greyson Sigg ($6,400)
Stephan Jaeger ($6,600)
LONGSHOT
Zach Johnson ($6,300) is my longshot.
Zach is not a bomber and, honestly, has somewhat disappeared on Tour.  However, he typically plays this course well and had Top 15s from 2014-2016.  If you get a made cut at $6,300 – or even an outside Top 20 – it's worth it.
Ask questions on Discord if you have them.  Make sure to tag me so I don't miss it!
GOOD LUCK!!