CBB DFS: The ONIONS – Feb 1>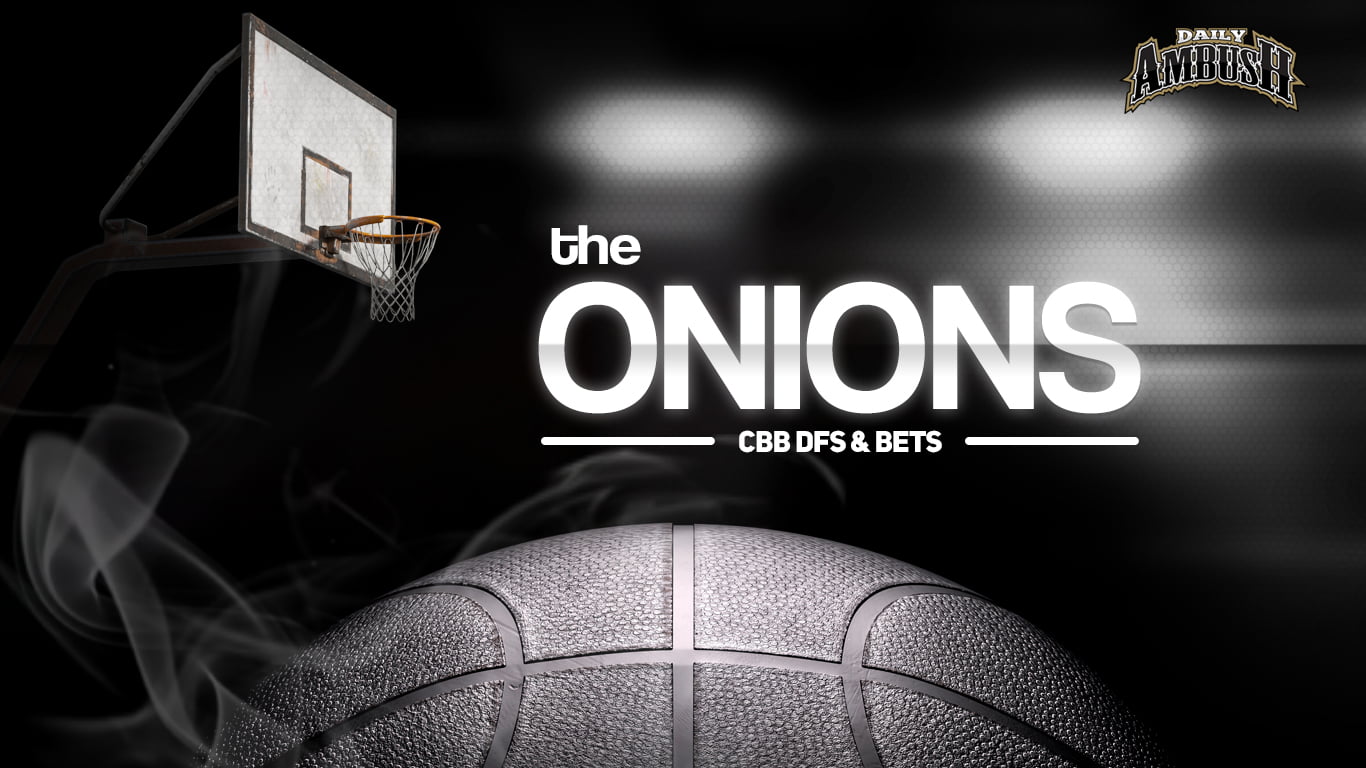 Creighton vs Georgetown
Creighton should throttle Georgetown but the Hoyas legit are playing with a little more confidence lately.  Either way, good spot for DFS.
Trey Alexander – G – 6700
Primo Spears – G – 8200
Akok Akok – F – 6800
Villanova vs Marquette
This game is priced as the best one to consider game stacks for.  It'll be close and I suspect we see a tempo boost.  Their prior meeting went under and tonight's a sneaky over pick assuming Kam Jones suits up for the Golden Eagles.  If he starts, he is an elite pick.
Justin Moore – G – 5900
Eric Dixon – F – 7600
Kam Jones – G – 7700
… if Jones sits – Stevie Mitchell – G – 4600
Florida State vs NC State
Should present a nice tempo tonight and Terq Smith is going to go off after having some foul troubles against Wake Forest in which he saw just 21 minutes of action.  Terq and Joiner carry the show with Terq being your contrarian pay up option here.
Florida State runs through Matthew Cleveland, they shouldn't be within 9 points but I should lean on dogs in conference play here so, lets bank on them keeping it close for game stacks.
Matthew Cleveland – G – 8600
Cameron Corhen – F – 4500
Terquavion Smith – G – 9300
Use The Matchups page on the Dashboard to help narrow down options for game stacks.
GUARDS
Trey Alexander – Creighton – 6700 … Struggling of late but still too logical of a pick against a bad Georgetown defense.
Justin Moore – VIllanova – 5900 … Moore looked great physically in his debut on Sunday in a 5 point home loss.  Last meeting these teams played a low scoring game but with Moore back tonight Nova should hang around on the road.  The pricing on this game warrants a game stack and he is a core play in that scenario.
Kam Jones – Marquette – 7700 … The model is down on him today but it's a great upside spot.
Kadary Richmond – Seton Hall – 7000 … Richmond went OFF against the Johnnies in their prior meeting with 49 FPTS and his recent history is very good as well.  He's scoring the ball, getting steals and just contributing every which way to easily see him going 4x today.
Wendell Green – Auburn – 7400 … Auburn by more than 11 feels a little bit of a stretch, but in either scenario closer game or blowout I would prefer the 7400 price on Green over 8600 for Broome.
Josiah-Jordan James – Tennessee – 6500
Isiaih Mosley – Missouri – 6300 … Had a bad game on Saturday despite the rest of the team doing extremely well.  His profile matches up well vs LSU.
Myreon Jones – Florida – 6100
FORWARDS
Clifford Omoruyi – Rutgers – 7900 … 25% usage and 38% rebounding rates stand out for Cliff against a bad rebounding and just bad overall Minnesota Gophers team.  Cliff is getting about 30 minutes per game, but should be able to make the most of that time at home tonight and reach 30+ FPTS.
Eric Dixon – Villanova – 7600
Tyrese Samuel – Seton Hall – 6300
Kobe Brown – Missouri – 7900
Joel Soriano – St. Johns – 9500 … I never love going above 9k on guys but Soriano is highly likely to hit 40 tonight at home.
UTIL / VALUE
G – Justice Williams – LSU – 3800 … Sub 4k I don't care if you have a 20 point ceiling so long as you get 15+ fpts.  This is all about a bad defense and good DVP matchup where Williams can hopefully benefit with a good balanced night.  He needs to avoid turnovers though.
F – Cam Corhen – FSU – 4500
G – Trae Hannibal – LSU – 5000
G – Woody Newton – Oklahoma State – 5200

CONTRARIAN ONIONS! PLAY
Terquavion Smith – NC State … Great bounce back spot for Terq Smith.
Primo Spears – Georgetown … 35+ in each of his last four including a whopping 62 ceiling game.  He can light it up and probably gets some assist % boost at home.
CORE
G – Trey Alexander (CRE)
F – Clifford Omoruyi (RUT)
UTIL – Justice Williams (LSU)
TOP BETS
Oklahoma -3.5 … I expect this game to be close but the Sooners pull it out late.  They're coming off a HUGE beat down of Alabama but also lost the prior meeting with the Cowboys by a wide margin.  Payback tonight in Norman.
Villanova/Marquette over 145.5
Florida St +9.5
St. Johns ML