What is The Dongers Club? MLB DFS Breakdown>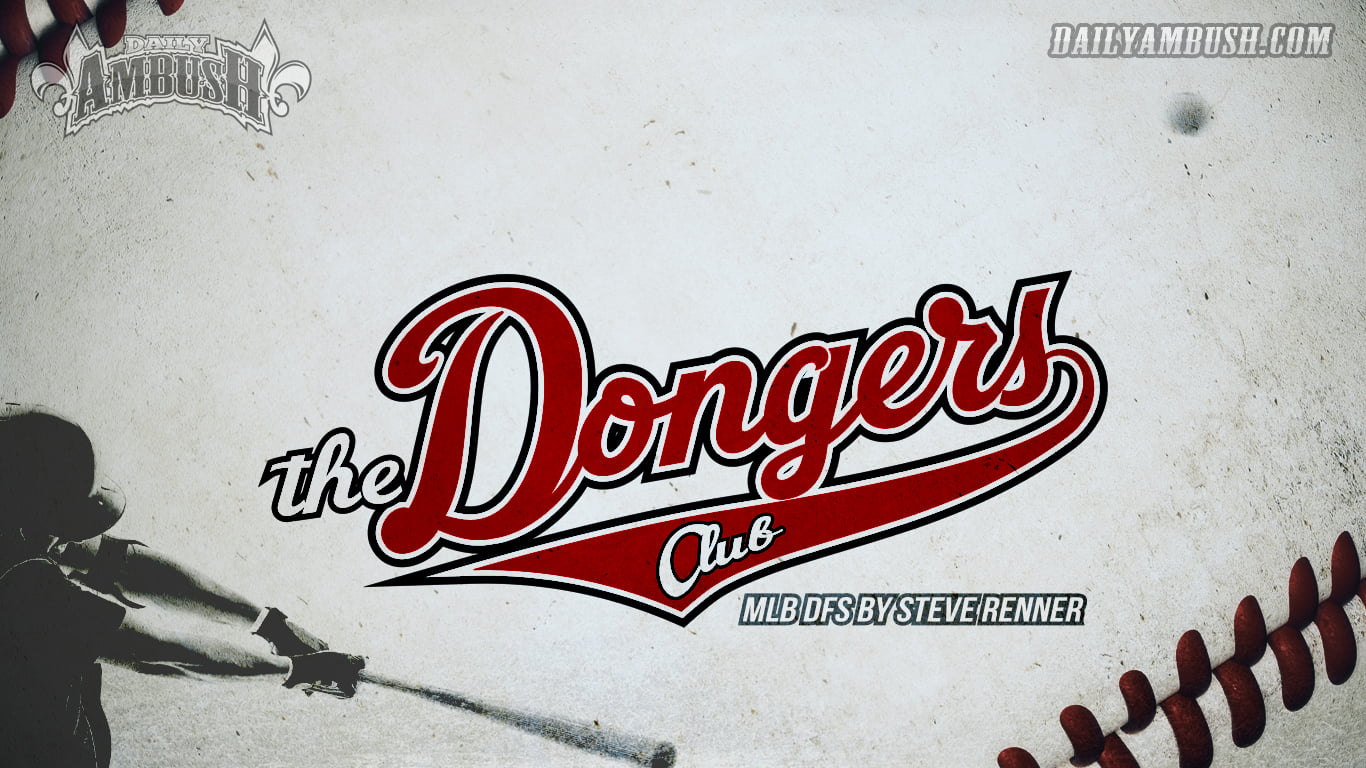 What exactly is the Dongers Club and why am I reading this, you are asking yourself right now.  Well, The Dongers Club (yes, the T is capitalized!) is what I consider to be my most prized creation, it's the breakdown of the daily MLB slate for DFS & betting information that you might want to consume for entertainment and most importantly financial gain.
There are no doubt many sources out there for you to consume information on recommendations each day of which pitchers, hitters and teams to be looking at for DFS and MLB betting, but this one is different and it's hard to explain why but you just have to trust me okay?  No, seriously.  Ask those who have consumed my content since it started publishing in late 2015 on the old Scout message boards when another well known Tout in the DFS industry just decided to stop providing content.  From there we took off and I continued to provide everyone else with the thought process I had for the daily slate, while also including in my personal rants and entertaining thoughts each day.  Because nobody will admit this, but MLB is a grind and come the middle of June when Corbin Burnes is facing the Pirates in PNC park and some third string content writer is trying to justify paying $11,200 for him because of 7 different stats that really provide ZERO value to you the reader you're gonna be screaming insanity and just become bored with MLB DFS if you don't have someone providing some form of entertainment value beyond SO rates, expected stats and whatever new fantasy baseball metric has been made up out of thin air to justify analysis.
I am not an MME player in any sport and especially Baseball.  Have I tried it?  Yes.  Do I continue to do it?  No.  I am better at hand building a lineup and yes, I have four figure, five figure and six figure wins consistently to justify my process.  As do the people who read The Dongers Club and if you find that this isn't for you, then that's fine, move along.
So with that in mind, I will provide my analysis in written content that helps you narrow down a 15 game or 5 game slate no matter the size to know who are the top pieces to fit into a lineup or two or three.  This doesn't mean that anyone building 5-10 lineups or 50+ cannot use this information to help drive them to the right spot, but I find the most important trait to winning in MLB DFS is not always picking the right plays but avoiding the wrong plays.
Many touts claim that Baseball is the highest variance sport.  They're wrong.
Many touts claim that you cannot win in Baseball without stacking 5+ teams.  They're wrong.
Many touts claim that ownership matters in Baseball.  They're wrong.
Having the right lineup construction based upon contest selection and being consistent with your daily approach is how you win in Baseball.
You'll end up being frustrated if you play 2 or 3 times a week only Baseball.  You'll be frustrated if you try MME one day and then SE the next day.  You'll be annoyed if you try to just click opto and hope for the best.  I've been playing this shit long enough to have gone through the failures enough myself to know what works and what doesn't work and my friends, as much as we try, stacking the Pirates — does. not. work.
Please note, we will be stacking the Pirates at some point on a random Wednesday afternoon slate or Saturday early only slate and celebrating a Jack Suwinski Saturday home run as well, so please do not try to remind me that stacking the Pirates, does. not. work. when I recommend that because nobody wants a debbie downer on mid week afternoon slates.
Now, where was I?  Oh yes.  Explaining what the Dongers Club is.
I will go more into my strategy and opinions for MLB DFS in a Manifesto article titled "The Dongers Club Manifesto!" before the season begins.  It can help through my personal thoughts (I have many random theories too) on Baseball, but this is a guide on what the Dongers Club looks like.
So everything above — that's the intro to the article each day and it might be whatever random thoughts are on my mind to help break up the slow (now fast with the stupid pitch clock) grind of MLB.
SLATE NOTES
This is otherwise known as – why do we not have Site Synchronicity on Saturday early only slates?  Otherwise known as FanDuel has 7×3 game slates and DraftKings has 2×6 game slates.  It's my way of letting you know what I am playing and what will be covered in the article when applicable.
WEATHER
Yes, I cover the weather in Baseball each day.  It's important because we need to know if there are games with PPD risk, wind notes or high humidity/heat that could drastically impact what happens.  What I do not do though is over-analyze the weather.  There's two known MLB DFS weather people and they might be the biggest waste of time follows on Twitter unless you like seeing trolls destroy them when  they claim a game wont get PPD and it does.
Here's the quick summary on weather.  Most games play.  If a game has massive PPD risk, you just move on.  There's about 200+ total slates that you can play in MLB DFS each year.  You don't gotta be that guy who has the 1% owned Reds stack when everyone else thinks Cincinnati is going to get PPD but they wind up starting at 11pm on a Tuesday night in late May.  Why?  Why bother?  We have so many games each night to look at, so spend a quick 30 seconds getting the weather summary and move on.
Wind and heat is also drastically over analyzed in Baseball DFS, 3-7 mph winds?  Who cares.  Wrigley 12mph?  Sure, okay, it's getting there, but really you don't need a degree to understand the weather impact each day, just a quick 30 second summary and what you need to know and then move on.
So let's say that there are 12 games on the MAIN slate.  How many pitchers are you likely to see mentioned here?
Three to Four
Let's say there is a short 5 game MAIN slate.  How many pitchers are you likely to see mentioned here?
Three to Four
Let's say there are 15 games on a Friday MAIN slate.  A glorious slate if I do say so myself.  How many pitchers?
Three to Four
Will I sometimes go beyond that with a quick note on other guys?  Sure.  But really we're listing the three to four pitchers which I am using between FanDuel and DraftKings and that I think you should have exposure to on that night.  Any additional notes beyond that is just me adding in other thoughts on pitchers who might be of relevance, have a high rating on the dashboard or are just bad chalk that I want to shit on.  It will look something like this.
PITCHER NAME
Blah blah blah, yada yada yada, acuna moncada.
PITCHER NAME
Blah blah blah, yada yada yada, acuna moncada.
PITCHER NAME
Blah blah blah, yada yada yada, acuna moncada.
Some folks like stats, so yes there will be stats mentioned.  Some folks like analysis with what I have seen in recent form, so yes that will be in there, but some folks just read the headline and want the pick and really that's what matters in the end.  You don't need someone to tell you that Max Scherzer has high strikeout upside against the Marlins (well, the old Marlins that is…)
When necessary, I'll mention a pitcher who is the contrarian high upside play or a pitcher who is an avoid at all costs play.  Not every slate has that information, so it's not going to be mentioned if I do not find it relevant to mention.
Whether you are stacking 5 guys or just trying to build out the best lineup, we focus on the teams who are in optimal hitting conditions that I'm focusing on the most.  Could be due to the other SP, the other bullpen, the weather, the stadium, the type of bird I saw walking my dog that morning or whatever other narrative you want to conjure up that day.  Doesn't matter, the bottom line here is that I go into the 3-4 teams (again, not writing up 10 stacks on a spreadsheet with colors) that I think you should be on that day.
Yes, the bleeping Pirates are a contrarian stack every day, you don't need someone to tell you that on a sheet.  Guess what it will look like?
TEAM NAME
Hitter 1, Hitter 2, Hitter 3
Blah blah blah, yada yada yada, acuna moncada.
The hitters mentioned are the CORE guys I would definitely focus on from that team.  More when we get into the season on how I pick the CORE players from each team, but for stacking purposes there is logic into who you pick as the CORE plays.
Very simple, a list of each position my top optimal lineup plays for each spot with analysis where applicable.
CATCHER
Player
Player
Probably Salvador Perez
FIRST BASE
Player
Player
etc..
You get the idea.  Am I listing 10 first basemen and then winning a live final with another that I didn't mention?  No.  I am giving you 3 guys at a spot and if the position is DEEP I will say that, if the position is a punt position then I will say that.  And no, the 1B list isnt Vlad/Freeman/Goldy every single damn day.  You do get $2300 players mentioned here when they are deserving of a mention.
THE DONGERS CLUB
The best part of the article some will say.  This is where we release the chairman of the day, the top HR call/player to own on the slate along with the other 8 guys in the Dongers Club for that day, the top HR calls one by position with a contrarian balance across the list.
TOP BETS
Anyone but the Brewers and White Sox.
TOP PROP OF THE DAY
This will be new in 2023.  Prop betting is taking off across all sports and with stolen bases going up this season we have yet another prop element to factor in.
And finally, we cover any final slate thoughts such as favorite SP on DraftKings, favorite SP on FanDuel, is it a stack night, etc…