THE AMBUSH, WEEK 8
This article is not only intended to help YOU the reader out with your NFL DFS enjoyment for the week, but it's also my Bible that I will rely upon each week to do my lineups, contest selection, bets, GIFs, angry twitter rants or whatever else I need for that given weekend of NFL action.  You can expect this article to come out on Saturday's as Friday nights are my grind time (… no, not that kind of grinding, cmon people …) to get this article done and ready for the weekend.  I'm a big CFB player so Saturday's are reserved for watching college football (or doing actual life stuff), but I will then come back to my article on Saturday night and make sure all my lineups and entries are set before eventually going to bed for the evening.  You can expect me to not want to change a single thing on Sunday's and I'll likely not even want to answer any questions you have on Sunday's.  If you want the best time to get your lineups done, it should be Saturday night's when you are reading this article.
Here's a recap of what this article covers
This article will cover plays that I am using on my MAIN lineup & what that is being entered into.

This article will cover plays that I am using on my SECOND tier lineups & what contests those are being entered into.

This article will cover plays that I am using on my THIRD tier lineups & what contests those are being entered into.

This article will cover my favorite weekly BETS for the weekend games.

This article will cover who I feel is chalk and how it should be addressed.

This article will cover all my NFL thoughts in one spot.
What are The Ambush plays?  These are my plays that I feel warrant the most attention for a given week.  It's a mix of three types of players/teams each week.  We'll cover the stud you gotta have no matter what.  We'll cover the contrarian pivots.  We'll cover my favorite games/stacks of the week.
10:30 AM EST
Kamara is going to be OUT.  Murray's volume for his price should be good and considering I think they score a ton of points he certainly makes sense to pay off but RB has lots of good choices in my mind today so he's not a must play like he was last week.
Matt Ryan is OUT as well.  Zero impact here as nobody on Atlanta outside of Hooper was a strong play for me.  Hooper remains the one guy to target.
The biggest news of the day is coming out of the OAK-HOU game.  Where Josh Jacobs and Tyrell Williams are both potentially active.  This is a 4PM game so you'll take a little risk locking them in on your main lineup and if you do, use the FLEX spot for either one if at all possible.  But overall this should be a good offensive game and it makes Carr an even more attractive low owned QB play today.  Williams is my favorite of the group.
10:45 AM EST
One other note.  The Wind in Buffalo is above that threshold for me.  I still don't get too overblown on these things (see what I did there?) but it is buffalo wind and it looks rather gloomy for the deep bombs.  Still dont mind Brown, Alshon, Ertz.
The first thing we must do each Week is understand the landscape of the slate and any injury or weather or miscellaneous information that we need to monitor from the time this article comes out (Saturday's) until lock on Sunday at 1PM EST.
There are no major weather concerns this week.  Rain, unless its torrential downpours, usually doesn't phase me much and the wind isn't insane anywhere this week so I am not going to overthink the weather spots this week.
We do have some injury news to monitor, but really here's my take on the questionable injuries that matter this week.
New Orleans – Drew Brees will start for the Saints at QB, Alvin Kamara is going to be active.

Arizona – David Johnson likely OUT

Atlanta – Matt Ryan will

[check updates]

play

LA Chargers – Keenan Allen and Justin Jackson probably both suit up.  Keenan sitting would be a HUGE boost to Gordon and Ekeler.

Detroit – If Darius Slay sits we BOOST Golden Tate even more.

Oakland – Jacobs & Williams both questionable and really questionable.  If both are out then huge downgrade to Raiders offense in general.
DraftKings Chalk Report – Week 8
| | | | |
| --- | --- | --- | --- |
| Position | Chalk Player | Chalk Level? | Why & Possible Ways to Pivot |
| QB | Deshaun Watson | 20% | It's a heavy chalk week for Watson against Oakland who just allowed a DFS gold day last week to Aaron Rodgers and plays what feels like their 500th straight road game as well.  Watson had been rolling along before a tough divisional game last week but logically is in a smash spot against Oakland this weekend.  But QB is always an easy spot to fade chalk so no need to force him in.  Wilson is likely much lower owned despite having as equal a matchup for the same price. |
| QB | Russell Wilson | 10-15% | Anyone who doesn't have Watson likely has Wilson. |
| RB | Leonard Fournette | 25-30% | Ya'll can have have fun with that.  No Fournette for me. |
| RB | Chris Carson | 15-20% | Hawks likely spread it around but they should cruise in Atlanta and that boosts Carson to have a good floor game.  I'd play him over Fournette. |
| RB | Ty Johnson | 15-20% | Big price discount on him and in a great spot, I actually liked him in the passing game and hope he is still used there a little this week despite now being the lead RB. |
| WR | Hopkins / Stills | 20%+ | Everyone will have some Houston WR exposure it feels like. |
| WR | Mike Williams | 20% | He is only $4k on DraftKings and if Keenan Sits he's your free square for most.  I greatly prefer the Charger RB this week. |
| WR | Michael Thomas | 15-20% | Play Tedd Ginn |
| TE | Cameron Brate | 15% | OJ Howard being out makes him popular.  See thoughts on TE below |
| DEF | Patriots DEF | 15-20% | They score 15-20 every week, that's why they're chalk. |
"We're looking forward to playing them" – Sean Payton on rookie Head Coaches
I believe know that Sean Payton has had this game circled on the calendar since Kliff Kingsbury was hired by the Cardinals last off-season.  In fact, he even alluded to it in an interview in the off-season when he was referencing how every team out there was trying to hire the next Sean McVay, when in fact, they likely weren't going to find another McVay and by doing that they're ignoring potentially other good coaching candidates (like many on his staff).  Sure, this is a coach speaking up for his employee's and trying to get them credit which in turn improves his legacy.  But he ended it with one simple comment and that was "Were looking forward to playing them", referencing teams who hired these coaches with no real experience trying to be the next McVay's.  Hello, Arizona Cardinals.
So we got the one Sean Payton "look at me" game of the year checked off for sure this week.  Now let's examine the match-up, and oh boy is it good.  Arizona has been torched by opposing QB, WR and TE all season long and while they do have the most sacks in the league, they also got 8 of them last week against rookie Daniel Jones.  Drew Brees is excellent at many things, but one in particular is his offensive line protection adjustments and this offensive line is healthy and playing the best football that a Saints offensive line has played since 2011 when they protected Brees to throw for the most yards in a single season (at the time).  I love what I have seen from the Saints offense the last three weeks (including that snoozer vs Jacksonville).  But you don't care about all the finer details of why guys like Lil'Jordan Humphfrey and Austin Carr are making Latavius Murray look good in this offense, nor do you care about how Tedd Ginn is going to score his two touchdowns this week, you just wan't the plays right?  Okay, well here you go.
Theodore Ginn Jr is going to score twice in this game.  One's gonna be on a 40+ yard pass early and the other will come down in the red zone on a trips right play where Ginn comes underneath and catches and runs it in for a score.  The Saints will hit the Cardinals with their Twin Peaks package featuring the two Idaho Hill's, Taysom and Josh.  Facing the Cardinals 3-4 defense and having these two versatile TE's who can run block extremely well and the GOAT back at QB, Sean Payton will be able to be very creative in his play calling and the Saints offense is going to have an exceptional day converting third downs, keeping the Cardinals D on their heels and rolling to a huge 40+ point total.
Unfortunately in DFS, Taysom Hill is still listed at QB because that is his official depth chart position, but he's really a TE for this weeks game and someone I expect to have a bigger role this week with Brees returning.  The DFS play of the game though is Tedd Ginn Jr for his cheap price on DK and in a spot where the Saints offense will put up big numbers, it's Tedd Ginn that you must have along with the Twin Peaks package against the worst team in the league vs TE.
AMBUSH PLAY #1:  Sean Payton's EGO game of 2019 comes this week as New Orleans offense scores 40+ with DFS gold from Ted Ginn.
GAMBLING ON THE BACKS
Understanding the landscape of positional chalk, value and leverage is the #1 key to NFL DFS each and every week.  This week the Running Back position offers a ton of depth along with a ton of question marks across the board at RB.  Let's look at a few of the studs first to examine their potential paths to fail.
Barkley, CMC and Kamara specifically all have some potential issues facing them this week.   Barkley and CMC face two teams who are pretty good against the run.  Barkley and Kamara both have slight injury concerns as well and CMC of the three might have the worst game flow associated with him as well.  Lets assume AK41 and Barkley are 100% good to go here and thus you could view all three as easily getting you 15 points — especially on DK with the full PPR.  But will any of the three for their high prices get you 30 points?  Probably not, so I definitely believe we can fade all of them.
Leonard Fournette, Chris Carson and Todd Gurley are the next three guys that folks are looking to play this week.  None of them excite me enough to go all in with them.  Fournette despite his really really heavy usage is in a game where the Jags would be stupid to try and pass more than rush it.  Carson to me has the best match-up but also has Wilson and the passing game to contest with for volume and Todd Gurley won't be touching the ball in the second half when they are up 20.   So I am 100% confident I won't get burned by a 30 point game fading these guys. 
This brings me to possible pivots that can go off over 20+ points for cheaper prices allowing us to get some solid WR balance in our lineup this week and that brings me to this three headed monster at RB this week which is pretty contrarian and very affordable.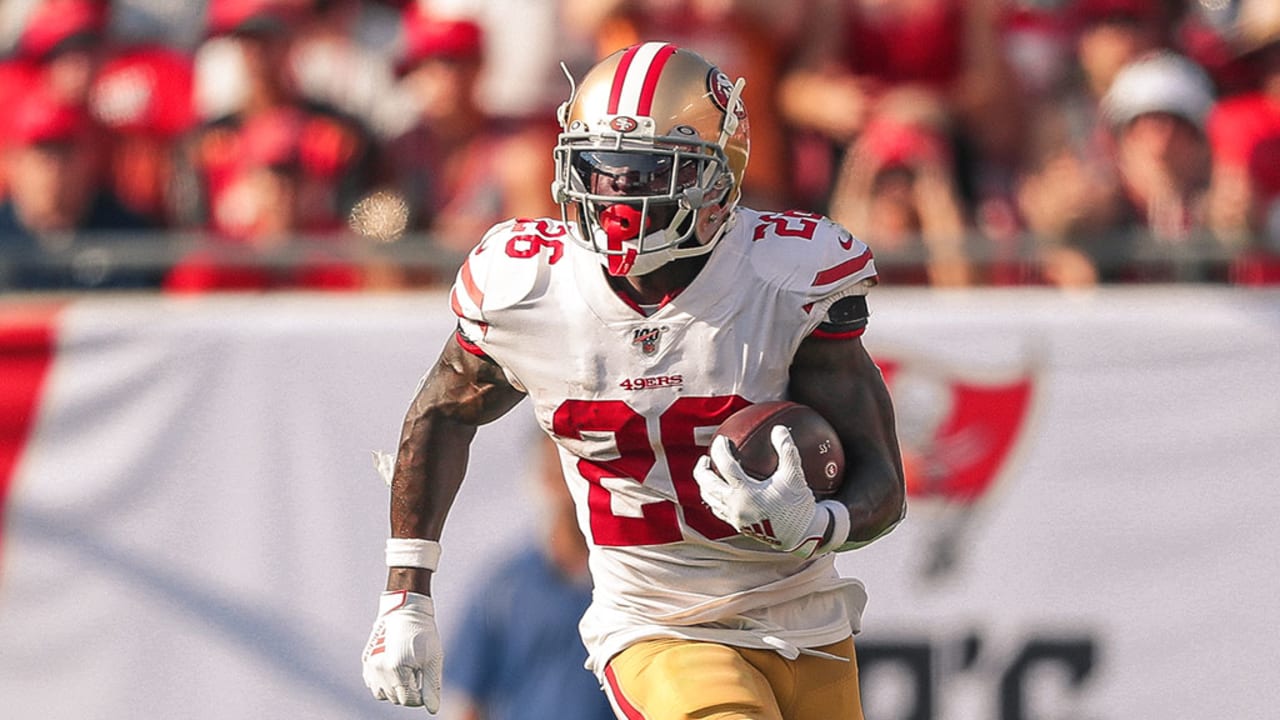 Tevin Coleman – SF … Like Chris Carson, Coleman is in an offense where the touches are gonna be spread around a plenty.  For San Francisco they are spread more at the RB position than Carson/Seattle WR but that's okay to me as the 49ers at home should gash the Panthers on the ground and it's also a good passing spot for Jimmy G to get some screen passes involved to Coleman and make Luke Keuchley have to cover the entire field as much as they can.  Since coming back from injury Coleman has 16, 18 and 20 carries in his last three games and two of those weren't great rushing spots vs the Rams and Redskins last week.  This week against Carolina, who has given up over 100 yars rushing in every game until their last before the BYE over in London against a bad rushing Bucs offense.  With the 49ers dominating the time of possession this week I love Coleman to top 100 yards rushing and score twice.
Melvin Gordon – LAC … Only $6,400 on FanDuel and he is basically the same player as Todd Gurley this week with the exception that he'll get 4 quarters of work and not just 2 quarters, except he is $1k less and should be around 5% owned TOPS.  The Bears defense has been gashed in the running game, the Chargers are getting Russell Okung back on the OLine and desperately need a win this week to save their season.  Lock in Melvin Gordon over Todd Gurley and for you narrative folks Gordon of course grew up just north of Chicago in Kenosha Wisconsin and played his college ball in Wisconsin — relatively regional home game for him.
LeVeon Bell – NYJ … Lock of the week bet for me is the Jets beating the Jaguars.  One of my pivots off Leonard Fournette is in the same stadium and for the same reason why people are using Fournette.  Volume.  Look for the Jets to get back to using LeVeon Bell heavily against the Jaguars this week which means his usual 15+ carries along with 7+ receptions with a heavier role all around this week to ease Sam Darnold back in a bounce back spot off that horrific MNF game.  Bell is the pivot off Fournette for me.
AMBUSH PLAY #2:  Pivot off some of the RB chalk this week for the winning pivots. 
THE WR TRIPLETS
We have three different type's of WR this week that are going to make up the triplets WR play of the week.  
First up is the STUD and the MACHINE that will get fed in a great match-up over the cheaper alternative and that is DeAndre "NUK" Hopkins who shouldn't require much justification as the top overall play this weekend against Oakland.  The key decision here is taking Hopkins not over other WR but over the high priced RB in your roster construction this week.  Classic multiple TD game coming for Nuk.
Second is Golden Tate going back to Detroit to face a Lions secondary that just shipped out Quandre Diggs and who knows if Darius Slay plays this week as of now.  Love Golden Tate and the Giants passing attack going into Detroit this week and Tate has been good since coming back from suspension.  He scores a big one vs his former team.
Third is Tedd Ginn who I outlined above as one of my favorite plays this week and is the value third WR to lock into the triplets build for week 8.
AMBUSH PLAY #3:  THE WR Triplets of Hopkins, Tate and Ginn Jr.
RAMS D OUTSCORES PATRIOTS D
We head to London to find our Defense that scores this week and that would be the L.A. Rams facing off against Andy Dalton's Bengals.  With one week under his belt, Jalen Ramsey now gets to start and really pay off for the Rams as he snags a pick 6 this week.  The Bengals are fairly pathetic on offense and have a horrific offensive line that now gets to face against Aaron Donald and the Rams front attack?  Que up the turnovers, sacks and yes the Jalen Ramsey pick 6 as the Rams are the defense that leads the slate in scoring and not the Patriots for a change.
AMBUSH PLAY #4:  Rams Defense Top scoring D 
RECAP OF THE AMBUSH PLAYS
New Orleans Saints vs Arizona Cardinals has all the fireworks

Get contrarian at RB this week.

Hopkins – Tate – Ginn at WR

Rams Defense
QUARTERBACKS
DeShaun Watson … Watson and Wilson both are 1a/1b obviously this week but I don't see either dropping 40+ points on their opponents.  Watson gets the edge for me.

Drew Brees

Matthew Stafford
SNEAKY
Carson Wentz … I believe this is going to be a really good game and the Eagles will show up unlike the last two weeks.  Wentz-Alshon-Ertz stack with John Brown on the other side.

Derek Carr … Likely throws it 40-45 times, but I like him less if Williams is OUT.  But if Tyrell Williams does play he should have a very good DFS game.
RUNNING BACKS
I'm spending mid range on Running Back this week more than normal, the elite guys I do consider are Barkley and CMC (Always CMC) because I feel good they get 20, but I wouldn't play more than one as I want that $ for a balanced lineup this week with some really good mid range RB options.
MY PRIMARY RB TO TARGET
Tevin Coleman … Coleman ends up as a top 3 RB this week.

Melvin Gordon … Huge boost as well if Keenan Allen is out.  Yes, Ekeler will be involved more in the passing game, but Gordon has to be the focal point for the Chargers in this game or fire the entire coaching staff.

Le'Veon Bell … Pivot off Fournette as the Jets win this game.

Marlon Mack … Lock 1 TD this week.  The epitome of a "solid floor" game from him against Denver.  
TIER TWO BACKS
Ty Johnson … Tons of speed which has killed the Giants.

Phil Lindsay
WIDE RECEIVERS
Sticking with the WR triplets theme from last week which produced 2 of the 3 scoring TD's.
MY TRIPLETS THIS WEEK
DeAndre Hopkins … With the $ saved at RB no better WR to pay up for this week than Nuk Hopkins.  Kenny Stills will be higher owned than him and thus your chalk build with the high $ Running Backs, but as I outlined above this is the preferred build for me this week.  Nuk Hopkins over 100 yards and 2 TD vs the Raiders.
Golden Tate … Helloooooooooo revenge narrative week.  Kicked off on Thursday with all those revenge spots and continues with almost every game this weekend having some type of narrative if you dig deep enough.  None better than Golden Tate who is quickly becoming more and more comfortable with Danny Dimes and vice versa.  The Lions sent away Quandre Diggs and so I'm a sucker for attacking them with the speedy and former Lion Golden Tate on turf.  Tate is a must play this week.
Tedd Ginn Jr … Beat this horse to death above.
TIER TWO ONE OFFS
Kenny Golladay … Great FLEX play this week paired with the triplets WR I mentioned above because it gives you a game flow correlation with Tate.

Larry Fitzgerald … Expect to see lots of zone coverage from New Orleans this week and Fitz out of the slot will settle in and have a high PPR game.

Alshon Jeffrey … Lock TD of the week?  Alshon.

John Brown … Weather is driving some off this game but Brown should torch Philly's secondary.

Allen Robinson
SNEAKY VALUE WR
David Moore

Adam Humpfries

Josh Reynolds
TIGHT ENDS
Make no mistake, if Taysom Hill was actually listed at TE where he should be for us DFS players he would be the highest owned play this week as he pops off for 2 TD in the Saints Twin Peaks package.  But alas, we must rely on just Josh Hill and his 3 catches, 47 yards and 0 score if you want Cardinals Opposing TE exposure.   This position sucks this week for DFS.
Austin Hooper … Having a great season.  Sanu gone only helps his volume.

Evan Engram … Engram and Tate catch all the balls for the Giants.

TJ Hockenson

Josh Hill … You should have played him last week like I said.  He'll be okay for his price, just not dominant IMO.

Jonnu Smith
DEFENSES
RAMS

COLTS

SAINTS … All the Kyler Murray turnovers.
A new section that I am bringing to my article each week.  This is my sneaky way of providing thoughts on lots of the games without actually "touting" or recommending specific plays each week.  It's for those of you who love to ask questions on Twitter, Slack or whatever other method you prefer.
What game did you move away from that feels like the best game?   
The Browns and the Patriots.  I mentioned above that I am not on the Pats D this week even though Mayfield has thrown a ton of INT and they have produced a ton of INT this week.  Hard to see this game being a DFS gold game, but the Browns play better than folks think.
Mike Evans, Chris Godwin, Tyler Lockett, Cooper Kupp, TY Hilton? 
Yep.  Those are all arguably decent plays and certainly guys that I wouldn't be shocked if they do well, but I don't wanna list all 30 players who are potentially good plays each week.  Don't read into the narrow pool meaning other guys suck, I just give you the ones I prefer.
What if Keenan Allen plays? 
This is a really weird spot, because Allen to me should catch 7+ balls for the Chargers every single week, but even if he plays I think I am all in on Melvin Gordon.  That Bears rush defense isn't good enough.
I am playing Taysom Hill at QB on DraftKings, what should I do with the money in my lineup and what should I do with the money I am going to win?   
Well, clearly you shouldn't go deep dive at RB and WR by going value and longshot at QB.  Getting the nice floor of CMC or Barkley is the logical #1 decision.  The logical #2 decision is to get a Taysom Hill tattoo with all the money you are about to win, duuh.  
Wait… Am I really playing Taysom Hill at QB ON DK? ….
CONTEST SELECTION REMINDERS
Reminder on a couple things you should be looking for each week are as follows
Tournaments with less than 1k users in them

Tournaments with less than 300 users in them

Tournaments that pay 10x to first not 50x to first

Higher paylines (% of people who get paid)

How much does 10th place get?  20th place?
Focus on not first place but below that.  Make sure you are playing a tournament that is one you can win in and will not have a ton of tilt by entering a lineup and having to worry about every single person who scores on the slate.  You'll find that in the long run any tournament that only pays 10x to first is one you will profit in.