NFL Week 9 – The AMBUSH>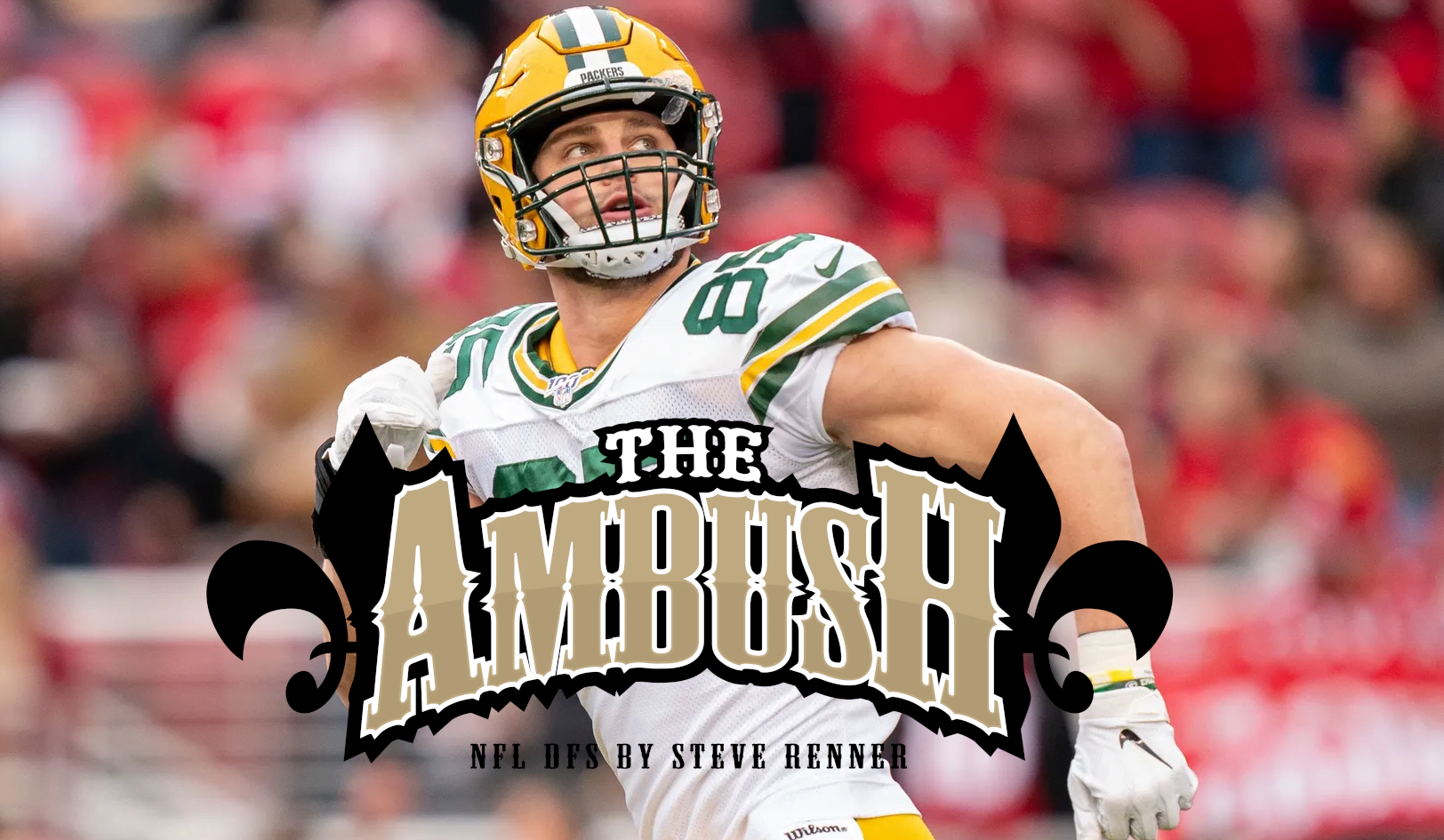 Welcome to the Week 9 edition of The Ambush.  A couple rough weeks the last two weeks for me, so lets get the focus back after a solid start to the season.  A lot of what we saw the past two weeks too was heavy chalk and this week brings us the smallest main slate of the season, so more chalk?
Well, not necessarily.  Chalk isn't about the slate size as much as the distribution among when the consensus projections get it right and when they are due for an adjustment.
I like the idea of game stacking this week, so that's the approach I am taking.
NOTABLE INJURY UPDATES
None?  Do we really not have any late injuries we are worried about???
Keenan Allen, Jonathan Taylor, Chubba Hubbard all ruled out
Darren Waller – Questionable
Van Jefferson – Questionable
WEATHER
This is likely the last 'all clear' week, so enjoy it
DANGER SPOTS
Seahawks and Buccaneers are going to London after their respective games.  Long ass flight for Seattle.
Falcons/Panthers have EPIC re-match on TNF next week.  Get stoked people!
Packers vs Cowboys next week, so much that FOX is hyping it up non stop
Derr
THE AMBUSH PLAY…
GRUMPY OLD MEN Tom Brady and Aaron Rodgers re-claim their spot among the top of fantasy leaderboards this week.
Don't worry though, I am not coming off my pre-season prediction that both will be at home when the playoffs begin, because after this week it's all downhill (especially for Brady).  But what better time for Rodgers to post a 4 or 5 TD performance than against the Lions where he can get plenty of those 1-yard touchdown passes and get Romen Doubs into the end zone two more times this week.  I believe Green Bay will get right vs Detroit – because they can – and there's no path where that happens and Rodgers isn't the one who is making himself feel good.
As for Brady … Well…  He's bad on night games we know that, so thats not an issue and one thing an old body needs is rest, which he has had with 10 days off to prepare for the Rams and they're not exactly clicking like they were last season when they won here in the playoffs.  I like Brady to Evans a good amount this week and they're going to fly under the radar.
Yes.  I like them, I said it and dont make me repeat it.
I ALSO LIKE…
DEREK CARR & TREVOR LAWRENCE
Easily my top 'Game Stack' is Vegas and Jacksonville.  I'll cover it in more detail at the end of the article but both should have extremely good passing days.
JUSTIN FIELDS
Remains pretty affordable at $5,300 on DraftKings and with the Bears looking better on offense post their BYE I can make a strong case for him doing just well enough.
BE CAUTIOUS WITH…
JUSTIN HERBERT
THE AMBUSH PLAY…
JOE MIXON
There is absolutely NO reason for Joe Mixon to not have his casual 85+ rushing yards, 20+ receiving yards and a touchdown.  Just plug him in and move on to worrying about other things.
TRAVIS ETIENNE
Love the game flow here and Etienne continues to get built up more and more each week.  I hate the ownership but a home RB is never a bad thing to eat some chalk on.
RHAMONDRE STEVENSON
Yeah, just take what I wrote about Etienne and copy it here, but obviously the style is different.
DEON JACKSON
America's top chalk value this week is Mr. Jackson and it's all because we assume Belichek will not let Ehlinger beat him as a young inexperienced Quarterback and I support that belief.
I ALSO LIKE…
AJ DILLON
The only guy who can bust A-Rod to Doubs x 2 week is Dillon.
DALVIN COOK
There is a strong chance that the bleeping Minnesota Vikings are going to make the Super Bowl, and when they win a ho-hum 34-17 game in Washington this week and Dalvin Cook finishes with 150 yards from scrimmage and three touchdowns that will be the trigger for me to place a futures bet on them.
BE CAUTIOUS WITH…
AUSTIN EKELER

THE AMBUSH PLAY…
DAVANTE ADAMS
The Raiders fit the narrative of a team who is on the road for two weeks without going back home.  They went to Tampa to practice this week before taking a bus ride over to Jacksonville.  There's no way in hell that Adams and Carr aren't sitting around wondering how many times they are going to connect this week now that the whole world is writing them off.
MIKE EVANS
No pressure is on Tampa at all right now, zero.  All the pressure is on the Rams who have the Niners and Seahawks to contend with while Tampa is just going through the motions.  This is when Brady and Evans connect for multiple touchdowns and beat the Rams.
TYREEK HILL
I felt like everyone who wasn't on Waddle like us last week was upset that Tyreek didn't score?  Dude balled out if I am not mistaken, so the sure thing this week is him catching an 80 yard touchdown to start things off to get that TD score he missed out on vs the Lions.
CURTIS SAMUEL
While McLaurin and Heineike remain strong I have a feeling Samuel is the key to Washington staying with Minnesota.
I ALSO LIKE…
ROMEO DOUBS
Last week was just the beginning of what I think is the Doubs show for Rodgers in the red zone.  A very easy game vs the Lions on paper is when experienced players like Rodgers look at how to get someone who is gonna be their key down the stretch going more.
JOSHUA PALMER
I like the Chargers passing game more than the ground game, but overall I'm not forcing in Chargers.
ZAY JONES
Revenge game anyone????
BE CAUTIOUS WITH…
DRAKE LONDON
DJ MOORE

THE AMBUSH PLAY…
ROBERT TONYAN
If Robert Tonyan does not score and is not in Dennis Roy's article then I will fade Taysom Hill on MNF Showdown this week.
Bro I'm not fading Taysom Hill on MNF showdown this week….
I ALSO LIKE…
ZACH ERTZ
Even with Hopkins coming back into the fold Ertz is going to get his fair share of targets, but not enough that I would make him a must own this week.
TYLER HIGBEE
TE have done well historically vs Tampa and should do so here again this week.  The Tampa defense is likely to be focused on figuring out a way to slow down Cooper Kupp and while I think Kupp does go off, I won't pay for him over some other top end WR — so take your chances with Higbee who should catch a TD.
BE CAUTIOUS WITH…
KYLE PITTS
THE AMBUSH PLAY…
CHARGERS
Defense stinks all around this week.  The price tag for Buffalo is way too high for me to make them top of this list.
I ALSO LIKE…
BILLS
CARDINALS
BE CAUTIOUS WITH…
NOTHING … Another random D/ST week as usual.
AMBUSH FINAL THOUGHTS
Question: Who is getting OVERLOOKED this week and why is it DAVANTE ADAMS?
Question:  Favorite Core Plays On DK/FD for a Balanced Lineup
Rodgers
Mixon
Adams
Tonyan
Question:  Favorite Pay Up Player(s) outside of the Balanced CORE
Davante Adams
Question:  Game Stacks of the week are?
Raiders vs Jaguars
Vikings vs Commanders
Rams vs Buccaneers
Question:  Top Bets of the week?
Bears +4.5
Bengals -7
Packers -3.5
Raiders -2
Falcons +3
Vikings -3
Bucs -3
Question:  Upsets Parlay(s)
Bears + Falcons ML Parlay