PGA: Dew Sweeper – Genesis Inviational>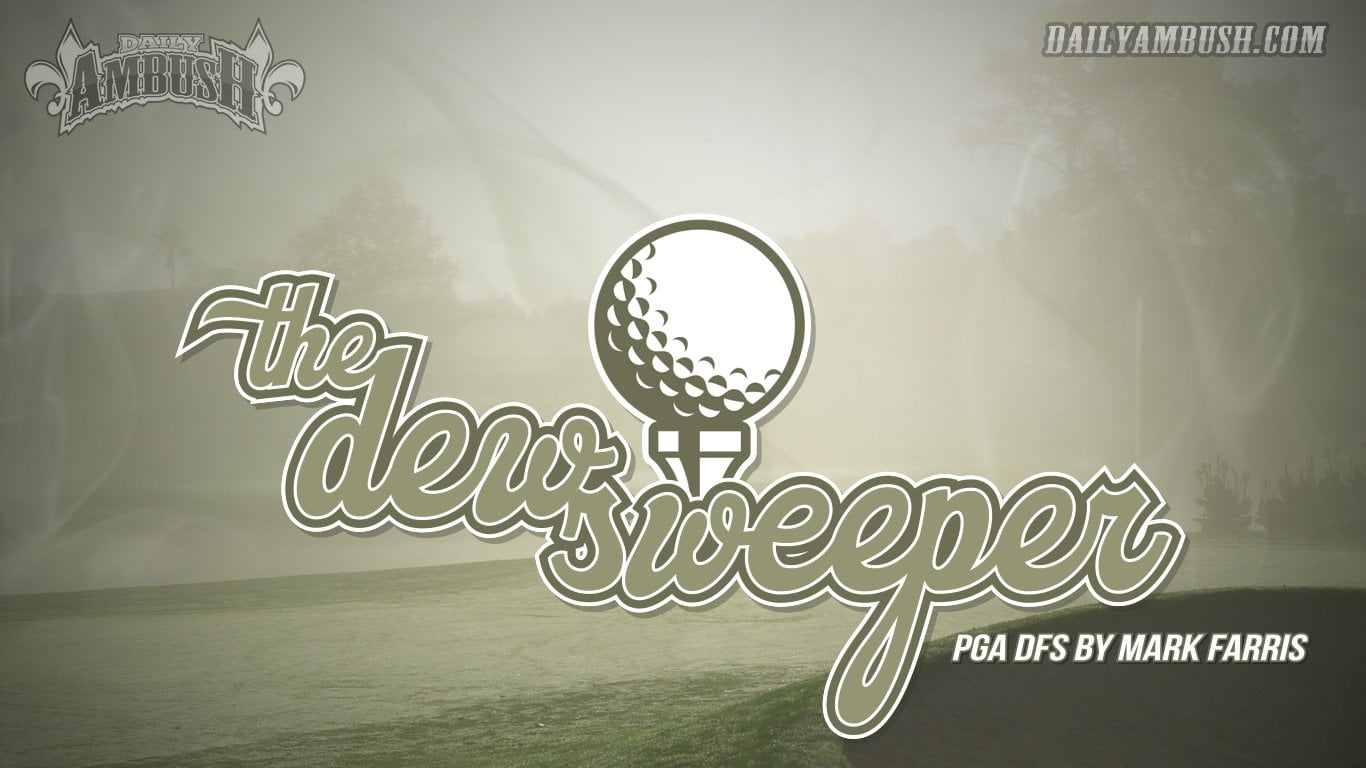 Genesis Invitational
Well, back we go to California!  Fresh off a Super Bowl win and back to one of the most iconic courses in golf…Riviera!
As much as I bitched about the crowded field last week, this week is LOADED!!
Riviera is a long course at 7,300 yards and is only a Par 71.  That means one less Par 5 and some longer Par 4s.  The fairways are narrow and trees line the fairways so, typically, being wild off the tee isn't the premium approach.  However, reportedly, the rough isn't as long as it has been in the past so bombers will have an advantage if they can stay away from serious trouble if they get wayward with the tee shots.  Bottom line – not an easy course!
Hopefully, now that the NFL is over, some of our subscribers may have an interest in golf.  I'm available in the Discord chat if you have questions.  It's impossible to write up every player as much as it is impossible to have every name mentioned make the cut.  Still, that is the goal!  Being an invitational, the field is usually smaller so around half the field will make the cut.
Remember, PGA isn't a "positional" form of DFS and everyone qualifies for every position.  It's all about price and current form in my opinion.  Like last week, the format will be:
Each Thousand Dollar price range, I will give you my Top 2
"Dew Sweepers" – two contrarian picks that I think will be low owned…or I just have a gut feeling on.
At least one "longshot" in the final price range – no Dew Sweepers.
Two "Cores"
Top 10 in my statistical model for those of you wanting stats
$9,000 and Above
Hey DraftKings!  Any chance on getting $80,000 salary cap?  I joke, but it is so difficult to exclude a player in this range.  When all these guys are this good, I like to look at two things:
Current Form (CF) – if a guy is playing well, it's reasonable to assume he will continue playing well.  Golf is streaky and if a guy struggled on Saturday and Sunday the week before, I'm going to move him down.
Course History (CH) – as I said, it's streaky.  If you're playing bad, the thing that turns you around is usually a good lesson, time off, or a course that fits your eye.
That being said, let's pick our spots and go with it!
Jon Rahm ($11,300) – I don't know that I'm personally playing him because I need to see how the salary cap works out for me if I do, but you can't do much better than a bomber that has control.  CF = T10-T3-T14-2nd / CH = T5-T17-T9
Patrick Cantlay ($11,000) – Fresh off a playoff loss at Waste Management, I can't quit wanting to play this guy!  He's 5th in shots gained off-the-tee in his last 16 rounds so I don't think the course layout will bother him. You all know I'm not a big stats guy, but I also don't ignore them.  CF = 2nd–T4-9th-4th / CH = T15-T17-T15-T4.
My conundrum with these higher priced guys is that I feel like I'm not getting value if they don't finish in the Top 15… or preferably Top 10. That's why, many times, I see what kind of value I get in the $7,500 to $8,500 range before I get my $9K+ player(s).
Dew Sweepers:
Viktor Hovland ($9,400) – Last week was his first time back in the U. S. in a while and I think he just didn't have his North American legs under him.  I think this week will be different and the missed cut last week will turn some people off.
Xander Schauffele ($9,900) – under five figures again and has 3 Top 15s in four tries here.  The other start was a Top 25.
Rory McIlroy ($9,700) – when Rory plays, he always has a chance.  Prior to missing the cut last year, he's been Top 20 every time he's played here.
Bonus: Collin Morikawa ($10,400) – not sure why, but this is a gut feeling I got while writing this article.
$8,000 to $8,900
Matthew Fitzpatrick ($8,100) – He's gone from $9,200 to $8,700 and is now $8,100. His price has dropped $1,100 with a T10 and a T6 in the last two weeks.  Other than the strength of the field, there is no reason for it.  $8,100 for a potential winner who will finish Top 20 in my opinion is hidden value.
Will Zalatoris ($8,800) – Before testing positive for COVID, he was killing it.  He's played here once as a professional and finished Top 15.  Yeah, it's a crap shoot as to how he felt with C-19, but I'm still banking on a Top 15 (T-15) this week and the price is nice!
Dew Sweepers:
Adam Scott ($8,200) – He usually plays well here!  He's no longer a favorite as far as the DFS algorithms and the Vegas handicappers go, but he's a favorite of mine since he's playing, playing well and is a good value in the risk/reward environment.
Bubba Watson ($8,500) – the last two years, he's missed the cut.  Historically, Bubba loves this course. In fact, when he finishes the weekend, he's never been worse that T15 in the last ten years.  He was even on a "win every other year" streak for a while between 2014 and 2018. Based on what we saw last week, his game looks pretty good (T14) and, in the last 10 years, only Dustin Johnson ($10,200) has a better course history.  (Yeah, I snuck another stat in there on you).
$7,000 to $7,900
This is the price range, to me, where GPPs are won and lost.  It's also the most nerve-racking range.  These guys are all good, but someone has to miss the cut…and it's usually a lot of these guys.  But, you need them so:
Marc Leishman ($7,900) – I just can't avoid playing him in at least one lineup at this price.  Leishman struggled a bit last year, but he's made his last 8 cuts and has three Top 10s in that span.
Paul Casey ($7,600) – He has a decent course history here and played well in the Middle East a couple of weeks ago.  He always seems to be in the mix at big courses and big tournaments.  I'm willing to buy into that here at $7,600.
Dew Sweepers:
Thomas Pieters ($7,400) – I'm using Pieters this week for a couple of reasons besides the price.  His game off the tee (long) and putting (excellent) make him a good fit for this course. His CF is outstanding as well – although it was in Europe/Middle East.  Top 25 in his last 5 with two wins!
Lanto Griffin ($7,200) – Made the cut both times he's played here and his CF is good too – T16-T30-T3.  At this price, making the cut with the potential for finishing in the Top ½ of the field is a good bet.
$7,000 and Under
Erik van Rooyen ($7,000) – Much like Pieters, van Rooyen is a regular on the Euro Tour and quite a good player at that.  Don't get me wrong, he plays here too.  He's made the cut in his last seven events and has been Top 25 in every event he's entered in 2022.  Again, it's Risk vs. Reward!  At $7K, there isn't much risk.
K. H. Lee & Troy Merritt ($6,900) – other than van Rooyen, not much interests me here. Lee and Merritt have the best CF.
LONGSHOT:
Matt Kuchar ($6,800) – He was playing well.  However, he has missed his last two cuts even though he's not playing horribly.  He has some decent history here and I'm willing to chance it with him if I need a low-range guy.  Rickie Fowler ($6,600) is another one but his game is off right now and has been for a while. Still, guys that have played and know Riviera at this price can help you with that salary cap!
No more fades!  I'm going with the positive.  Here are two potential "Cores" to build with:
Like last week, pricing is NOT HORRIBLE this week and there are a lot of ways to configure a lineup build with popular names.  If you are playing Cash Games, that's fine.  If you are in GPPs, find those guys in the $7,500 to $8,500 range that may be lesser owned.
CORE #1 (top heavy):
Viktor Hovland
Collin Morikawa
Thomas Pieters
(Leaves you $7,600 per golfer)
CORE #2 (balanced):
Will Zalatoris
Matthew Fitzpatrick
Adam Scott
(Leaves you $8,300 per golfer)
FOR THE STATS NERDS AMONG US:
TOP 10 using the model I utilize with 50% Current Form/ 25% Key Stats / 25% Course History:
Patrick Cantlay
Jon Rahm
Xander Schauffele
Rory McIlroy
Matthew Fitzpatrick
Cameron Smith
Scottie Scheffler
Viktor Hovland
Talor Gooch (I do kind of like him too)
Collin Morikawa
Questions will be addressed in Discord if you have them.  Make sure to tag me so I don't miss it!
GOOD LUCK!!