PGA Dew Sweeper: John Deere Classic>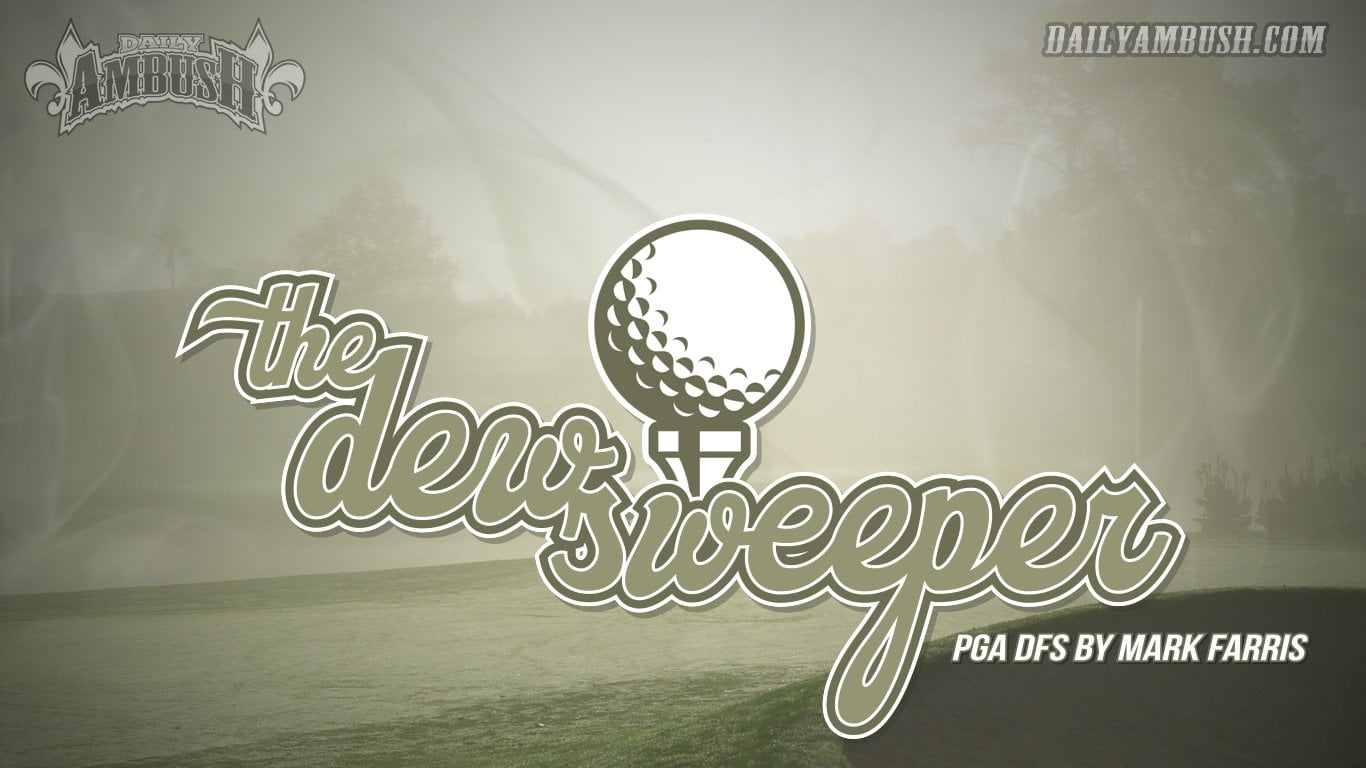 JOHN DEERE CLASSIC
The next couple of weeks are going to be interesting.  We have the Scottish Open (newly added as a PGA event) next week and The Open the following week.  This week however, will be birdie-filled but probably not as interesting as we'd like.  We have one of the weakest fields I think I've seen in a tournament that can produce really low numbers in relation to par and some really high DFS scores!
General Description:  TPC Deere Run is a Par 71 at 7,250 yards.  This is a very forgiving course with wide fairways and slow greens with not much undulation.  Thus, the winning scores from -18 to -27 over the last few years.
With that said, key factors this week (in no particular order):
Greens in Regulation
Greens in Regulation
Greens in Regulation
Just like buying a home – location, location, location!  Lineup construction may be a little "weird" this week in that you may leave some salary on the table. I'm not one to do that very often, but don't feel like you need to tinker this week just because you have $500 to $1,000 left over in salary cap.
Remember, PGA isn't a "positional" form of DFS and everyone qualifies for every position.  It's all about price and current form in my opinion.  The format will be:
Each price range, I will give you my Top 2
"Dew Sweepers" – two or three (or four in the Top Tier) contrarian picks that I think will be low owned…or I just have a gut feeling on.
At least one "longshot" in the final price range – no Dew Sweepers.
Two (or Three) "Cores"
Top 20 in my statistical model for those of you wanting stats
NOTE:  All pricing is based on DraftKings
Tiers (the ranges will fluctuate weekly based on pricing):
$9,000 and Above
$7,500 to $8,900
$7,000 to $7,400
Under $7,000
$9,000 and Above
As always, when I can't decide on certain players I like to look at two things as my "tiebreaker" even when the field isn't loaded:
Current Form (CF) – if a guy is playing well, it's reasonable to assume he will continue playing well.  Golf is streaky and if a guy struggled on Saturday and Sunday the week before, I'm going to move him down.
Course History (CH) – as I said, it's streaky.  If you're playing bad, the thing that turns you around is usually a good lesson, time off, or a course that fits your eye.
For a non-Major, this tournament really gets a quality field.  I just came from that part of the country and it's beautiful.  Plus, with the U. S. Open being in the same area this year, it's a good "cool down" tournament for the guys that just got beat up the week before.
The pricing is high on some of these guys and, normally, I'd say no way since it kills the rest of my lineup.  However, with the length on this course and the somewhat relaxed vibe that the event puts out, I can see guys in the low $8K to low $7K range also playing well this week.
Sahith Theegala ($10,100) – Normally, you will NEVER see this guy at this price. However, with the weak field, the algorithms have no choice.  This isn't a bad play though since I think just about everyone will be on Webb Simpson at $10,600.  He has two Top 5s in his last three events and has made his last 6 cuts.  This is also a tournament where guys like this (relatively new to the Tour) can thrive – especially when coming into it playing well.
Webb Simpson ($10,600) – I just have to.  It would be like ignoring Bryson DeChambeau in a long-drive contest – because he doesn't usually do them – if  I didn't.  I truly think you need to diversify away from him since everyone will be there, but one lineup won't hurt – especially if you're play cash contests.
 Dew Sweepers:
Christiaan Bezuidenhout ($9,100)
Charles Howell III ($9,300) – Like his course history here.
$7,500 to $8,900
Nick Hardy ($8,700) – Two Top 15s in a row.
Chez Reavie ($7,900) – Two decent finishes in his last two events and good history here.
Dew Sweepers:
Cameron Davis ($8,400) – Historically not great here, but he's definitely one of the better players in the field.
Patrick Rodgers ($8,800) – May go overlooked because of a withdrawal last week and plays pretty well here.
$7,000 to $7,400
Still risky, but this course favors even the guys in this range.
Matthias Schwab ($7,200)
Chris Gotterup ($7,300) – Played him when the "big boys" were there.  Why not now?  Especially when his price isn't much higher.
Dew Sweepers:
Zach Johnson ($7,200) – He's really playing like shit, but with the lack of distance on this course, the lack of trouble, his known ability to putt, and a great course history, I'll think about it.
Matt Wallace ($7,200) – No course history here but his current form is one of the better ones in this price range.
Under $7,000
Ugh!  Only because these guys aren't playing like crap right now and you may need a salary saver.
Vaughn Taylor ($6,800)
Austin Cook ($6,500)
Paul Barjon ($6,500)
LONGSHOT:
Hayden Buckley ($6,900) – Why? He's been improving and had a T14 at the U. S. Open.  This course should play well with his game.
No more fades!  I'm going with the positive.  Here are some potential "Cores" to build with:
CORE #1 (top heavy):
Webb Simpson
Charles Howell III
Nick Hardy
(Leaves you $7,133 per golfer)
CORE #2 (balanced):
Charles Howell III
Chris Gotterup
Chez Reavie
(Leaves you $8,500 per golfer)
FOR THE STATS NERDS AMONG US:
TOP 20 using the model I utilize with 50% Current Form/ 30% Key Stats/20% Course History:
(V) = Value at $7,900 or less
Charles Howell III
Adam Hadwin
Nate Lashley (V)
Adam Long
Webb Simpson
Scott Stallings
Taylor Pendrith (V)
Patrick Rodgers
Nick Hardy
Maverick McNealy
Chez Reavie (V)
Christiaan Bezuidenhout
Sahith Theegala
John Huh (V)
Lucas Glover
Alex Smalley (V)
Nick Taylor (V)
Chris Gotterup (V)
Adam Schenk (V)
Martin Laird (V)
Cameron Davis
Statistically, there is a lot of value.
Ask questions on Discord if you have them.  Make sure to tag me so I don't miss it!
GOOD LUCK!!