World Series Preview: Phillies vs Astros>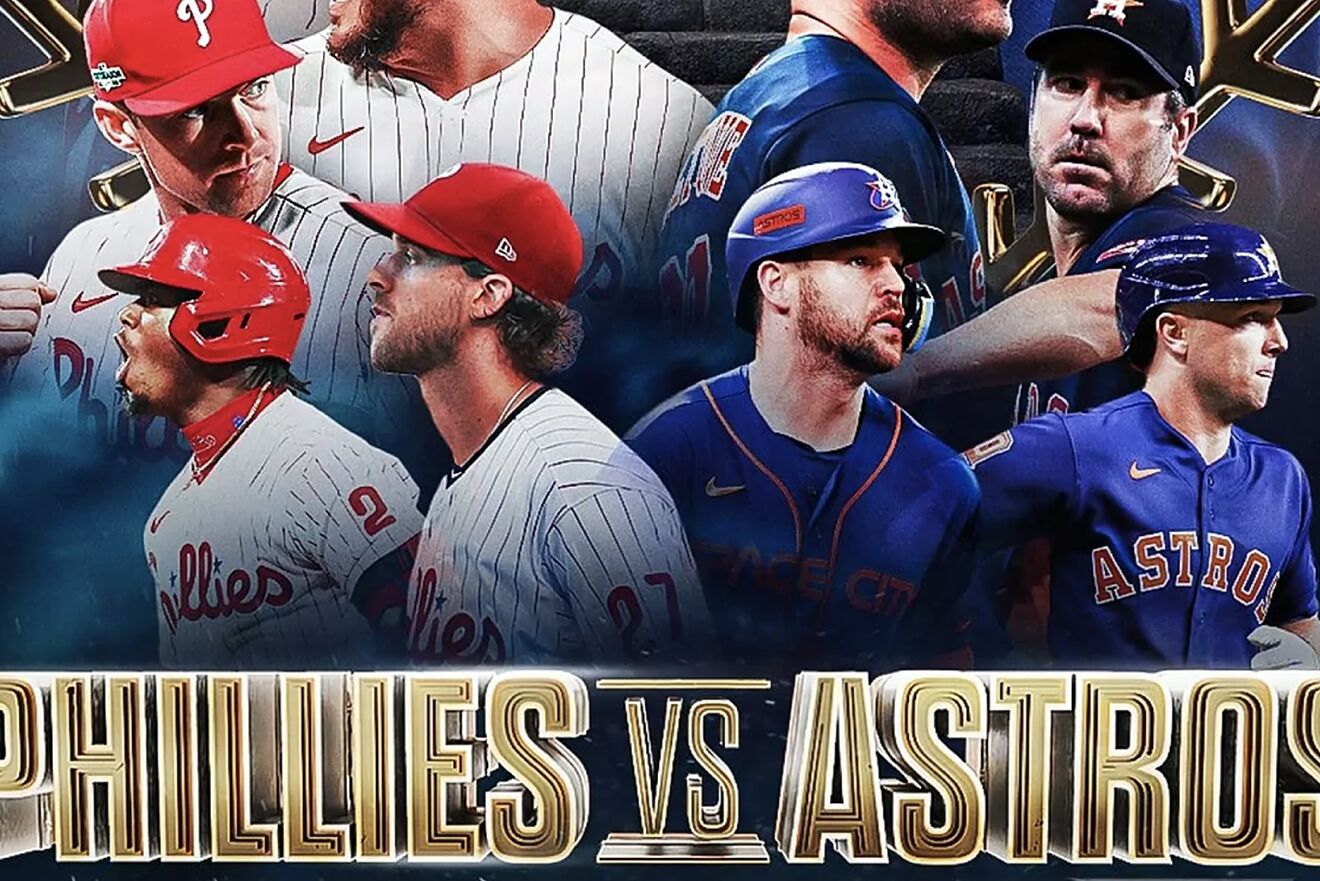 Well, well, well.  I feel good about where we ended up here in the World Series as at the start of the season I had the Phillies making the World Series and at the start of the playoffs I had the Astros in the World Series as well, so I consider that nailing the exact match-up my friends.
I am not going to get into who has the advantage over who in terms of lineup depth or anything along those lines but more give you a run down on my prediction for the series and where I think we can see certain guys perform well throughout the series for Showdown slates.
I won't be doing nightly showdown articles but will have bets in the Discord and thoughts there — along with a daily Chairman pick.
But before we begin, I do feel that we need to go over one match-up in particular though.
versus
Phillie Phinatic
Legend has it that the Phinatic was created as a response to the King of all Mascots, the Famous San Diego Chicken (SDCHICKENS!) and also inspired from Jim Henson's Muppets, the Phinatic was born.
And Thank God, because prior to the Phinatic Philadelphia Sports fans were subject to Philadelphia Phil and Philadelphia Phillis – who served as mascots for teh Philies during the 70's (1971 to 1979) and yes they were siblings who dressed in Colonial Garb and no doubt scared little children from coming to the Vet to watch a Baseball game.
That, or the inmates who were wandering around the stadium concourse during random games in June.  Either way, it's no coincidence that the Phillies reached the World Series shortly after switching off these … things and over to the Phinatic.  The old mascot statutes have now been shipped off to a place where things this creepy can just sit and blend in with other trash — New Jersey.
Arguably the highlight of the Phinatic's career was dealing with the late, great Tommy Lasorda of the Dodgers.
Beyond his spectacularly designed costume (which has had its own legal battles), the Phinatic thrives off of two critical elements for being an elite mascot.
He uses props and he isn't afraid to absolutely torment the other team and their fans.  Of course, the person who has been inside the mascot costume has always done an exceptional job of showing off his perfectly toned body.
How about a race with fans dressed up as Hot Dogs?  Nah, lets knock them down.  Classic….
The Phinatic no doubt has security on his side
Unlike divisional Rivals in Washington, the Phillies usually have no problems with rain delays thanks to the Phinatic managing the grounds crew.
If you cant smash someone in the face with shaving cream then you aren't trying
The Phinatic also knows an Alien when he see's one.
Streaking = A+
Working with the Umpires = A+
And best of all, the Phinatic has his way with ladies.
Orbit – Astros Mascot
Speaking of Aliens, the Astros mascot, Orbit is simply described as a lime-green alien wearing an Astros jersey with antennae extending into baseballs.  Those people down in Texas drink way too much Moonshine.
Like the Phinatic, Orbit was not the first mascot in team history.  Houston introduced fans to Chester Charge back in the 70's and I gotta say that if you wanted a grand ole fucking good time for the kids you would go down to the Astrodome and watch some 18-year old high school student in a 45 pound costume ride around on a horse.
I don't know for certain though if Chester Charge is the one who brought the 'Charge!" chant to Baseball games, and if he in fact was the reason for that great American tradition in my Childhood then he should deserve more credit.
Much like the Phillies and other franchises, the Astros wanted something that was more enticing to children.  But where things went horribly wrong nobody really knows as we ended up with a mascot who comes out streaking in his underwear
and …. um ….
Orbit has reached legendary status though as he was once ejected by umpire Gary Darling for arguing balls & strikes and later was canned by the franchise when they moved away from the Astrodome.  But that didn't last long as he quickly was brought back in the early 2010's and after a 12-year absence he came back more immature than ever.  He also was booed at the all-star home run derby in 2021 after the Astros 'sign stealing scandal'.
Is there a Mrs. Orbit?  Of course.  Is she as perverted as Orbit?  Absolutely…
Orbit is no doubt a draw for visiting players.
as mentioned, he has a thing for running around in his underwear.
Orbit is that friend of yours who somehow is married with children and clearly uses the kids an an excuse to buy cool toys and run around like a little kid.
In the category of, which mascot would you get drunk with, Orbit is definitely at the top of the list.
Knowing ones body is key to being a mascot and Orbit knows his much like the Phinatic does …
and so too is understanding failure …
So after last year we had Orbit vs Blooper, now we have Orbit facing his toughest test yet, the Phinatic …
SERIES PREVIEW
I have the series going seven games.  There's been a lot of talk about how Houston won't have a LHP out of their bullpen and I think that will matter in a couple of spots but the larger issue for me in this game is that Philadelphia could run out of gas in their pitching as the series extends.
That to me is where Houston can flex their muscle and probably wind up taking a game or two when the series shifts into Philadelphia.
All total, this is my 7 game prediction BEFORE the series starts.  The Phillies win games when their offense is on.  The Astros win when their starting pitching is on.  That's it, that's the series in a nutshell.
Game 1:  Philadelphia wins
Game 2:  Houston wins
Game 3:  Philadelphia wins
Game 4:  Houston wins
Game 5:  Houston wins
Game 6:  Philadelphia wins
Game 7:  Houston wins in 10 innings
Series MVP:   Kyle Tucker
Astros Hitters who will do well…
Yordan Alvarez – Duh.
Alex Bregman – Play him when series is in Philadelphia
Kyle Tucker
Christian Vazquez – Yeah, here's a sneaky call.  Vazquez may not get much run here, but when the series moves to Philly he is going to homer.
Phillies Hitters who will do well…
Bryce Harper – He is going to stay locked in
Jean Segura – Play him in Showdown when the series is in Houston
Nick Castellanos
JT Realmuto
Series Props
Player to Record Most HRs:  Kyle Tucker +900
Series Most Hits:   Bryce Harper +1000
Kyle Tucker OVER 1.5 Home Runs (+320)
Nick Castellanos OVER 0.5 Home Runs (+115)
Series Total Bases – Jean Segura over Chas McCormick (-130)
Game 1 Bets
Aaron Nola UNDER 5.5 Strikeouts
Aaron Nola OVER 16.5 Outs Recorded
Over 6.5
Phillies +140
Phillies win 5-2